Can you feel it too? We are definitely in the homeschool year home stretch. I think it dawned on me when the younger children all moved to the last Teaching Textbooks disc. That means we are almost done! Another homeschool year has flown by. It also means we have a chance to finish strong over these next weeks.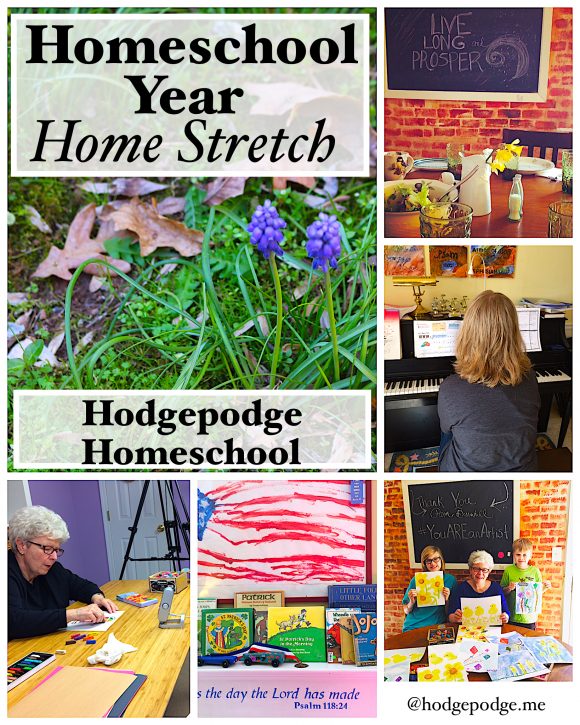 Above: 1. A spring scene from Mama Ann's yard. 2. Hodgepodgedad's birthday lunch 3. Littlest Girl starts back to piano lessons 4. What fun we have with Facebook Live art tutorials! 5. Wonderful books on the mantel for St. Patrick's Day Co-Op with Amanda Bennett 6. Nana – Art at the Beach video art course in production.
That also means:
my high school senior is about to graduate
my college freshman has almost finished her first year
my high school freshman will soon be a sophomore
my fifth grader will soon be a middle schooler
my third grader will be holding his own as the only elementary student
I had to pause on each one of those as I typed them. Grateful for each of those big milestones. I also realized it has been since January that I have shared a homeschool update. So here is our February and March wrap up in Hodgepodge fashion.
As far as the learning goes, we've continued on with:
LOTS of independent learning. I love that each of our children love to learn and explore on their own.
The February Hodgepodge Homeschool
5 Reasons to Have A Reading Week – we will definitely do this again! This helped SO much with the mid-February slump.
Field Trip! – We went to the High Museum of Art, Atlanta to see the new Cross Country exhibit and got to see those beautiful Ansel Adams photos up close and personal. Plus we enjoyed the Art of Eric Carle exhibit one more time.
Extracurricular Extras – Piano Gals participated in both Piano Solo Festival and Theory Exams. Littlest Girl started piano lessons. Three piano gals now!
We lost our beloved grandmother -the children's great-grandmother in February. If you'd read Hodgepodge for any length of time you know that she was a big part of our lives and even our learning time. We would visit with her almost every week. Especially this time of year was a wonderful time to explore and have adventures in her yard. We celebrated her life (my girls and their cousin sang and played at her funeral) and are so happy to know that she is with Jesus now. But we miss her so.
Third Grade Lil' Buddy won the Pine Wood Derby at church. He had the fastest car!
The March Hodgepodge Homeschool
Extracurricular Extras – My high school freshman went on a one-day mission trip with our youth group. Our college girl went on a week long choir tour (to the northeast during the big snow storm). And our fifth grader sang a solo in the choir special.
St. Patrick's Day Online Co-Op with Amanda Bennett – We (Nana, the children and I) LOVED leading a Facebook Live art tutorial and we enjoyed learning about St. Patrick with Amanda Bennett's study. We just spent time after lunch learning. I would pull up the unit study and display it via airplay on the AppleTV. That is so handy for learning with all our ages. We do this with several of our resources.
We accomplished many practical things lately:
Two allergy food challenges – So much progress in this area. And there is another food challenge coming up for both of the younger children!
What does the April Hodgepodge Homeschool hold?
Amanda Bennett's Easter studies will be a lovely bonus in the next two weeks.
We plan to divide our spring break with a couple days here, a couple days there during April. Our college girl has an end of the year recital we are looking forward to.
Prep for May graduation! As I shared in my January homeschool wrap up post on learning styles, our second born has a different path than his sister. Right now he is looking at an apprenticeship and some other opportunities including some online education. We are excited for him and praying with him for wisdom while continuing to ask the Lord to direct his steps.
A photo taken in my grandmother's yard when we were there recently to take cap and gown photos. I think it is good representation of the mix of winter into spring with the leaves and the spring green.
And we have two sets of wisdom teeth coming out in our very near future! With all of the wonderful, upcoming events, we may need to do some block scheduling to get things done. Something similar to what I explained in the Catch Up Days of Homeschool.
We also have Facebook Live art tutorials coming up on Wednesdays at noon ET. I hope you will join us for the fun!
We are aiming to finish strong. How about you?
Save
Save
Save