In all my years of homeschooling with Tapestry of Grace, it seems moms can be so serious about learning how to 'do' Tapestry. I know I can get caught up in being all serious. But can we set the 'how to' aside and focus on the fun? I promise that through the fun you truly will get stuff done. Ready to have fun homeschooling? I am going to encourage you with 5 fun ways to learn with Tapestry of Grace. Now, if you aren't a Tapestry of Grace user, you really should look into it. Stick around. Because all of these fun ways of learning can be adapted to any homeschool. And if you are looking for how to 'do' Tapestry, I've shared some encouragement at the end just for you.
~Don't miss the link to a free Tapestry of Grace curriculum download at the end!  I have been sharing about Tapestry of Grace through the years and how very much this curriculum has blessed all our ages! How grateful we are that we found this resource early in our homeschooling. Tapestry of Grace sponsored this post and all opinions are my own. Please see our disclosure policy.
Why Tapestry of Grace?
First, a little Tapestry of Grace background. More than six years ago I shared with you that Tapestry of Grace was the homeschooling fit for our family. When we started with Tapestry of Grace, my eldest child was in fourth grade. She graduated from our homeschool last year and I have another graduate this year. I now have the perspective of the years of rich education Tapestry has afforded us.
"Have you found a curriculum you and your children absolutely love? One that is a perfect fit for everyone's learning style? A nice match for the age range of your household? That, my friends, is how I feel about Tapestry of Grace." My original review, 2011
5 Fun Ways to Learn with Tapestry of Grace
I found it fitting that I found five fun ways to learn with Tapestry of Grace and I have five students who have been blessed through their various learning styles with all of the following fun…

Fun Hands On Projects
These are also known as arts and activities when learning with Tapestry of Grace. Hello! You ARE an artist! Yes, we have children that learn very well if they use their hands. I promise you that there have been times that we have learned so much more from a salt dough map of the 13 colonies than we did from reading the assigned readings that week. And this is why we take a break now and then for hands on geography. (How we Declare An Extras Day for fun learning projects like this).
Unit Review with Lapbook  We've discovered that learning with a Tapestry lapbook is a wonderful tool for review. Each child can pick several favorite or interesting topics. Then, using our books from the library, on-hand resources or the online Tapestry of Grace links, the children put it all together.

Fun Writing
Yes, I said fun writing. Because the weekly writing assignments (and rest assured, we don't get to them every week) are different. They are challenging. They are fun. The topics match what we are studying and the grade/age level. All rolled in with what we are studying so it is not such drudgery.
Plus we have the Writing Aids guide to help us understand the assignment for each learning level. At the lower levels you might write a newspaper article or create a grammar notebook over several weeks. My fifth grader is putting together a state notebook. By the time we reach the senior year, we are working on…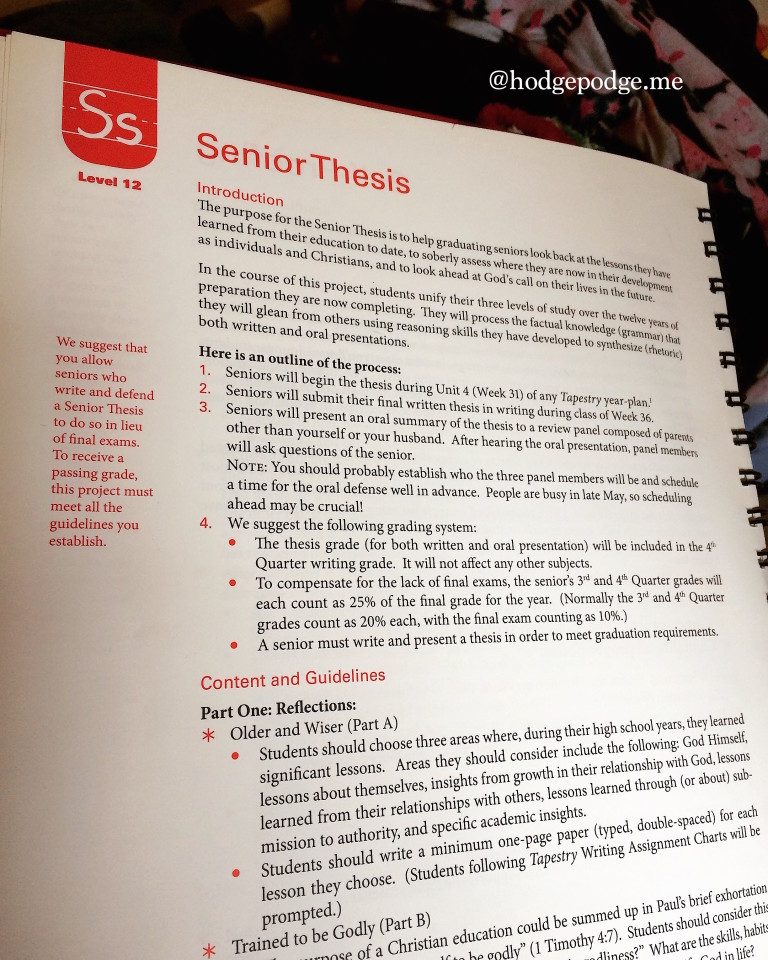 Senior Thesis and Independent Learning with Tapestry of Grace: One of those fantastic writing assignments from their accompanying Writing Aids. Part of the thesis is not only writing but gathering surveys and opinions from trusted adults (piano and Sunday School teachers, youth pastor) and peers and evaluating the results. What is fantastic about this is that the questions include such things as, "What type of vocation do you see me gifted for?" This is a great evaluation of homeschooling in general and homeschooling high school. What a wonderful way to have trusted adults and peers speak encouragement into your child! Comments from those outside your home at an important decision making time? So very valuable.

Literature Fun
Books. Books. Books and more books. Thank you very much! One of our favorite times is the Tapestry of Grace book haul from the library. Favorite characters. Favorite stories. Fun learning.
I like to display Tapestry of Grace reading on our family room mantel so everything is within sight. When we see it we are more likely to get to it. More on books on the mantel.
Literature Movie Night! And the matching movies — my high schoolers especially love the movie suggestions to complement the literature assignments.

Fun Unit Celebrations
Time to celebrate learning? Yes! These unit celebration times help us realize just how very much we have learned and how much we have accomplished! More on unit celebrations.

Fun in Taming the Homeschool Chaos
Ok, this may not be a fun learning category for the students. But this is for the homeschool teacher. For the mama. For me and you. And this may the very best fun of all. Tapestry of Grace helps tame the chaos.
All those learning styles.
All those ages.
All those levels.
All those grades.
Gather them all up together and mix them gently with Tapestry of Grace. Everybody learning together. That is very important in a household with multiple ages. That is very important for mom's sanity! Because we are all learning together we don't have the stress or the financial burden of multiple subjects on many different grade levels.
Homeschooling is fun!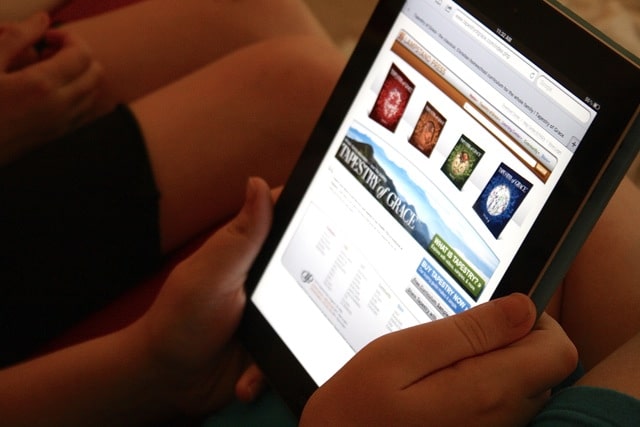 More Fun Ways to Learn with Tapestry of Grace at Hodgepodge
I've been sharing about Tapestry of Grace for quite a while. I encourage you to browse the following Tapestry helps.
At The Curriculum Choice:

Tapestry inspires our own art projects like a Medieval castle (pictured above)
Is Tapestry of Grace for Your Homeschool?
It doesn't hurt to try. That's what we did one summer. We downloaded the free, three week unit study trial and we started our journey. This is truly the very best way to see if Tapestry of Grace is a fit for your homeschool.
After more than a decade with Tapestry of Grace, I am so grateful to have been introduced to it by another Tapestry of Grace family. And I extend that same invitation to you. It's an amazing learning journey!
Are you ready for fun??  discover.tapestryofgrace.com
Save
Save
Save
Save
Save
Save
Save