Balancing the needs of an age range of children is always something I am faced with. Back in the days of toddlers to pre-teens, we hit a bump in our homeschool math journey. Well, not just a bump but a puddle of tears and a pile of frustration most mornings. So here is the story of just how we came to love Teaching Textbooks.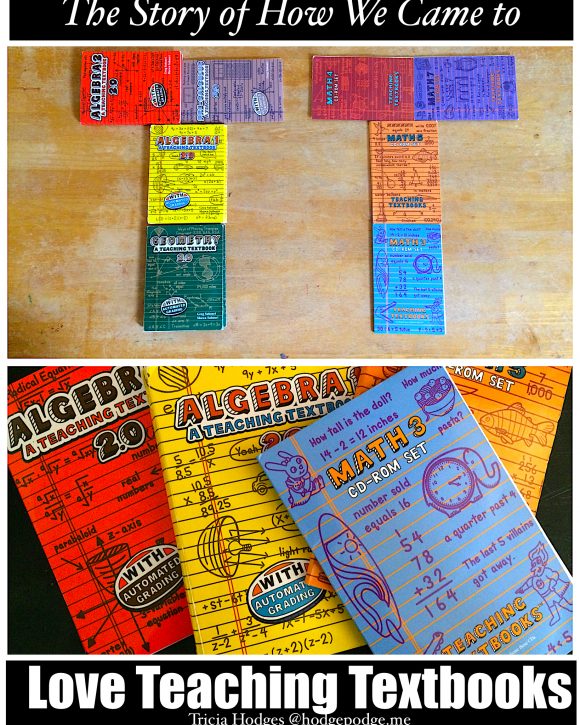 See, not only do we have an age range of children, we have a variety of learning styles. That learning includes me  – continuing education for the homeschool mama! Well, math just was not getting done in between in the diaper changes and language arts lessons. So I asked a group of trusted, fellow homeschool mamas. One of my friends, Kerri, said, "Teaching Textbooks." She had recently made the switch and it had changed their math mornings for the better.
How We Came to Love Teaching Textbooks
Shortly thereafter, we took the 
Teaching Textbooks
 plunge with our two older children. I will always remember the morning my then sixth grader got up from the computer, skipped across the room, sat down again, turned to me and said, "I love this!"
Happy children.

Happy mama. 
A few more ways we came to love Teaching Textbooks:
Frugal! The price divided by five children using it through the years? Cheap-o.
Self-grading. (Especially in those upper grades – thank you!)
It's just HOW math can get done with so many children – different ages and grades.
A few highlights from across the ages this homeschool year…
I love curriculum, tools that help us get stuff done and have some fun. Here is more on Our Experience with Teaching Textbooks and just how we use it. And an encouraging article on 8 Ways to Conquer Math Phobia.
You should try a placement test and explore Teaching Textbooks too.
We have now officially used all levels available from Math 3 to Pre-Calculus. Wow!
Save
Save
Save
Save
Save
Save
Save