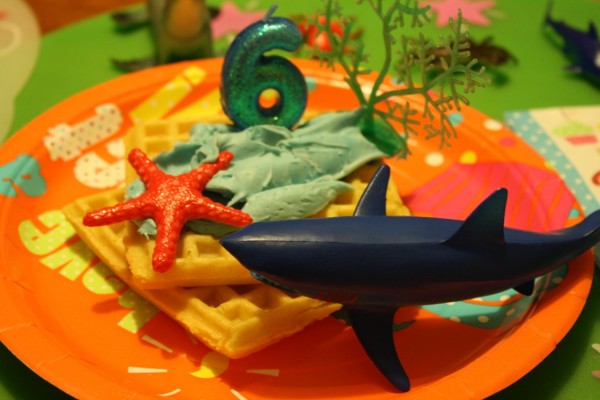 Today, we are off at the Georgia Aquarium celebrating a six-year-old girl's birthday! She's the one that loves hammerhead sharks. There are also sea turtles there for Middle Girl. (Field trip following our science projects). Oh just general fun for all! Today's Weekly Wrap answers a question I've gotten a few times lately. I've also shared the week's happenings in the photo captions.

I do not have boundless energy! In fact, I've shared with lots of folks that I feel like this year especially is a stretch with the age range. Two early risers and two that like 'talk time' late into the night
  Plus my Middle Girl keeps me busy in the middle of the afternoon with baking, art projects then more baking and art projects.
The frugal dress ups: The $7 costume Nana found for Littlest Girl, 20-year-old hand me down pumpkin for Lil' Buddy and the paper doll costume Middle Girl made herself from poster board.
Following our recent weekly wrap and science fair project posts I've been asked How do you fit it all in? How do you do it all? Well, we don't. But to fit in all the learning we do enjoy each week…

It comes down to:
Daily prayer for wisdom.
A supportive husband.
Encouragement from fellow homeschool moms. And…
Helpful habits. We have habits stretching back a dozen years. Each one added one at a time to compliment our day. Tweaked with each new child. Adjusted often. Because in our habits we often find freedoms.
A sample day:

Mom's Quiet Time
Before 8:45 (helps get the children's day started. Including individual quiet time)
Math time alternating Teaching Textbooks on the computer for older three while…
Graphing candies for living math this week.
…I oversee workbox time for 4yo and K (Helpful habit – Little Ones First)
Morning room time for younger two or they play together
Rod and Staff English lesson for older three
Spelling, Handwriting for 4th grader
Tapestry readings – older three OR Apologia lesson – older two (unit study!)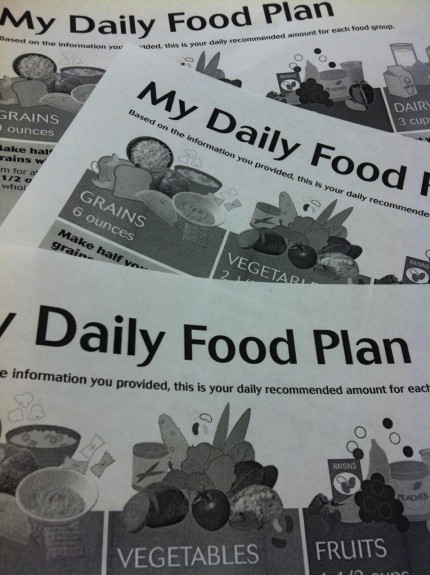 Answers in Genesis God's Design for Life: Human Body – We studied nutrition and the food pyramid.
Lunch (Make Supper at Lunch)
Working on our Tapestry of Grace history lapbook as a review of the unit.
One More Thing After Lunch. This is how we work in the other subjects. Each day we will complete one or more of the following (notice I did not say all!):
Nature study (unit study!)
Answers in Genesis Human Body Unit Study lesson (unit study!)
Visual Latin/English From the Roots Up
Tapestry of Grace arts and activities, geography (unit study!)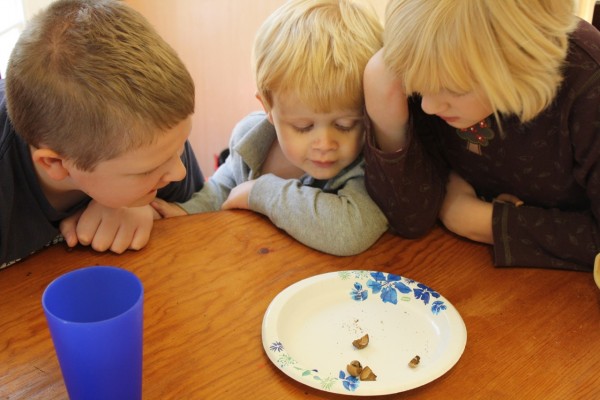 Spontaneous nature study – Let's smash an acorn! Found a little insect inside.
Tapestry of Grace/English writing assignment
Art/Composer Study (unit study!)
Sketch Tuesday
science fair projects (once a year)
prep for our Tapestry of Grace unit celebration, lapbook review
In the evenings with Daddy: read alouds
The girls' Drama Troupe Christmas production is set in medieval times – a nice compliment to our Tapestry of Grace studies.
Also weekly:
Once a week my two oldest girls attend Drama Troupe. This time is lengthening as we get closer to December performance time. They are both also practicing a sign language and a dance routine. This means lots of practice time at home too.
Piano lesson – 4th grader. Daily practice for her and for 8th grader to maintain her skill level.
Choir, Bible study, puppets, mission friends, youth group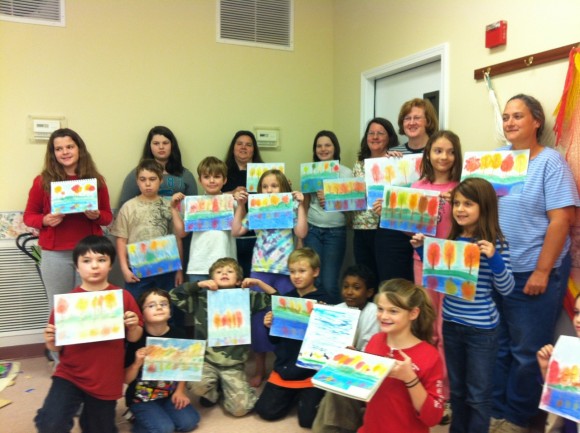 Look at those beautiful pictures! I had the privilege of teaching Nana's Tree Reflection pastel tutorial at our homeschool enrichment day this week.
Electives:
Enrichment Day: One morning a month we might participate with our homeschool group – which includes poetry, art, geography, composer study, nature and more.
Creation Club: One-two afternoons a month we enjoy a nature walk with fellow homeschoolers.
Pastel Tutorials: Nana joins us after work for supper sometimes. Prior to us setting the table, she may teach a pastel art lesson. She treats us to this a couple of times a month. We'd love for you to join us as well. There are currently 34 tutorials for you to enjoy for free here.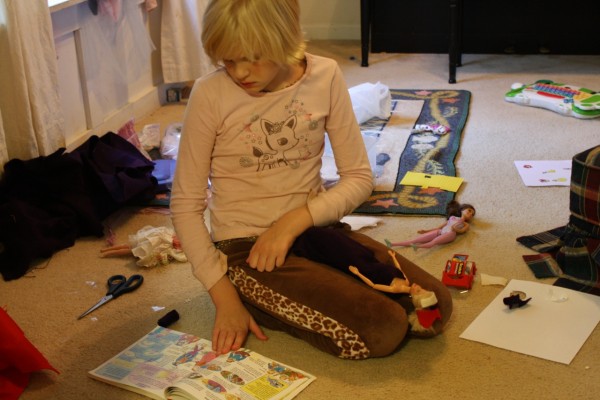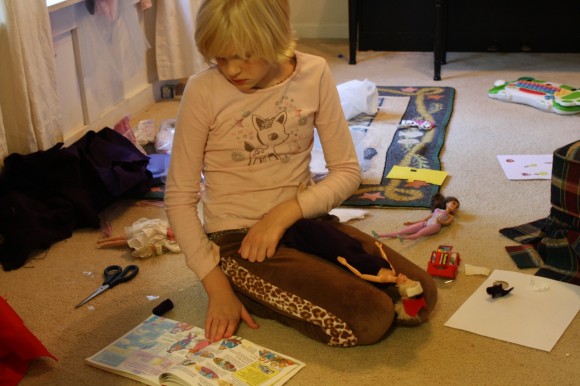 One Afternoon Quiet Time, Middle Girl got out my sewing bucket and dressed Barbies in felt medieval style. She referred to Living Long Ago for ideas.
So See?
I have help.
The children do many things on their own. (Spreading things out far and wide, as pictured above)  🙂
Our habits are the bones of our day.
Related: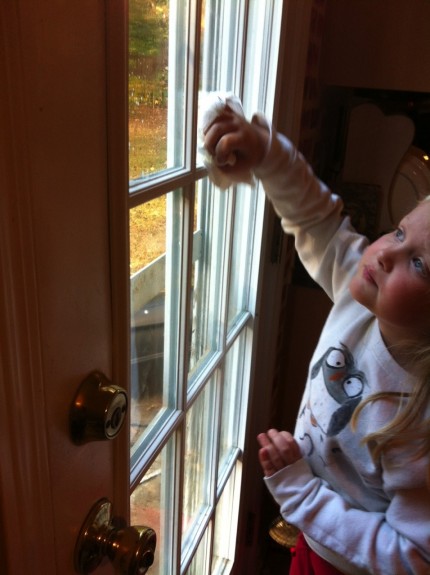 Our weekly home blessing.
In upcoming weeks I plan to share more of the practical how-tos of our Hodgepodge, including the weekly Tapestry of Grace meetings I have with my older children and our family unit study reviews. I've made it a habit to share a helpful habit each Friday!

Thanks to Kris at Weird, Unsocialized Homeschoolers for hosting the weekly wrap-up!
All that shared, there are always tough days, things to work through and studies carried over to the next week. How about you? How do you fit it all in? I'd love to hear…