I  slept really well every night this week.
That's because we've ramped up to full homeschool schedule. Yes, we've been back to school since July. And I felt like we had our basics down. We've had good practice with our Before 8:45 Checklist, math, English, and spelling. And last week we started adding back in all those enriching subjects on top of it. The true homeschool icing.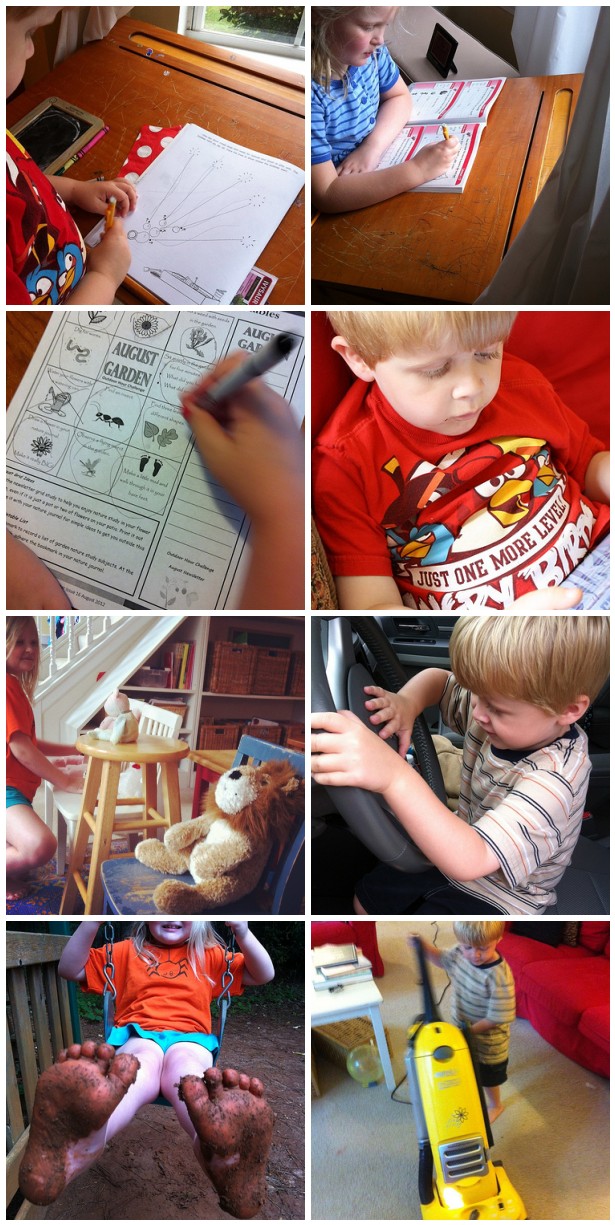 Highlights with our first grader and preschooler this week: 1. Rod & Staff Preschool books. He loves Samuel and Sarah! | 2. Spelling Workout | 3. August Handbook of Nature Study Outdoor Hour newsletter grid – first grader did it on her own! | 4. little iPad time | 5. Saxon Math – some, some more stories | 6. "Practicing driving" while waiting for big sister at piano lessons | 7. Nature study prompt – make a little mud and walk through it in bare feet | 8. Service opportunities and a love of machines
So, to recap, each homeschool day we start first with our Before 8:45 checklist (this basic checklist helps with brushing teeth and more). Next, math, language Arts. The 3 Rs for all five. This takes most of the morning. We might fit in some time with Tapestry of Grace. The younger ones enjoy some outside time. Then during lunch and immediately following we…

Add Just One Extra A Day
One more thing after lunch. That's how we have accomplished the extras. It all began by telling the children we were going to just do one more thing after lunch. A habit we adopted from my fellow homeschool friend, Kerri.
So, last week we started our science. Just one more thing. Everyone together with AiG and the older two with Apologia Biology. Another day we picked up our Tapestry of Grace books. (And got some in the mail this week!)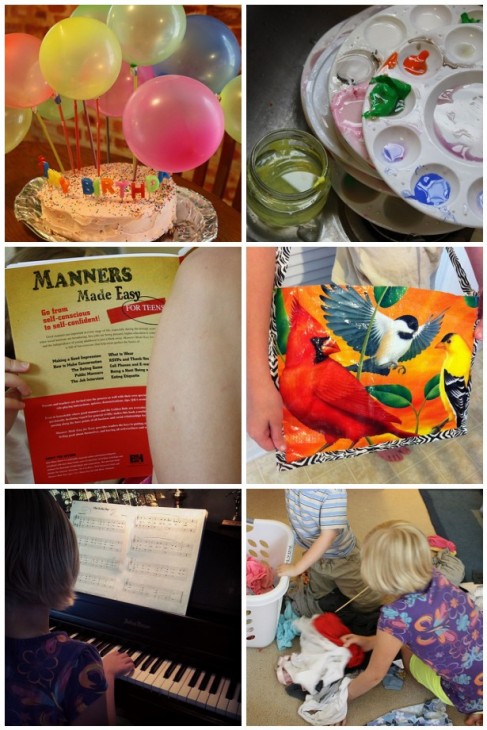 1. We had a BIG birthday this week! | 2. And an art-inspired birthday party! | 3. The young adult version of Manners Made Easy | 4. A very smart and thoughtful friend saved birdseed bags for Middle Girl to create purses with her duct tape stash | 5. Back to regular piano lessons – "this is the day that the Lord has made!" | 6. Sorting laundry
Wednesday we enjoyed a thorough start to our Harmony Fine Arts (HFA) plans. An artist study of Vermeer and composer study of Shumann. Plus a totally fun art technique lesson with Artistic Pursuits. But even before that we read our Five in a Row selection for the week, Lentil. I also read M is for Melody because I thought it would be a fun way to peek the younger children's interest before our HFA study.
See, one more thing usually leads to another thing…So, another day the children created 'something you'd see at a picnic' for Sketch Tuesday, while I read a science lesson.

Rotate
We sort of have certain days of the week we enjoy the extras:
Every day, while the children eat lunch, I read Manners Made Easy. Also sometimes a Proverb and a selection from 365 Days of Celebration and Praise.
Monday – nature study with Outdoor Hour Challenges (though they aren't limited to that day), science
Tuesday – science and/or Tapestry of Grace, Visual Latin, English from the Roots Up
Wednesday – art and composer study with Harmony Fine Arts
Thursday – Tapestry of Grace, Visual Latin, English from the Roots Up
Friday – Tapestry of Grace arts and activities

Lean on the Support of Fellow Homeschoolers
My homeschool group also held our kick-off moms meeting of the year. Don't you always feel like you aren't alone when you lock arms with women on the same journey? And I am mightily blessed with fellow homeschoolers I can email for advice as well.
We must not, in trying to think about how we can make a big difference, ignore the small daily differences we can make which, over time, add up to big differences that we often cannot foresee. ~Marian Wright Edelman

Reward
We delayed our pool visits this week until after our 'One More Thing' was completed. I know I felt more accomplished and free for a dip in the pool. Celebrate learning! Plus, it's homeschool PE!

Rest Assured
Yes, rest. Everyone! Especially you, mama. Take a bit of time each afternoon to put your feet up. Have an iced coffee. Read or browse a favorite catalog. Even if it is just 10-15 minutes. (our Afternoon Quiet Time habit).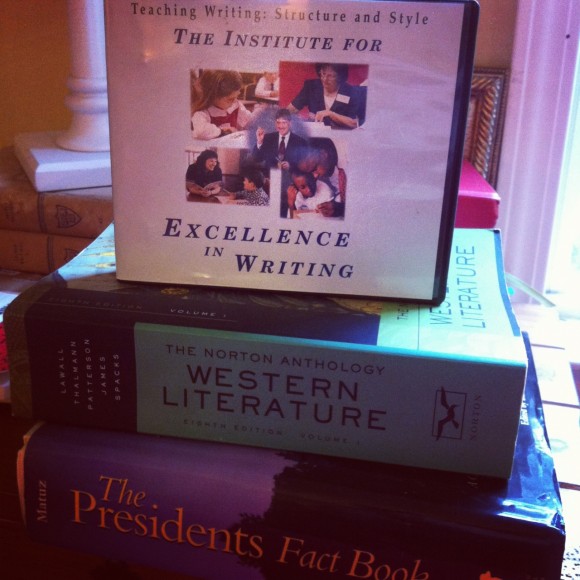 Currently stacked on my family room end table (thanks friend!), more high school resources to add in.
More Homeschool Resources for You
Many thanks to our Friday hostesses!
How about you? Is your homeschool going full tilt? Or are you still adding in the extras like us?
Save
Save