A dear reader, Mary, asked about beginning art with young children. She said, "Hi Tricia! I was reading your art curriculum and I saw Pastels and technique with Nana and I loved it! What age do you recommend to start? I have a four-and-a half and a three-and-a-half year old. The oldest one lovesssssssssssss to draw but has never used this type of technique before. What would you recommend for me? thank you for sharing all your blessings!"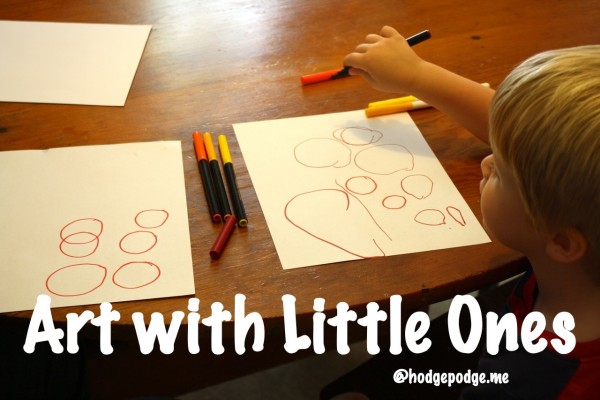 Thank you, Mary, for your question! And our time enjoying art with Nana is indeed at blessing. We started our youngest out with chalk pastels at about 18 months. That was because the older ones were learning from Nana and he was so ready to participate. We would prepare a spot for him – a piece of paper and some pastel sticks. We invited him to join in as long as he liked to. Always with baby wipes close by for easy clean up!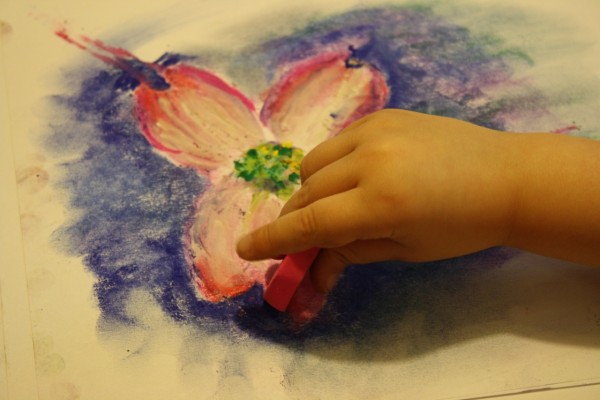 Youngest was excited to see Nana's completed dogwood pastel after a lesson last spring. He asked to help. So she gave him a dark pink chalk stick and he started adding marks to hers…
We absolutely love chalk pastels. And we do start them young! But… we do not require much of the youngest ones and make it only fun. Maybe we draw off the basic shape for the littlest ones and let them blend in the beautiful color. Or just offer a few colors for the child to draw whatever he/she would like. Draw something from a favorite book!
The idea is to build a wonderful habit of enjoying art. This art time with our youngest may even be less than 5-10 minutes. Then, as months and years go by, you can build on the basic love and joy and add the learning and the technique.
Nana's Advice on Art with Young Children
I asked Nana to give us all a little more detail on starting art with the very youngest. She offers her help, shares ideas and answers below. She also shows us a recent art time with our littlest one, now age four. Here's Nana…
To answer the questions regarding how soon should art be introduced to a child…as soon as he or she can hold a crayon!  Children are innately artists by themselves, and if given the opportunity and the delight of wielding a paintbrush, a child will create a masterpiece all their own.  There are NO rules but one:  Praise, praise, praise!  Children lose their desire to draw or paint because they are constantly comparing their art with the child sitting next to them, or if they are hurried along by a time schedule. Each painting or drawing deserves praise from the teacher or the parent, to affirm that their child's art is very special and worthy.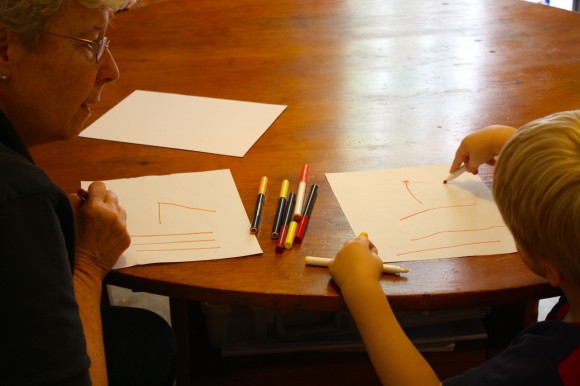 Little Guy is copying what Nana is doing using markers. Listening and drawing.

Start with circles, then just plain straight lines.  Anything can be "built" from those shapes.  Also, brushes and crayons can be heavy in little hands and attention is 5-10 minutes at best.  Start slow and remember that those lopsided circles and squiggly lines are the "BEST" that you have ever seen!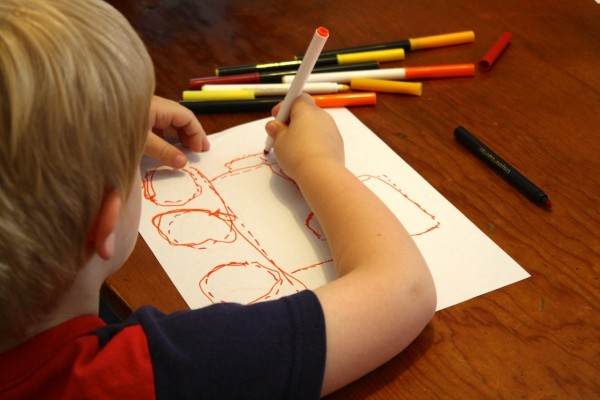 Yes, we all know about the budding artists who transfer their talent from the art paper to the walls at home.  Just sigh and reach for the Magic Eraser…and then go find your artist some paper to draw on…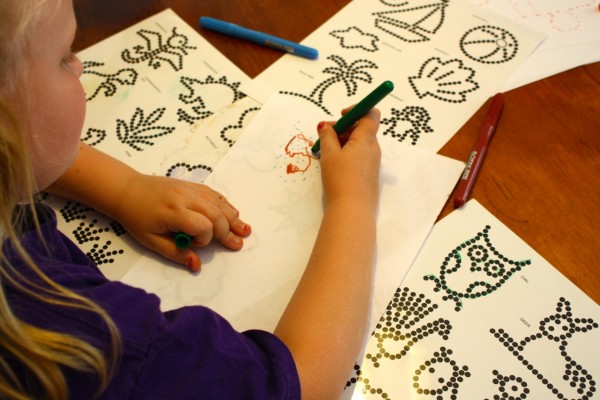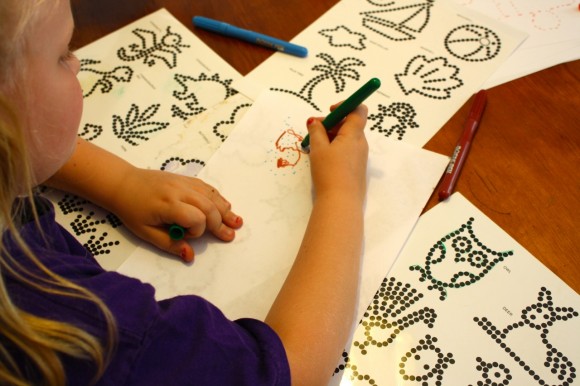 Six-year-old is using the Dotza pages and markers to create pages of art work.
Life is a great big canvas. Throw all the paint on it you can. ~ Danny Kaye
More ideas for starting art with young children: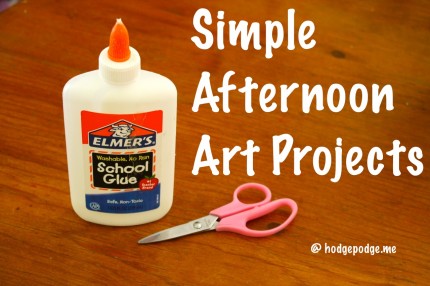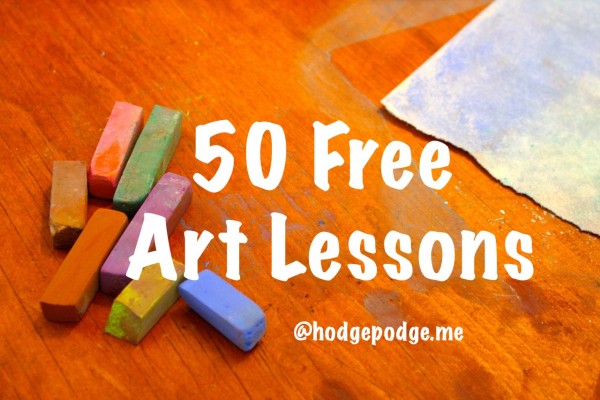 Do you have a regular time of art with your children?