Please bear with me as this is a long post. It's just impossible to fit in the hodgepodge of a Hodgepodge homeschool day and be brief! It's the age range, I tell ya!

—->Wow, this week was full force, ramped up and regular schedule. Starting out with an ER trip and stitches for littlest guy right on the heels of Middle Girl's big birthday trip to the Coca-Cola Museum. Drama troupe, three dental visits and a choir teachers meeting. (Heart of the Matter is hosting a fun blog hop this month. So today I am sharing our week plus, below, a 'day in the life' of our homeschool.) If you just want a quick recap in photos, here's our Camera Phone Friday…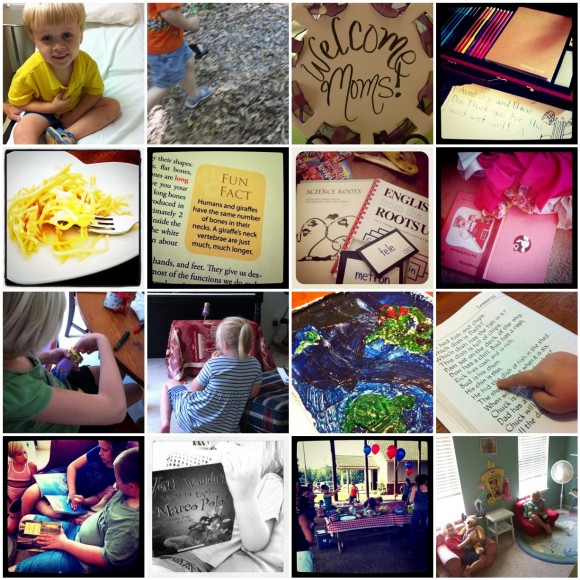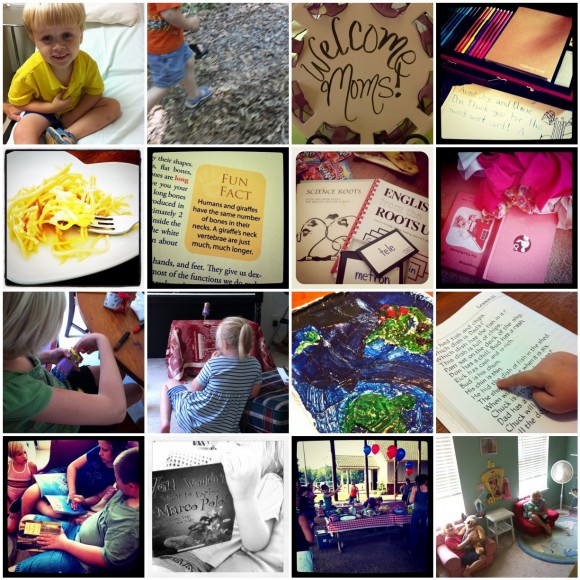 1. ER & Stitches | 2. nature walk with Angie @ The One Thing & her boys resulted in running from yellow jacket nest | 3.  1st homeschool moms meeting of the year! | 4. Thank you notes – handwriting AND art | 5. Cheesy pasta for lunch | 6.  AiG Science Human Body | 7. Science Roots and English from the Roots Up amidst banana peels and koolaid | 8.  8th grade Rod & Staff English mingled with laundry |  9. Making puppet | 10.  puppet show | 11. Painting Tapestry of Grace (TOG) salt dough map of imaginary land| 12.  Alphaphonics | 13. Middle Ages Church History with TOG | 14. our newest TOG learner, Kindergartener | 15. Back to School Bash with our Homeschool Group! | 16. Little Girls finish up school then rearrange their room.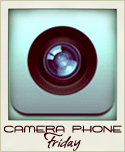 Many thanks to Camera Phone Friday hostess Dawn Camp @ My Home Sweet Home
—->A Day in the Life of Our Hodgepodge Homeschool. When we start school each year, the first few weeks are Just the Basics, M'am. But this week we were definitely full force. We do have our daily dose of chaos. But this is what usually happens. Roughly. Hopefully?   🙂
Built into these subjects and activities are the helpful habits that compliment our day. Many I've written more on. You'll find those highlighted with a link:
Before 8:45 This checklist includes morning quiet time with the Lord, making bed, clearing spot at the breakfast table, etc. Even a child's laundry day and getting ready to head out the door. There are those days we head out first thing. Like on the morning the two oldest girls participate in Drama Troupe. Next…
Simultaneously:
Workboxes for youngest three – The above mentioned activities are in workboxes so that the younger ones can visualize what they need to do. The youngest two have anywhere from 6-8 workboxes, while 4th grader has 10-12. Some filled with a card saying, "15 minutes playing Starfall" or "play a game with older brother" or a box full of math manipulatives we line up or make patterns with.
(insert here some PE time at the neighborhood pool or tennis courts)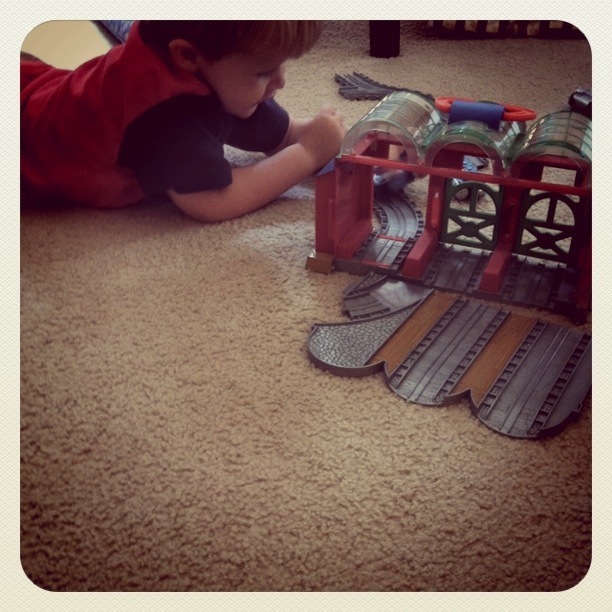 Morning Room Time for youngest two. English lessons for oldest three: Rod and Staff English 4, 7, 8, Handwriting.
Piano/Drama/Music – a reminder to practice these are in separate workboxes for 4th grader. We are just starting back to Drama Troupe but soon there will be lines to regularly practice as well as dowel, sign language or ribbon routines to practice. Fourth grader has weekly piano lessons and assignments to practice. Eight grader is maintaining her skill level with piano by practicing pieces of her choice and some the piano teacher prompts her to now and then. Seventh grader will be adding a Music and Art study by Harmony Fine Arts in September.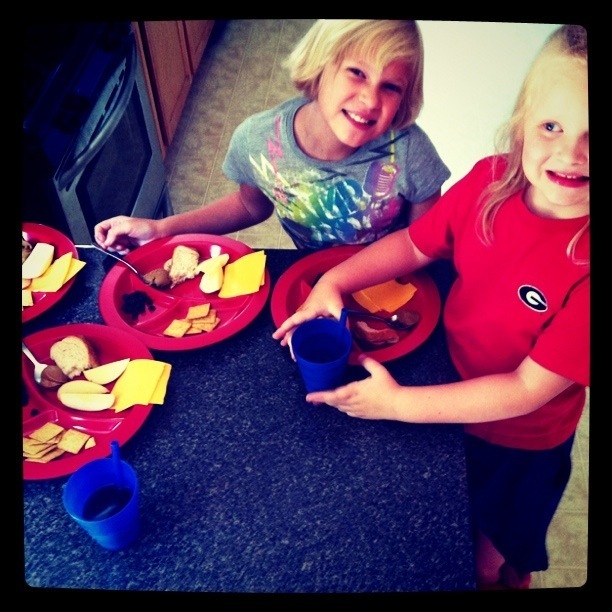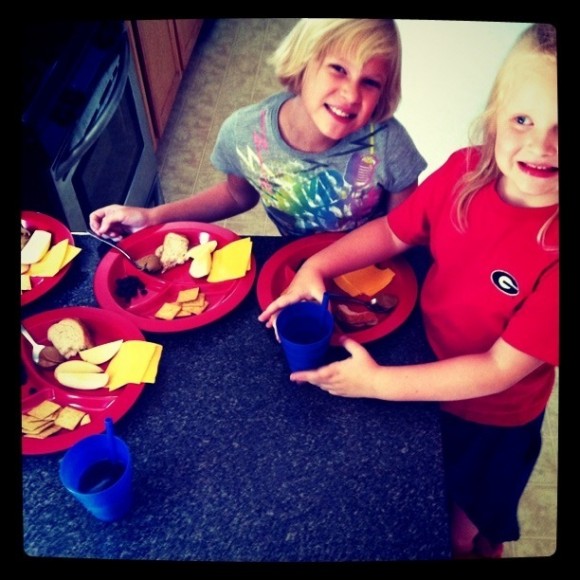 Girl-made Nibble Trays for lunch.

One More Thing After Lunch (I talk about this habit in detail here). After lunch we choose at least one more thing. Some days it is two more things. Often I insert Make Supper at Lunch here.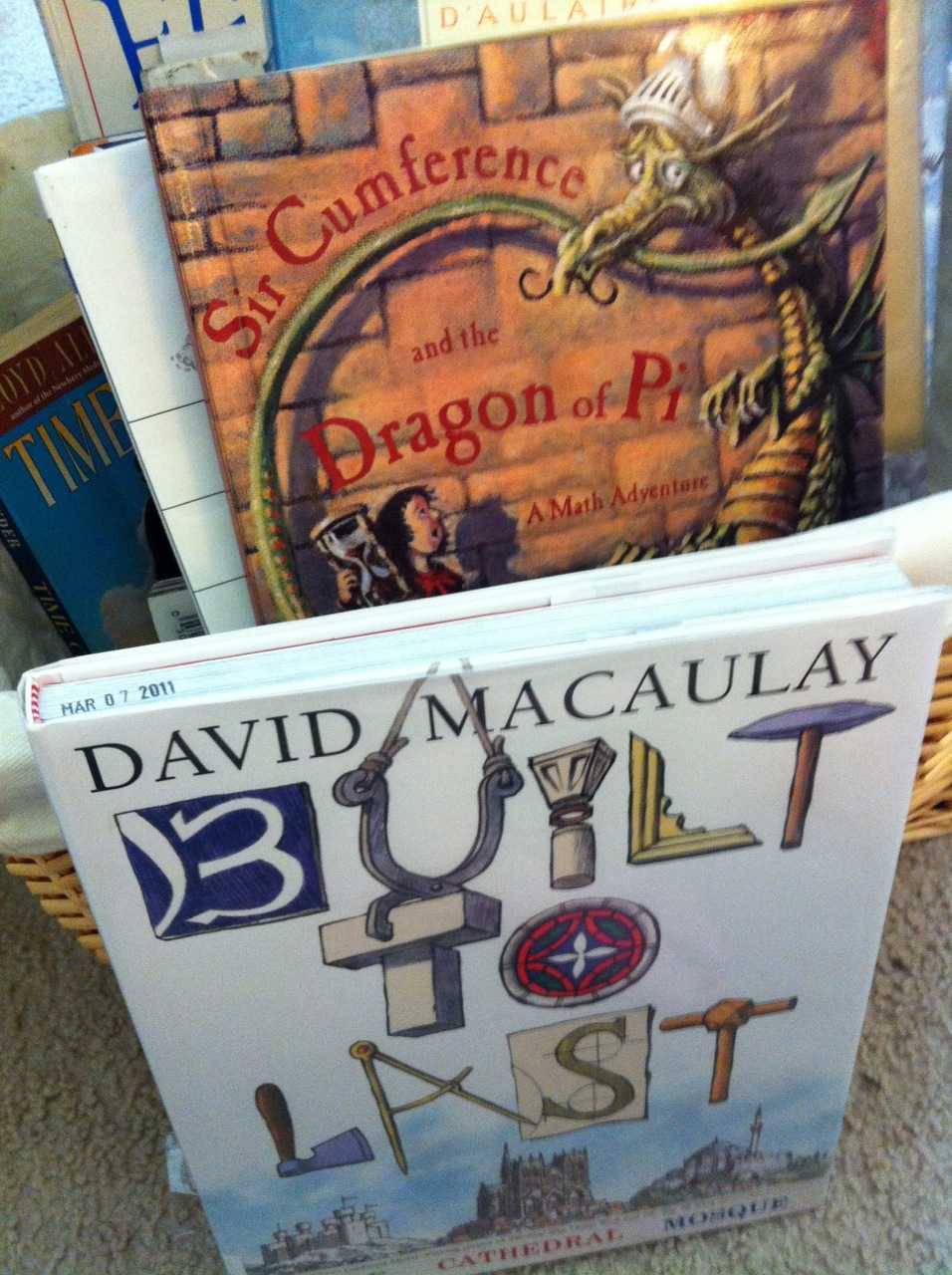 Tapestry of Grace (TOG) (my curriculum review here)- We are studying the middle ages with Year 2 of Tapestry. We will do a read aloud, group activity, writing assignment, etc based on the suggested TOG assignments. TOG was really, really fun this week. We finished up the painting on our salt dough map of an imaginary land. We read about St. Francis of Assisi – and attempted to see how long we could go without talking – as monks do. Some used pads of paper to converse. Lots of reading on church history and world religions.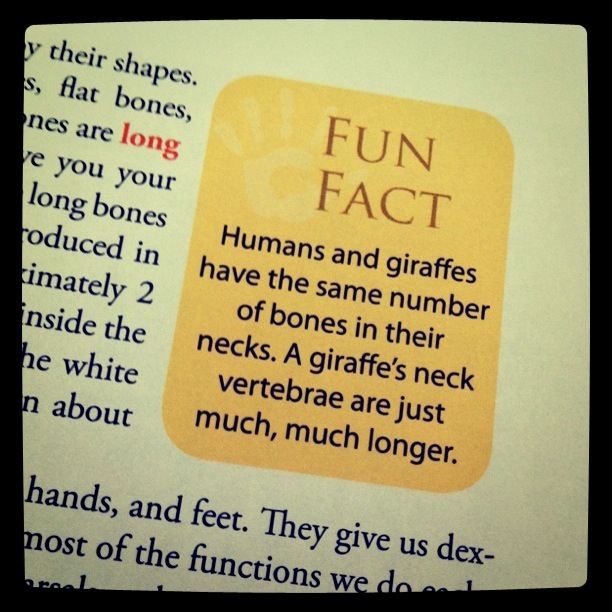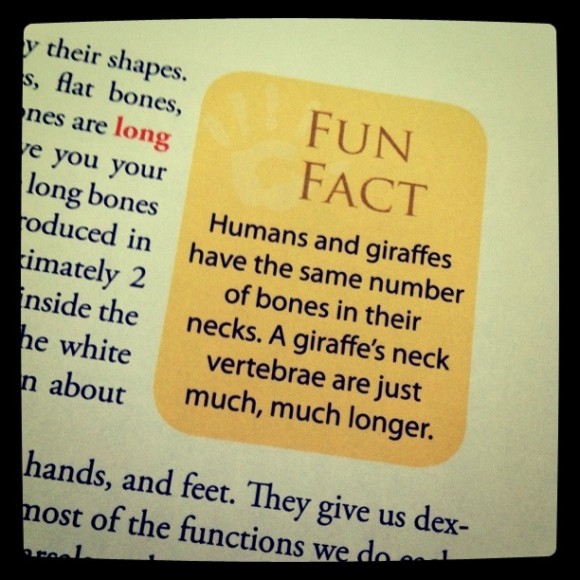 AiG Science and/or Exploring Creation Through Biology – this week we learned more about bones with a lesson after lunch in our Answers in Genesis God's Design for Life: Human Body book.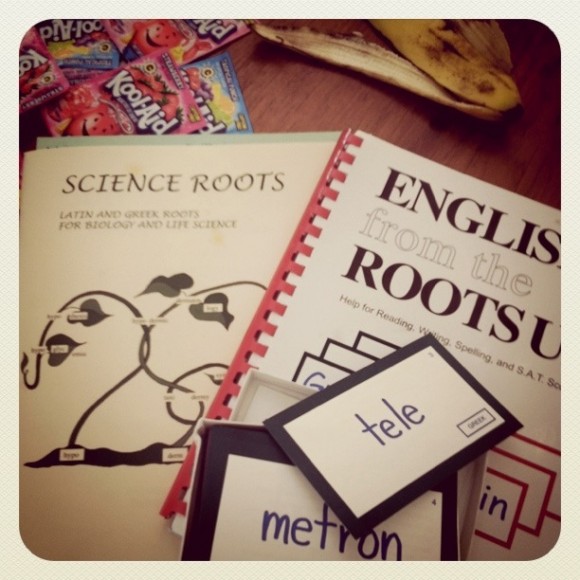 English from the Roots Up and Science Roots.
Afternoon Quiet Time – (details on this habit here). Everybody. Even Mama. Oh how I need this time! This is how we fit in more Tapestry of Grace readings, audio books, listening to classical music. Mama can catch up on the computer, Just Take a Nap or household chores.
Tea Time (afternoon snack) and/or Mama's Afternoon Iced Coffee.
Then, The Privilege of Computer Time
Art/Cooking: A few days a week, right before supper, in the crazy hour of preschoolers tugging on my leg and needing things, either: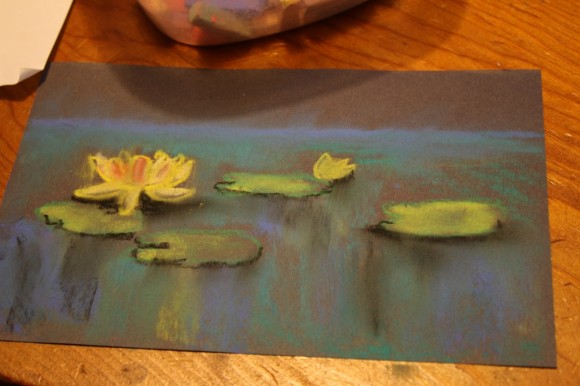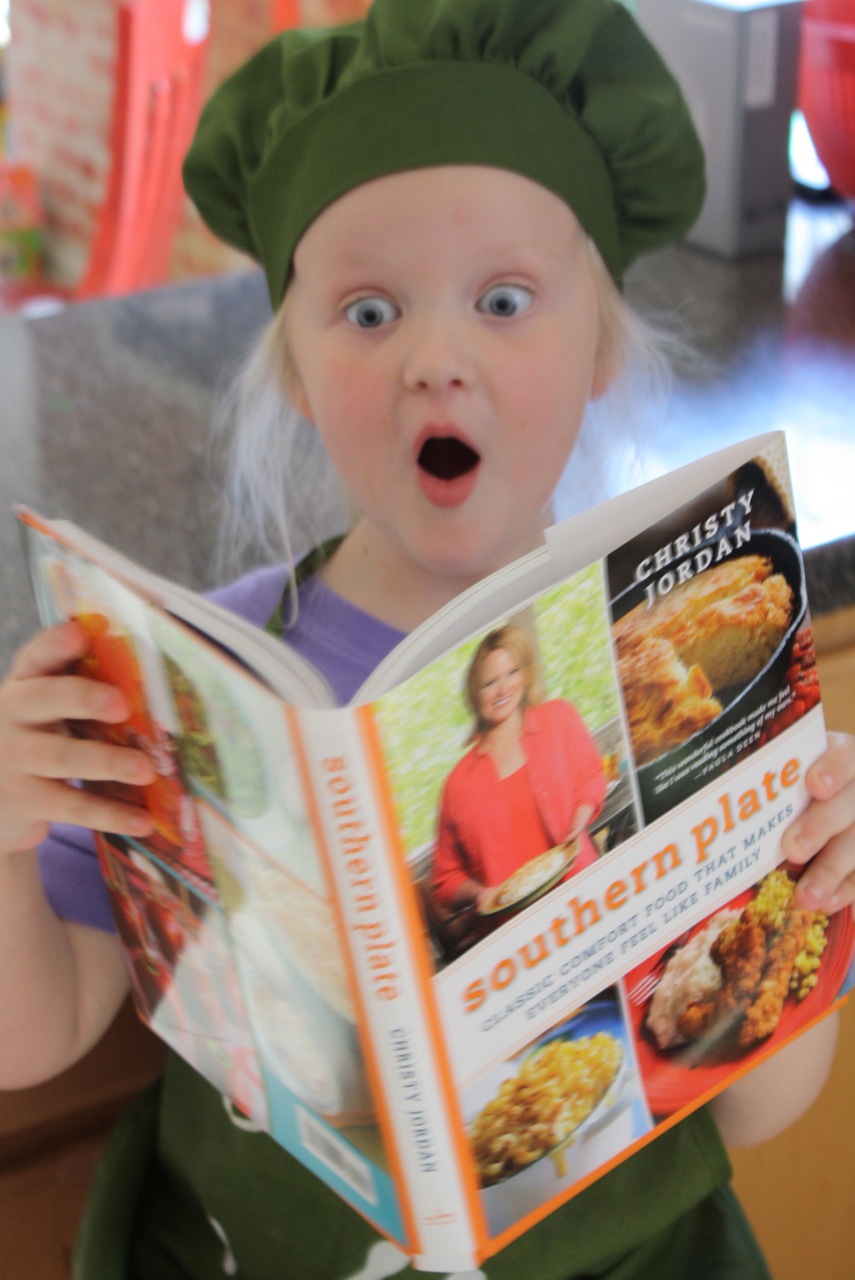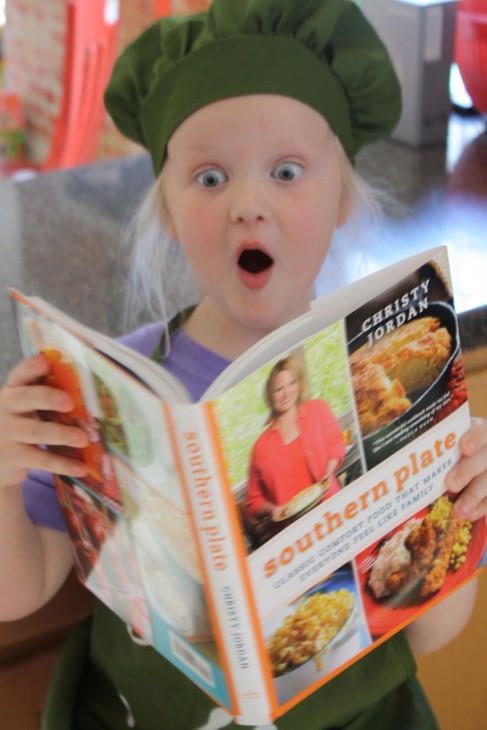 Supper – Mad, Sad, Glad or Celebrate Every Day
Family time – any or all of the following: family walk, family journaling, Tapestry of Grace read- aloud. Every now and then we also read aloud the prayers from Power of a Praying Parent.
Usually, then we have staggered bed times for the children according to age, spending a little bit of time with our eldest two after the younger ones go to bed.
—->Finally, I'm keeping up the habit of sharing a helpful habit on Fridays. Hodgepodgedad is talking about a building a lifestyle of learning in Saturday Morning Mathematics.

And, dear homeschool friends, please join us next time in the Art for Homeschool Show! It is very simple to join and a good challenge for your students. This week we found out that Eldest Boy won the People's Choice award for his Path to the Beach.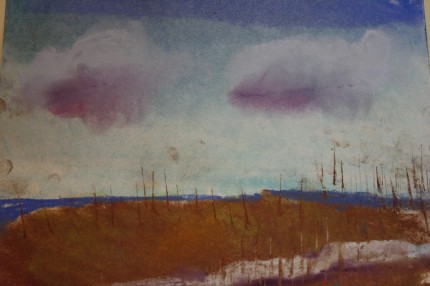 Thanks for bearing with me in an extra-long, jam-packed Hodgepodge of a week! How was yours?? You can find out about other weird, unsocialized homeschoolers with Kris at the weekly wrap.