We are continuing our astronomy studies – learning so much about our solar system from Apologia's Exploring Creation with Astronomy elementary textbook. Not too long ago we read about Jupiter's giant red spot and her more than 60 moons! So, we thought we'd combine science and art and paint Jupiter with chalk pastels!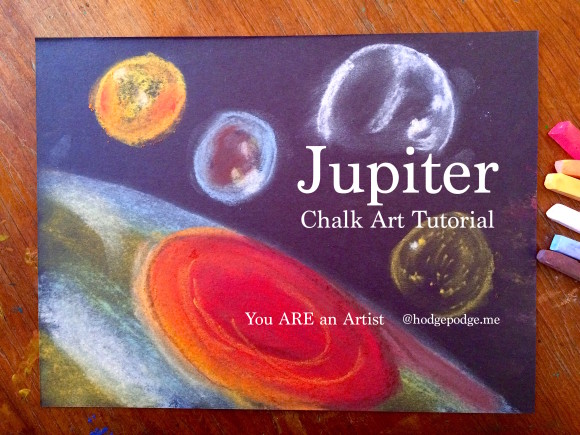 Don't you love God's art work? We were so impressed with the colors of Jupiter and its Galilean moons (the moons discovered by Galileo). On page 107 of our Astronomy book, there is a size comparison of the Galilean moons and Jupiter.

Jupiter Chalk Art Tutorial
Supplies needed: Begin with either a black or dark blue piece of construction paper. For this art tutorial we will begin horizontally.
For this painting you will need these chalk pastel colors: white, light blue, dark blue and/or turquoise, purple, yellow, brown and orange.
Start by 'grounding' your painting with the sweep of the planet Jupiter. Notice that Jupiter takes up almost half of the paper! Skumble (by turning first your light blue and then your yellow chalk pastel). Blend in the color and smooth out the colors with your finger.
Next is the impressive Great Red Spot. This is fun to make with just a few swirls of your red chalk pastel. Notice that the part of Jupiter farthest away from you is darker.
There is also an outline of yellow. Blend it all in with your finger.
Next, the Galilean moons – Io, Europa, Ganymede and Callisto. We started at the left hand side with Io. Io is mostly yellow and there are spots of black – so we won't fill in the moon all the way but leave some black showing through. Add dots of red on each side.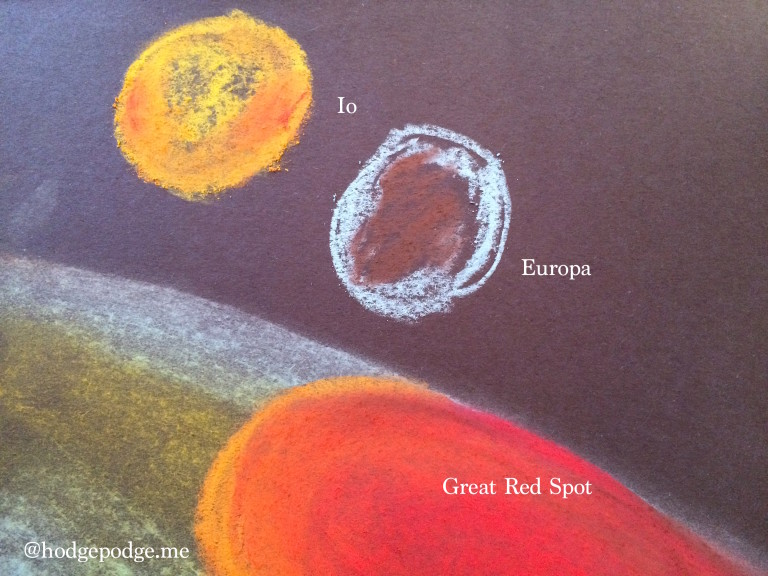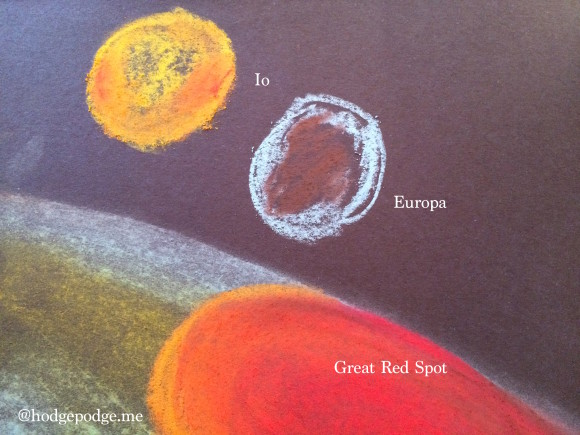 Europa is outlined in light blue. Mostly brown in center of the moon. A highlight of sunshine on the right hand side. And then smooth the colors with your finger.
Ganymede is only partially visible – so when you use your pink pastel, be sure to leave some large spaces of black paper. The bottom of Ganymede is not even distinguishable.
It's a fun challenge to use your chalk pastel this way! Just barely smooth in the pink pastel to make it space like.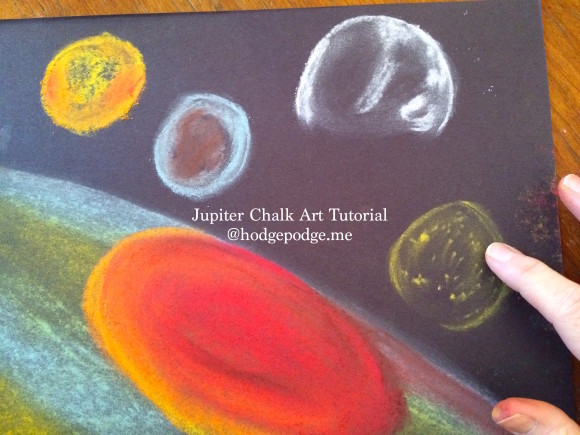 Finally, Callisto is also mostly black. Just a hint of sparkly ice and rocks. Use your yellow chalk pastel to make most of the outline and dot the yellow all over the surface. Smooth the yellow in as well.
Just remember that only God can create a perfect planet and moon. Yours is an artistic representation of His beautiful creation – because you ARE an Artist!
Featuring You! You ARE an Artist!
So, paint your space picture and be sure to share with us! Simply tag @hodgepodgemom on social media, send a photo via the Hodgepodge contact form here or post on the Hodgepodge Facebook page. We will be sharing these via the Hodgepodge instagram or on our Art Tutorials Showcase Pinterest board – or both! Nana will even comment on a few I am sure!

Free eBook and More!
Looking for more astronomy art? You might enjoy our Astronomy Chalk Art Tutorial. Or maybe Star Wars?