Sometimes homeschooling multiple ages can make for an overwhelmed mom. I've found that making long haul homeschool curriculum choices keeps our homeschool days rich and meaningful. And it cuts down on so many decisions for so many ages. These curriculum choices are great for family-style learning.
These are the big ones. These are the long haul homeschool curriculum choices. The homeschool resources we've used most every year for every child. These are tested through five children, three homeschool grads and our years of homeschooling since 2000. Successfully used with different learning styles, across multiple ages and in the midst of busy days. Highly recommend!
Long Haul Homeschool Curriculum Choices: A Homeschool Mom's Easy Guide
These are those resources we use together with all of our ages. This might be what we gather around and do together right after lunch. Our 'one more thing after lunch' (which has grown to a few more things)
Tapestry of Grace – Today, I offer you a Tapestry tour. A top ten list of Tapestry of Grace resources, frequently asked questions and tips for the teacher. And if you don't use Tapestry of Grace, I hope you just might find some of the advice for teaching multiple ages and homeschool planning helpful in general.
Homeschool Fine Arts – Are you like me? Do you long to enrich your homeschool with studies of composers and artists? Do you wish that someone would just do it all for you?
Long Haul Homeschool Math Curriculum
Teaching Textbooks – this was and is THE math answer for us.
I will always remember the morning my then sixth grader got up from the computer, skipped across the room, sat down again, turned to me and said, "I love this!"
Happy children.

Happy mama.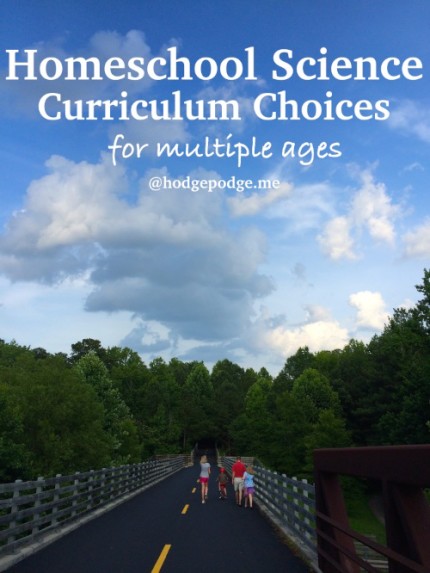 Long Haul Homeschool Science Curriculum
With Apologia resources we have enjoyed such rich learning! The conversational tone of the younger years makes even my older ones suddenly appear to listen in. The notebooking journals, the auditory learning plus the online learning for high school years. Blessed many times over!

Long Haul Homeschool Language Arts Curriculum
Rod and Staff English – We do dearly love Rod and Staff English and have now officially used every year available – from 2nd grade to 10th!
Spelling Workout – When you stick with a curriculum throughout your homeschool years, I believe it speaks volumes to its success and ability to meet the needs of different learning styles. Spelling Workout is more than just spelling. Besides spelling practice, this series teaches…
Long Haul Digital/Online Curriculum
More on Long Haul Homeschool Curriculum Choices
Hodgepodge Homeschool Curriculum Choices – with links to grades, ages, organization tips and more!
Stick With What Works – Now and then I have tried a new curriculum because of a review I read or because it was the latest, greatest thing homeschoolers were raving about. Sometimes that worked, sometimes not. Today I am sharing those things we've made a habit of sticking with.
More Resources for the Overwhelmed Mom
Everything You Need to Know About Choosing a Homeschool Curriculum – Kim shares some great tips! "when choosing a homeschool curriculum, first ask yourself these questions…"
The Incredible Index of Homeschool Curriculum Options – If ever there was something you wanted to know about homeschool curriculum options, you can probably find it here!
How about you. Do you have homeschool curriculum that has stood the test of time – some that is long haul homeschool curriculum?
Save-August 2017