The fall is a busy time of year for traveling.  Some are taking fall family vacations and some are traveling for the upcoming holidays.  Either way, you may be dreading another long road trip with your children.
Sometimes a family vacation isn't really a vacation at all. No one seems to be having any fun. I have some ways to help you make the most of traveling with children!
Be Flexible
The most important thing to remember when you travel with children is to set realistic travel goals and expectations.  If a trip takes you 8 hours without children, you need to assume that it will take at least 10 hours with small children. Also, be careful of your travel times,  you do not want to get stuck in traffic in a major city with hungry or potty-bound kids!
Be flexible when planning your road trip with children, plan frequent stops, even if only for 10 minutes at a time. Anything longer than 2 hours in the car and the whining will begin. Kids are just not designed to sit still in a confined space for long periods of time.  Travel breaks with children can include state parks, rest areas, playgrounds at local parks, restaurants with play areas, or just a picnic table on the side of the road.
Make Activity Bags
Before we leave on a trip, I like to make an activity bag for each of my boys.  I fill it with activities they can do during the trip and a few fun snacks as well. 
When possible, I like to theme the bag according to where we are going. If you are going to Disney World, buy Disney coloring books, fruit snacks, games, books, stickers, etc.  If you are going to the beach, buy water-themed or summer-themed items.  If you are going to an amusement park or zoo, include a  guidemap of the park.  This is so fun for the kids and it gets them excited about where we are headed!  I also have a blast finding the stuff to fill the bags.
If you are headed to visit family, put together a small album of the people you will see and talk about each one of them with your children.  This is a great way for them to get to know family and for you to recall your memories of family.  Play a game of family trivia…see if your children can recall their own memories of family.
Pack Essentials
Always remember to pack your family's essentials…wipes, hand sanit
izer, paper towels, extra toilet paper, etc.  If you have a child that is prone to motion sickness, be prepared.  There are many options to help cope with motion sickness, talk to your doctor about all of them and which is best for your child.  I like to use the motion sickness bracelets for my son.  If you have a child with a disability or severe allergies, make certain their medical bracelet information is up to date.
If you are traveling with a toddler, you may want to bring along a small potty or potty seat. Your toddler's timing does not always coincide with an acceptable bathroom option.
Do not forget their favorite toy or stuffed animal.  I usually allow my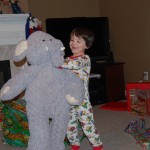 children to each pick a couple of their favorite things from home.  Of course, you have to be careful with this as an open invitation.  My 4 year old requested to bring his "Mickey Mouse" when we went to Disney World.  Sounds like an easy request, however "Mickey Mouse" is a huge stuffed elephant that is larger than he.  We were able to convince him to take something else, thank goodness because there weren't enough seats in the van!
Encourage some quiet time during your trip.  When we travel to my hometown in West Virginia, the view of the mountains is beautiful, especially in the fall!  Turn off the electronics, put away the crayons, activities and games and just enjoy the view and quiet.  Reflect on God's creation and everything around you.  If you want to do a family devotional about God's creation or just talk about the things around you, this is a good time to do that.
For since the creation of the world God's invisible qualities—his eternal power and divine nature—have been clearly seen, being understood from what has been made    –Romans 1:20
Here is a list of ideas to help entertain your children on road trips…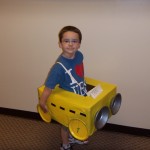 Maps or a road atlas: For older children, include a road map of your trip and let them help navigate. This also helps with the times they ask, "Are we there yet?"you simply answer, "You tell me!".
Notebook:  Bring a spiral bound notebook for each of your children and they can journal about the trip.  Have them write about the oversized peach or giant cow they saw!  This will be a fun way to look back on the places you have been and some of the fun memories that were made.
Metal Cookie Sheet: One of the best travel tools for children is a small metal cookie sheet.  Use it as a tray table and it gives your child something to draw/color on and it keeps the crayons and pencils from rolling away!  You can also go to the dollar store and buy magnets with letters and numbers or with their favorite characters and they can use the tray to create their favorite scene from a book or movie.
Audio Books:  If you have access to a CD player or in our case, a cassette player, be sure to include audio books.  Many are also available to download for MP3 players.  There are many fun family friendly options available.  My family loves the Adventures in Odyssey Series.
Portable DVD Player: If you have access to a DVD player in the car, it can definitely entertain them for a while.  Bring a variety of movies from home or if you want something new and different, you can go to your local library and borrow movies.  Also, many kiosk DVD rental companies allow you to pick up and drop off at different locations.  Pick up a movie on your way out-of-town and drop it off when you get there, this way you only pay for one night's rental.   Make sure you bring movies that appeal to the whole family.  If you have multiple players, remember to bring headphones! The last thing you want to hear is everyone fighting over the volume of the different movies playing.
Handheld Gaming Devices:  If
your child has a Leapster, MobiGo, or Nintendo, this is a great way to keep them busy for a while.  I recommend having screen time guidelines on the road.  As entertained as they may seem while playing, too much screen time on the road can cause headaches and motion sickness which makes for upset and whiny children.
There are many fun activities to pack that are great for road trips.  The key is to stay away from tiny pieces or messy activities.  These are a few road trip-friendly activities:
Pipe Cleaners and/or Wiki Sticks – these are so fun and there are so many different possibilities with them.  You can bend them and shape them to make jewelry, or animals, or trucks, or whatever you can dream up!
Travel board games are great for older kids, but be careful because some of them have tiny pieces. Most are made with magnetic pieces so they do not move around while the car is moving.
Coloring/Activity Books and crayons and pencils.
There are many fun travel games to play that include the scenery around you.  When I was growing up, this was our favorite travel activity!  These get the whole family involved and make for very fun memories!
I Spy is fun for the whole family, especially the toddlers!
The ABC Game is fun and actually gets the younger ones thinking about the alphabet!  Who knew learning could be so fun?  There are many different variations of this game.  Instructables explains it well here.
It is also fun to see how many different state license plates you can find or play it in the style of BINGO for a more competitive approach.   KOA has instructions here. 
Play a fun travel version of BINGO.  Momsminivan has some fun printable BINGO cards for the road.  You will also find other fun travel games to print.
You can also create your own roadside scavenger hunt, include things like cow, red truck, school bus, purple car, a particular restaurant sign, etc.
Snacks, of course!
Be sure to bring snacks that are road-friendly.  Chocolate, sticky, and crumbly snacks can quickly become a huge mess in your car!  Things like pretzels, granola bars, dried fruit, jerky, and fruit snacks are good options.  If you have a cooler, grapes, cherry tomatoes, carrots, and mini sandwiches are great for traveling.
Just remember to enjoy this time with your family.  You have an amazing opportunity for quality time with your children, are you going to embrace it?
I pray for safe and pleasant travels for your family, wherever you may go.
 The Traveler's Psalm
Psalm 121
I will lift up my eyes to the hills— From whence comes my help? 2 My help comes from the Lord, Who made heaven and earth.  3 He will not allow your foot to be moved; He who keeps you will not slumber.  4Behold, He who keeps Israel Shall neither slumber nor sleep.  5 The Lord is your keeper; The Lord is your shade at your right hand. 6 The sun shall not strike you by day, Nor the moon by night.  7 The Lord shall preserve you from all evil; He shall preserve your soul. 8 The Lord shall preserve your going out and your coming in From this time forth, and even forevermore.
~by Heidi, Heidi's Miscellany