Nana's Old fashioned peach cobbler recipe is very simple to make and uses a boxed cake mix! Great for family celebrations or any time. My mother (Nana) makes this for dessert for family birthday lunches. And we just enjoyed it following last Sunday's lunch.
The way to enjoy this peach cobbler recipe on a Sunday is simple. Cook the dessert on a Saturday (or as early as a couple of days prior). Then, before you sit down to Sunday lunch, pop the cobbler in the oven at 350 for about 20 minutes to reheat. Then it's ready to enjoy when you are!
Make it gluten free? Yes! You can easily substitute our favorite Simple Truth Gluten Free Cake Mix.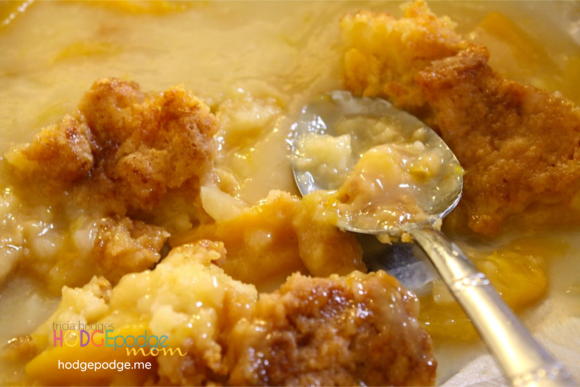 Fresh from Nana…
Old Fashioned Peach Cobbler Recipe
Nana says, "This is NOT a diet peach cobbler dessert, but tastes just like my Grandmother Johnson's cobbler!!" Plus it is enough for a crowd!
You might also like:
-originally published October 2011