What began as a simple love of chalkboard resulted in a homeschool makeover of house-sized proportion. A redo based on learning styles, storage needs and sanity-saving measures. (With plenty of consulting from Master Artist, Nana). Here is our IKEA and chalkboard homeschool room.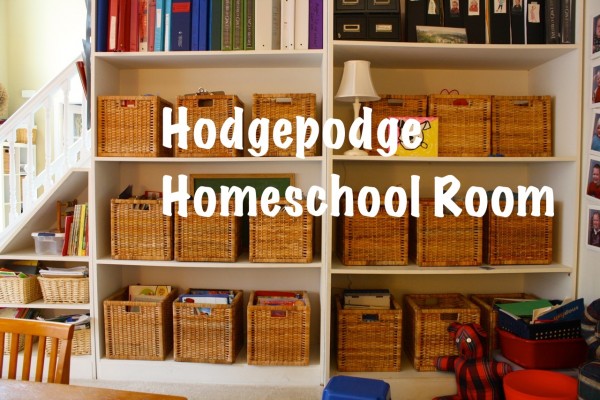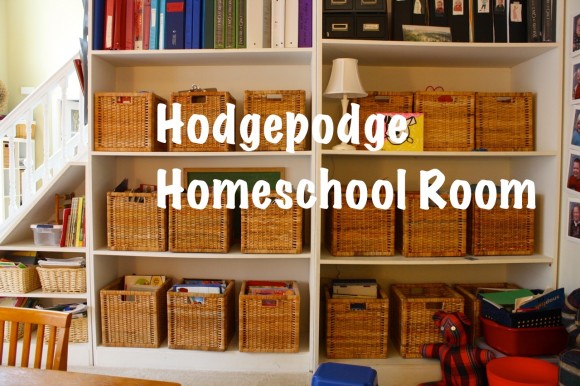 That first summer we painted the red wall and made our chalkboard desk, our eyes were opened to more we could do. Simple changes and rearranges. Our latest additions are the IKEA baskets above.
Our IKEA and Chalkboard Homeschool Room
If you are considering a homeschool makeover, I suggest taking it a step at a time. Please keep in mind that we did these projects one at a time – a month at a time – over the course of now two years. We tackled the areas that were bothering us the most. The places that needed some learning love. Like the big, blank wall and the well-used school desk.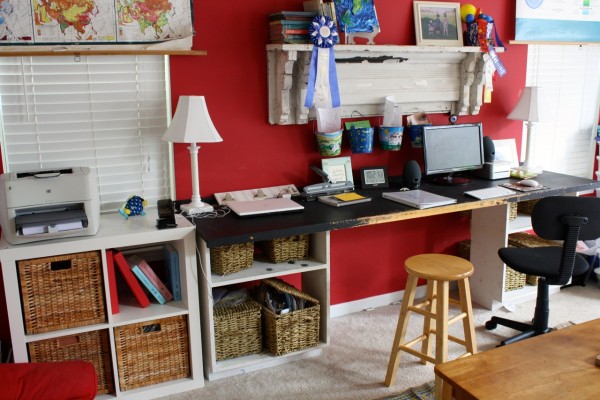 All Things Chalkboard – this original post from two years ago, updated last year, includes details on the three-day weekend makeover of our living room into a workable homeschool room. It includes the chalkboard desk, rearranged bookshelves, buckets and more. But we've come a long way on this journey to really enjoy our learning space. And I've shared the how tos each step of the way.
We realize we are very blessed with a homeschool room. And like many homeschool families, we enjoy learning wherever we are in our home. Some have a preference for the family room couch, the kitchen table – even backyard swing set.
Now, if you know me, you know I have a heart for the practical. If we use it a bunch then we build it into the decorating. So, I will share with you all that I have written about our homeschool makeover. I hope that you can find some ideas here.

IKEA Desk in a Bedroom
First of all, my eldest wanted a desk for her room. This was our first trip to IKEA. Just a small, simple desk. And my daughter wrote about it in My Room Re-Do. She uses this desk mostly for getting ready each day.
Our IKEA and Chalkboard Homeschool Room
Each of the links below will take you to either a how-to or to more information.

Paint is a frugal way to transform a room. We painted one wall red, as an accent.

Why not paint the surface of the most used desk with chalkboard paint? Makes for a handy math scratch surface. And many a road has been drawn for matchbox cars.

Ebay-found roll up maps keep geography handy.

Buckets for Pencils and More

Display winning ribbons where you can see them (and plain, cheap, flat sheets for curtains)

Those we started homeschooling with in 2001.

A recent addition for our littlest ones, with a cubby for me!

A sanity-saving measure for mama, a way to provide easy access to learning for our kinesthetic learner.

Those Marvelous IKEA Baskets
These are our latest edition – IKEA Branas baskets – bought with birthday money! Baskets hit the storage problem head on. I've paid more money for a less sturdy basket. These, I believe, will stand the test of time. With supplies for five children, record keeping, crafts, display board supplies, paper and more paper – it was visually overwhelming. Now I feel a little calmer and our homeschool room is such a nice place to be. We know where everything goes. There's even ONE empty basket for growth! My next plan is to paint chalkboard paint on cardboard for little labels.
The homeschool makeover also spilled over into the other parts of comfortable spots…

Our Homeschool Family Room

An IKEA Expedit 2×4  houses science, nature study supplies, notebooks and more.

Red couches. The first couches we've ever bought in our 17 years of marriage. Our dear, hand-me-down couches were a little sprung after five children.

We like to enjoy our morning quiet time in a comfortable spot on the couch. IKEA 2×2 Expedits house Bibles, journals, devotionals, spiral notebooks and serve well as end tables. Our stacks are now in baskets!

This was a big 'duh' moment for me. Why not display our current reading within plain view? The mantel is now a homeschool tool. (with details on the Bible verse stenciled and seasonal ideas)

An IKEA 2×4 Expedit is the one stop spot for all of our history resources. We store all our Tapestry of Grace binders, lapbooks, everything goes there!
Our IKEA and Chalkboard Homeschool Makeover Tips:
Go vertical! When I've shared about our school room in the past, there is usually one who says she does not have a school room. My suggestion is to go with bookcases wherever it is most comfortable. Storage is glorious going up your wall!
Baskets hide it. (like my stacks)
I have a little thing for chalkboard and for maps. I've been collecting even more ideas on my All Things Chalkboard and Marvelous Maps Pinterest boards.
I hope you've enjoyed this little tour of our homeschool room and more! I invite you to subscribe to Hodgepodge so you won't miss a homeschool post. Be sure to check out all the homeschool rooms via the Not-Back-to-School Blog Hop at iHomeschool Network and at Real Mom Resources.
Check out all the inspiration at iHomeschool Network's Not Back to School Blog Hop
The latest update — > 10 Homeschool Learning Centers at Hodgepodge
Save