The household notebook – also known by many other names – the home binder, control journal, family organizer, command central, etc.  It's kind of the brain, if you will, containing all those things you need to keep track of in your home. All those things that, if you're like me, you try to remember in your head, but can't.
After my great desk clean-off, I decided I needed something more efficient to help me stay organized, so I set out to research and develop a household notebook.  There are numerous sites and blogs with tips.  I have pooled some of what I like here and included a few links.
How to Make a Household Notebook
Here's what I have to offer:
Ease in, but do it now. Don't feel like you have to achieve perfection with your notebook.  If you wait for that you will never get it done!  Grab what you have on hand and get started.  You can always replace it with a nicer notebook or pretty matching tabs later. I think it's better to start with the basics anyway so you can try it out and tweak before you use the good stuff. That's what I did and then I added some personal touches to make it fun. You want to start while you're motivated.  Don't put it on a list of things to do…we know what happens then…it just becomes one more thing you need to get done 🙂
Like I said, grab some supplies. All you really need is a 3-ring binder, some tabs and some paper (notebook and copy).  If you don't have any tabs, you can make some temporary tabs with manila file folders, colored paper or post-it notes and regular paper. If you have some sheet protectors, you might find those handy, too, but not necessary.  These will be a great visual aid in dividing up your categories, which leads to the next step…
Decide  on your categories.  Think about what you'd like to have at your fingertips. I don't use my notebook for filing, I use it as a reference.  I file in a separate place.  I also don't include our home school info in it, since that takes up it's own notebook. I have broader categories with sub-categories that fall within those.  Now don't check out on me!  It sounds complicated, but it's not.  Here is what I have right now:
General schedules, calendar, babysitter info, emergency info
I have my daily routines here for a reminder – I glance at them each morning, afternoon and evening to make sure I haven't forgotten anything, I hole-punch any schedules that we get from sports or other activities after marking those dates on the calendar.  You can keep your planner or calendar here, too.  I have a separate planner right now, but I think I might try to integrate it soon. I have a page for sitters so I can leave it open to that page when we leave and they will have all the info they need, and emergency info including evacuation reminders and emergency numbers.
Contacts Family & friends, church, home school group, businesses
I am in the process of typing out my family and friends info to transfer them from my old address book.  For church and home school group, I put a copy of the contacts that I receive from those, and for businesses, I have sheets of copy paper so I can tape business cards or write the info down.
Cleaning Zones (from the FLYlady), chores (for kids),  maintenance info, home inventory

I have been following the FLYlady's cleaning schedule for the last month, so this is where I keep my reminders for what's in each zone of the house and what to clean there as well as the kids current chores.  There's also a sheet where I jot down name, date and cost of household maintenance and repairs. You could also include auto maintenance info here, too, as well as a home inventory for insurance purposes.
Food menus, shopping lists, recipes to try
This one is pretty self-explanatory.  I keep past menus, so I can reuse them, a sheet for jotting down things I need to pick up, and a place for recipes torn out of magazines or printed off blogs and websites that I want to try.

Special occasions lists for birthdays, Christmas, Easter, other holidays, and travel
I can write down ideas for gifts or keep track of that clearance items I pick up and stuff in the back of the closet only to forget them when the time comes.  I use it to party plan with themes, food, guest lists, games for birthdays, showers, etc.
For holidays, this is a great place to keep track of menus used, activities you did that you enjoyed and the ones you didn't, also to remind yourself of things you didn't get to do that you want to include the next year. It's a great place for your note to self, too.  There's a place for trip planning.  I will be able to look back on past trips and see contact info for hotels, prices, maps etc. and I can have all the info for any current trips I am planning at my fingertips.
Budget just a few sheets here – for current monthly budget, past budgets and things that need to be budgeted for in the future.
We will be talking about this next week – aren't you excited?
Personal tabs for each child, my husband and myself to keep track of milestones, medical info, activities, sizes

Here's a section I added recently that I am excited about having.  When you have six kids, sometimes events can blur together and I will forget who did what.  I know, I feel bad!  This way I have a place to quickly jot down things as they happen, funny things said, activities participated in, and any major medical issues, immunizations, and doctor  visits.
Then when I am ready to scrapbook or journal something, I can refer back here.  We have started birthday journals (another post for another day – I'm jotting it in my blog idea section now), and this will be invaluable when I go to write in those.  Or if I need a medical history I can slip the page out and take it with me.
This is also a great place for fingerprints and a good up-to-date picture of the kids just in case.
You can add pets here, too or give them their own tab
Creative Ideas for home decor, blogs, books, crafts, ministry, school, other hobbies

This is my favorite section! You know how it is with ideas…they often come at times when you can't really do them and if you don't write them down you will forget.  So here is my spot to jot down those ideas while they are fresh.  Then I can come back to them when I'm ready.
In decor I might jot down a floor plan idea so I can rearrange when hubby is at work 🙂 or I might stick in paint samples or tear an idea out of a magazine that I want to try.  I am constantly thinking up ideas for blogs when I don't have time to sit and write, so here is where I jot the idea and maybe a couple of points to jog my memory later.  Books is a place for books I want to read and for books I want to write.  Crafts, ministry, school are all great places to put ideas you see as well.  You probably have a hobby or two that you can add here. I love this category so much I actually made another notebook just for it 🙂
That's what I have right now in my binder(s). It seems like a lot, but a lot of sections are only a page or two long, so you can fit a lot in it.   I hope you all will share ideas for categories!
Train yourself to use it. It will take a little time to get into the habit of referring to your notebook and jotting things down.  I have loved having it as a place to dump all those ideas skittering around in my head and feel like I can think clearer without them there 🙂  It gives me some peace of mind, too knowing that I don't have to hunt everywhere for info when I need it.
In order to not overwhelm yourself, start by making the notebook and use it going forward from today.  Then you can gradually work on adding past info if you want.
Keep it accessible. Leave it on your desk or your kitchen counter where you can quickly refer to it.  Don't hide it somewhere – out of sight, out of mind, right?
Make it digital. If the thought of all those papers overwhelms you or you totally love to have everything on the computer, make a digital notebook.  You can use Word or whatever great thing Mac has 🙂 .  I have used a site called backpackit [now BaseCamp] to keep lists and 'pages' of ideas.  What's great is that you can paste pics from the web, scan pics and post them there and you can share pages with others.  It's free for the first 5  pages and then there is a small monthly fee.  There is also a program in Office called OneNote that allows you to do much the same – it even has tabs like a notebook.  Has anyone used that?
As for me, I love paper and flipping the pages and seeing them there in front of me.  I do have several pages that I typed in Word for the notebook, which I saved for easy updating later.  Just make sure you back it up regularly!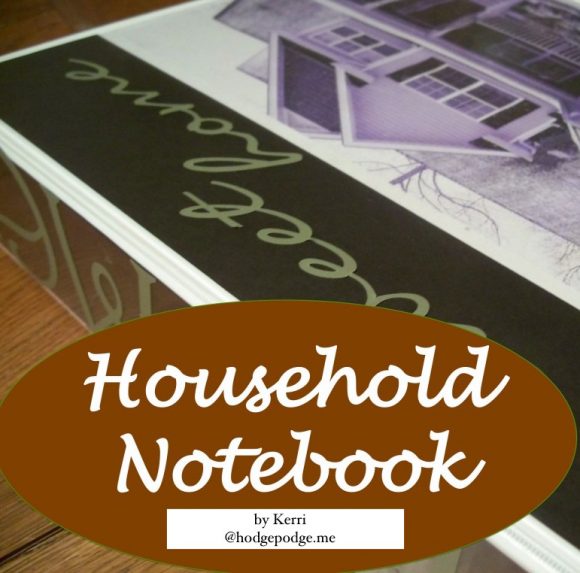 This makes me sound very organized and efficient and by nature I am not. I promise!  It is my way of adapting for survival and trying to better plan, so I can have more fun being spontaneous, which is the point of this series!
If I had to boil it down to three phrases for you I would say…start now, make it your own, and don't aim for perfection 🙂
I know this was a tad long and probably included way more than you wanted to know, but if you have any questions, just leave them in the comments and I will answer them.  And I would love to hear about your notebooking experiences, too!
Here are those links:
Resources to Help You Create Your Household Notebook – Taylor Flannery offers daily baby step challenges to help you build your notebook. Printables, guidance, encouragement and so much more. Her Household Management 101 site is one you should turn to daily!
FLYlady's Control Journal – she holds your hand all the way through building what she calls a control journal – very encouraging!
Organized Home – a treasure trove of info with lots of great ideas – I found this after I had started my notebook 🙁 I will definitely be adding some of these ideas.
Tipnut – lots more links here as well as printables for your notebook. CAUTION – if you are easily overwhelmed or distracted, this might not be a good place for you – speaking from experience 🙂
Now, LET'S NOTEBOOK!
Planning to Be Spontaneous Series by Kerri
~ by Kerri Edger

Save
Save
Save