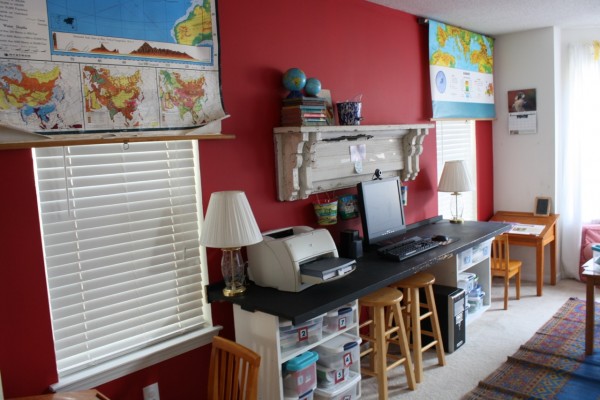 It's a one year anniversary of a new red wall in the Hodgepodge homeschool room. This is what we were doing this time last year…
Yes, while we are taking a week off, we are alternating a bit of having fun and getting stuff done. A field trip, paint a wall. Family walk, paint a wall. Nature study, bake a cake 🙂
The Hodgepodge classroom has always been full of white walls. Back over the summer it got a serious update with lots of chalkboard paint. The chalkboard desk, the map window treatments, I talked about in All Things Chalkboard.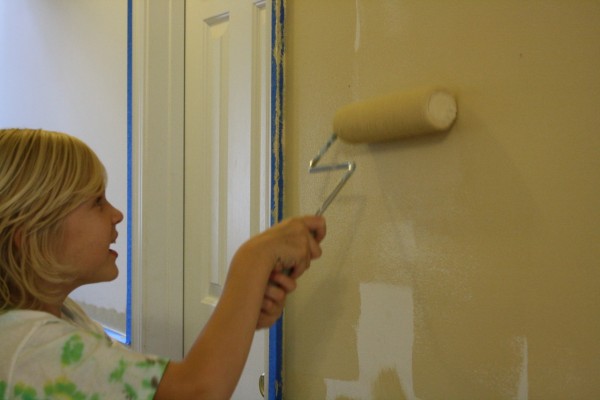 Since the summer, we've talked about a red accent wall. It's the same red leftover from another room. After I took this photo Hodgepodgedad painted the bay window the same Pittsfield Buff he did the foyer and hallway (pictured below).
I worked on reloading, revamping and pitching. And oooing and aaaahing.
Now you tell me that girl is not having fun!
When I told Nana what we were doing she wondered if the children would now do their school work faster. You know how red walls in your kitchen are supposed to make you eat faster… we shall see. At the least, it's just enough of an update to get us excited about getting back to our regular learning next week. Thanks Hodgepodgedad!
Homeschool Room Organization & Home Makeover
Save
Save