This simple recipe paints such a vivid picture of the resurrection story. Resurrection rolls have quickly become a family Easter tradition.
How To Make Resurrection Rolls for Your Easter Homeschool
Ever since Little Sanctuary posted the Resurrection rolls instructions, we look forward to this tradition. (Thank you, friend!)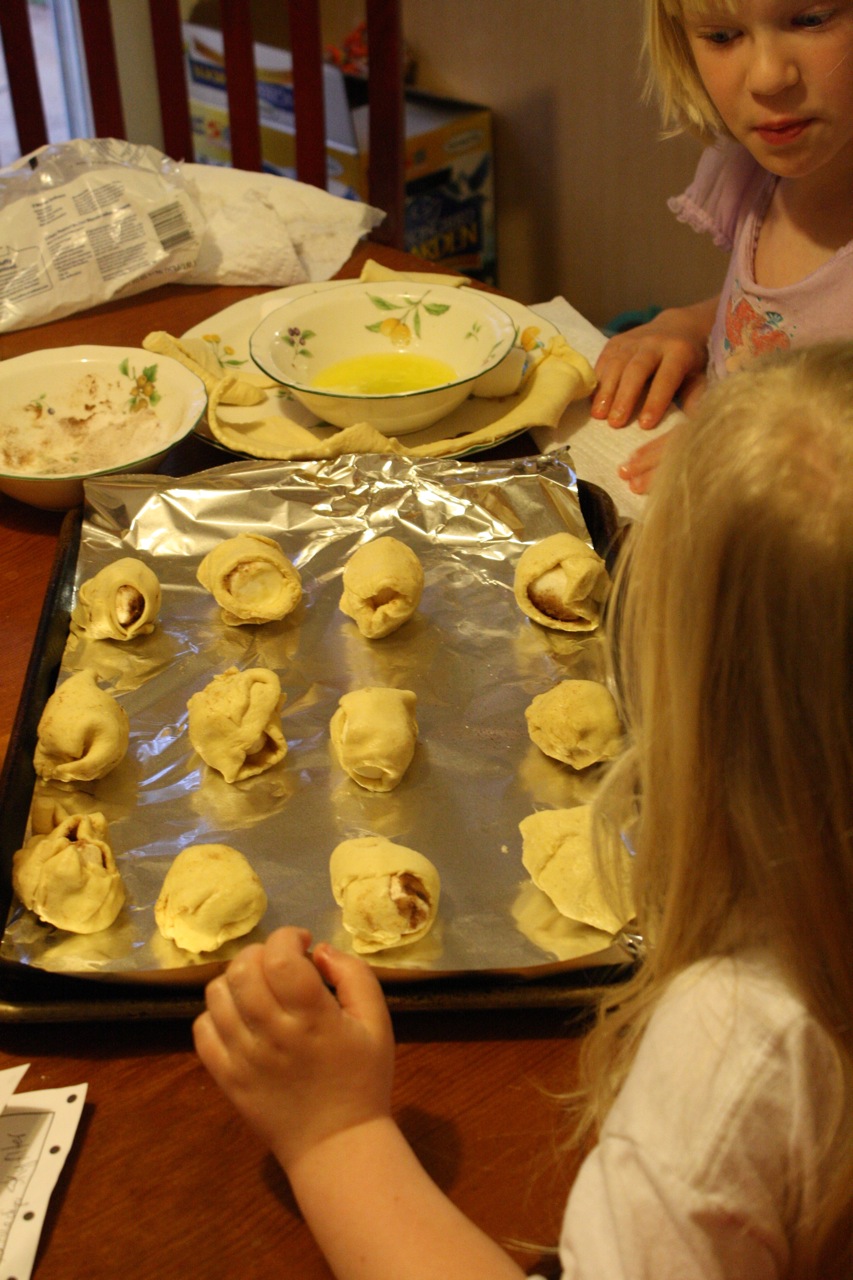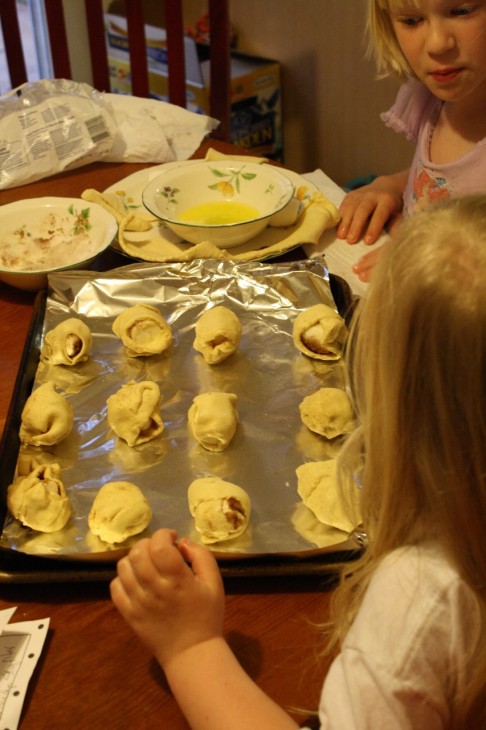 Making Resurrection Rolls for Your Easter Celebration
Be prepared for some literal interpretations of the Easter story though. I still remember what our then, three-year-old, said.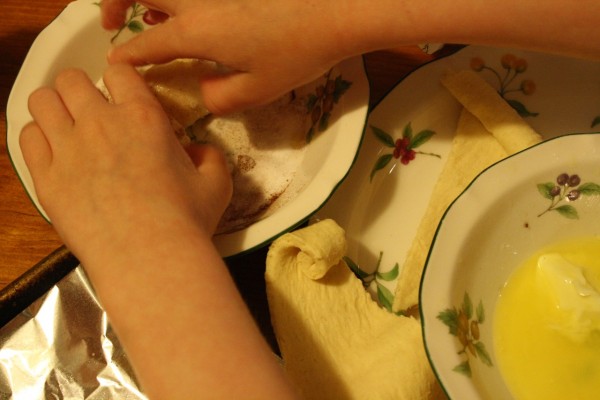 We'd carefully dipped the marshmallow 'Jesus' in the embalming oil (butter) and spices (sugar and cinnamon). We'd carefully wrapped the burial linens (crescent roll).
All were ready to go in the oven.
"We're gonna cook Jesus?" she exclaimed, all concerned.
A wonderful teaching opportunity 🙂 Because after they came out of the oven, she said, "Jesus melted!" But that shows how He is not there – He is risen indeed!
Enjoy Kim's recipe, below with accompanying Bible passages.
Resurrection Rolls Recipe
Preheat Oven to 350 degrees
Ingredients
Crescent rolls
Melted butter
Large marshmallows
Cinnamon
Sugar
Give each child a triangle of crescent rolls. The crescent roll represents the cloth that Jesus was wrapped in.
Read Matthew 27:57-61
1. Give each child a marshmallow. This represents Jesus.
2. Have him/her dip the marshmallow in melted butter. This represents the oils of embalming.
3. Now dip the buttered marshmallow in the cinnamon and sugar which represents the spices used to anoint the body.
4. Then wrap up the coated marshmallow tightly in the crescent roll (not like a typical crescent roll up, but bring the sides up and seal the marshmallow inside.) This represents the wrapping of Jesus' body after death.
5. Place in a 350 degree oven for 10-12 minutes. (The oven represents the tomb – pretend like it was three days!)
6. Let the rolls cool slightly. The children can open their rolls (cloth) and discover that Jesus is no longer there, HE IS RISEN!!!! (The marshmallow melts and the crescent roll is puffed up, but empty.)
Now read Matthew 28:5-8
Kim has been a minister's wife for more than thirty years. She has eight children. She would like to say she reads, travels and does all kinds of wonderful things in her spare time, but the truth is she spends her spare time doing laundry.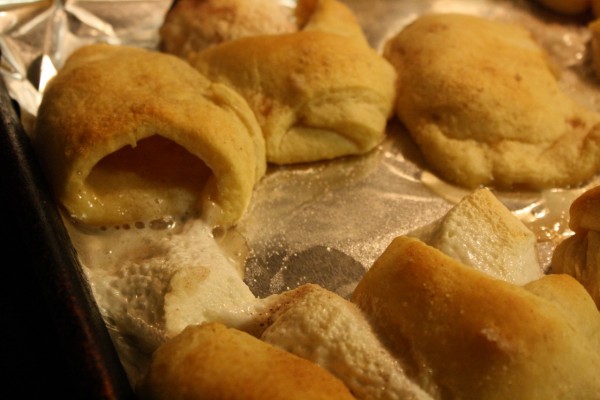 He is not here, for He has risen, just as He said. Come, see the place where He was lying. Matthew 28:6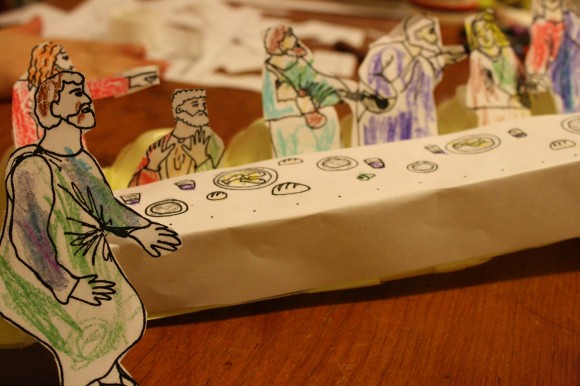 More Easter Homeschool Ideas
For more Easter homeschool ideas (like the Lord's Supper craft, above) see: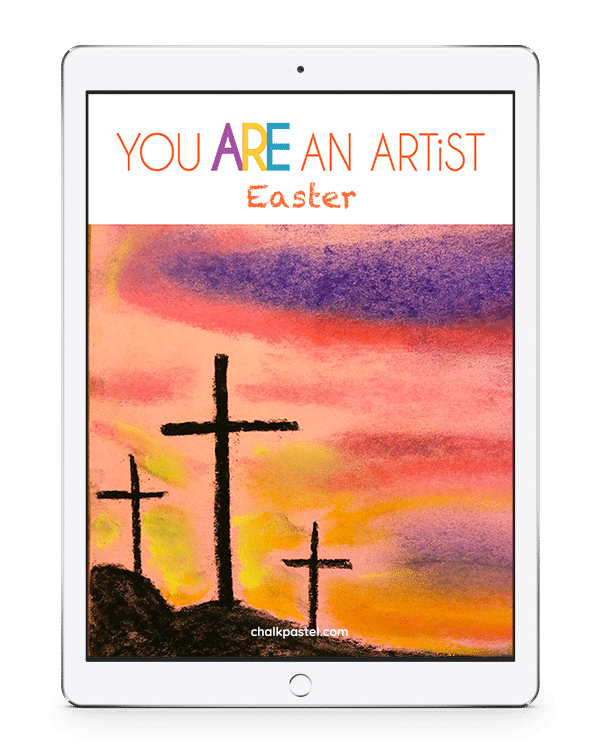 Draw Your Way Through the Resurrection Story – You can use these art lessons in your homeschool to draw through the Resurrection story and to teach the Easter story in a colorful and memorable way.
Beautiful Easter Nature Studies for Kids – With signs of spring upon us, enjoy these beautiful Easter nature studies for kids. A fun and hands-on way to celebrate the resurrection story with an Easter lily nature study, a Lenten countdown calendar, a Resurrection Garden craft and more!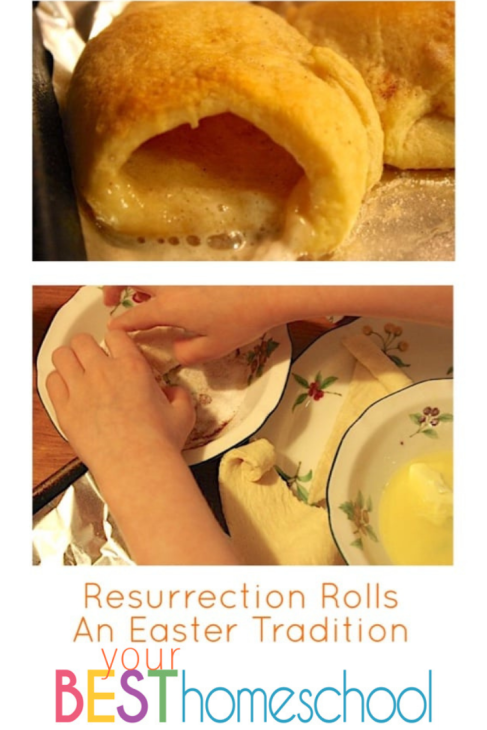 -originally published April 2011