Enjoy this overview of 10 homeschool science fair project ideas. Like the display boards we love, these science fair projects are all an extension of what we were already studying in science.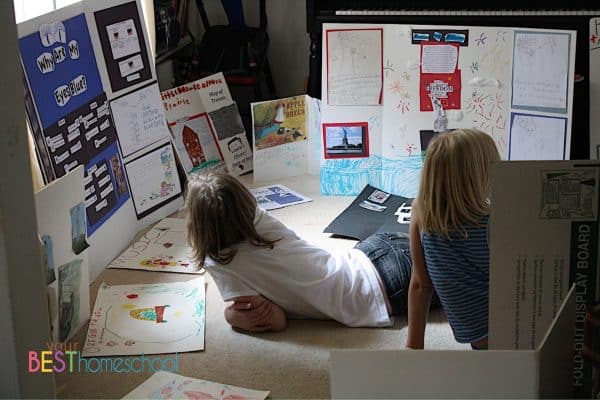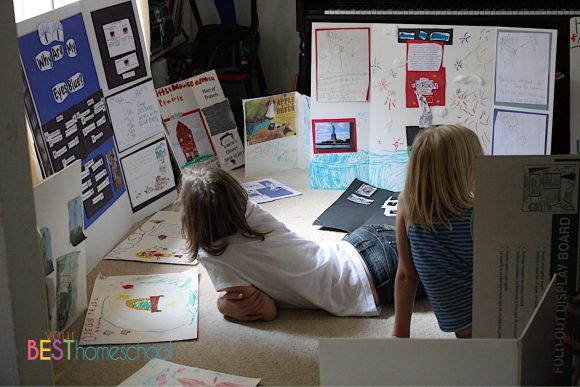 It was afternoon quiet time on a Tuesday. My daughter pulled… them… all… out. She set them up for display. All of the science fair projects and display boards. The room full of projects started to draw a crowd. The science fair projects and history display boards from the last several years. "Wow," we all said. The enormity made quite a picture. I was impressed by the learning.
10 Homeschool Science Fair Project Ideas
Each of my older three children particularly love making display boards. Plus, our homeschool group hosts an annual Homeschool Expo, so we get to share our work. Children may display their science and/or history projects. Plus families each fill a table full of learning from the year. This past year we had an official science fair, complete with judging and ribbons.
Display boards incorporate so many subjects and skills. We use display boards as an extension and celebration of our learning in history, math and many subjects.
10 Science fair project ideas we've covered as a family or individually:
Question: How are Sharks and Humans Alike? Different? Since Kindergartener LOVES sharks, especially hammerhead sharks, she wanted to learn more about them. She remembered that in our science studies were are learning about the human body. So she came up with the question above. Well, over the summer Nana had seen on the Pink and Green Mama blog a life-sized diagram of the human body. This diagram was made by tracing the child's body first. Then using household materials to make the bones, organs and more. This part of the science project took the most time but was also the most fun!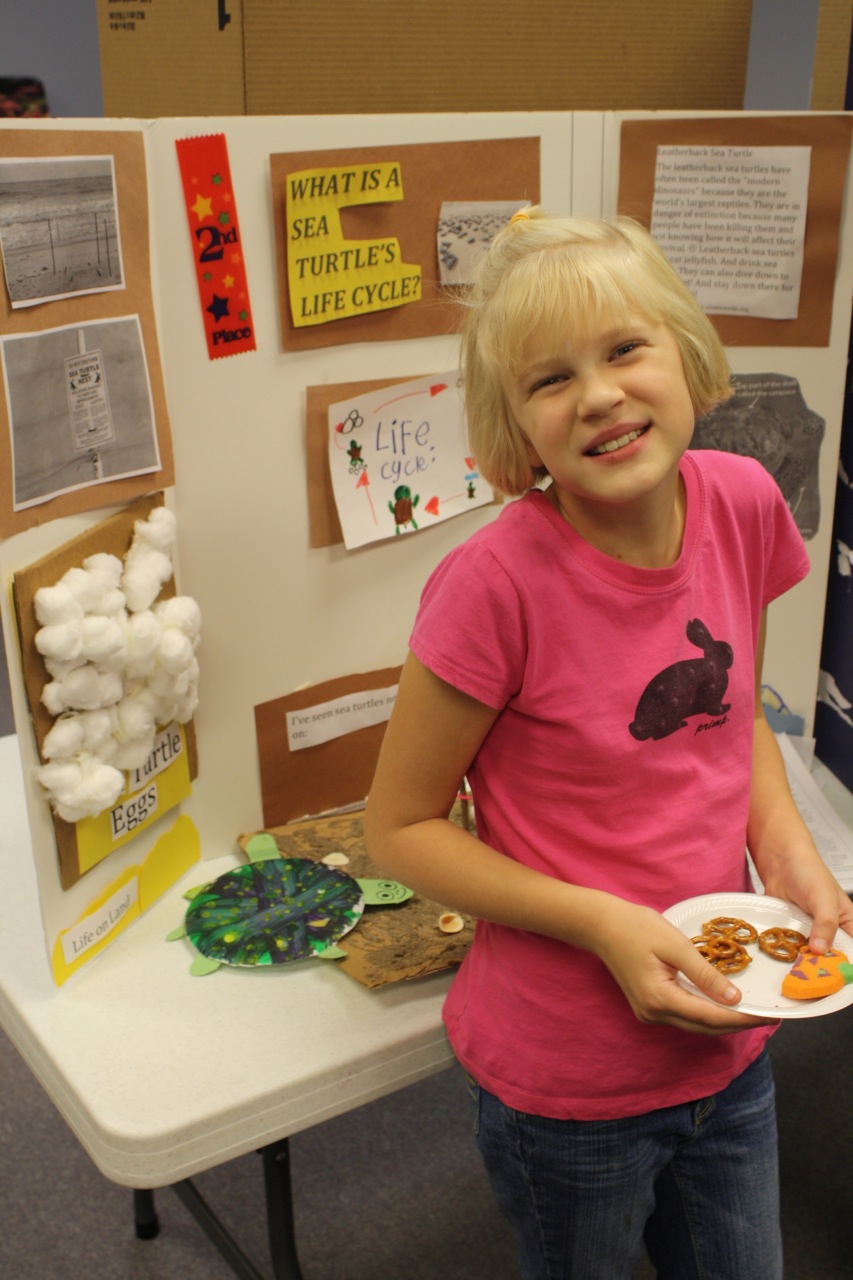 What is a Sea Turtle's Life Cycle? I wanted to learn more about sea turtles ever since we went to the beach. There was a sea turtle nest right in front of where we were staying. We thought it might even hatch while we were there but it didn't. For my science project, I watched all kinds of awesome YouTube videos – like this one of a baby sea turtle hatching. I decided to share about a sea turtle's life on land and life in the ocean.
How to Make an iPad App – Lately, I've spent time with my Dad learning how to use software to make iPad and iPhone apps. I'm learning a lot. So, when it was time to decide a science fair topic, why not do this?
How are the Human Eye and a Camera Lens Different? For my board I compared the camera to the human eye. I chose that topic because the eye was something I was already studying in anatomy and I love photography.
Which Makes the Biggest Bubbles? Third grader's Bubble Science. Question: Which makes bigger bubbles? Oh boy did she find out that day. This project was a result of a spontaneous morning of playing in homemade bubble juice.
How is Weather Measured? Sixth grader asked the question, "How is weather measured?"(this photo taken before the conclusion was posted on his board). Following assignments in our Answers in Genesis Weather and Water science text, he made a rain gauge, wind sock and a tornado tube.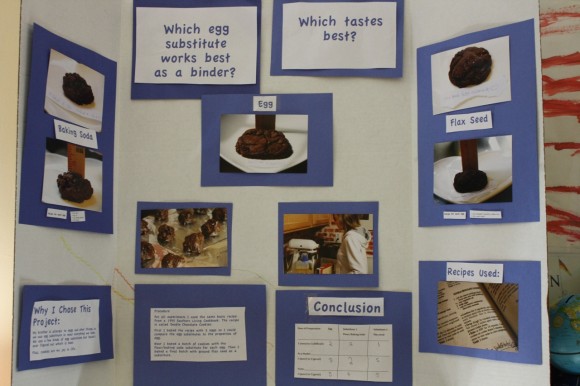 Which Egg Substitute Works Best as a Binder? Perfect in our allergy-friendly household! Seventh grader set out to find out which egg substitute works best as a binder. Which results in the best taste? She picked double chocolate cookies as her test recipe. We got to enjoy the results!
She says, "Cookies are my joy in life."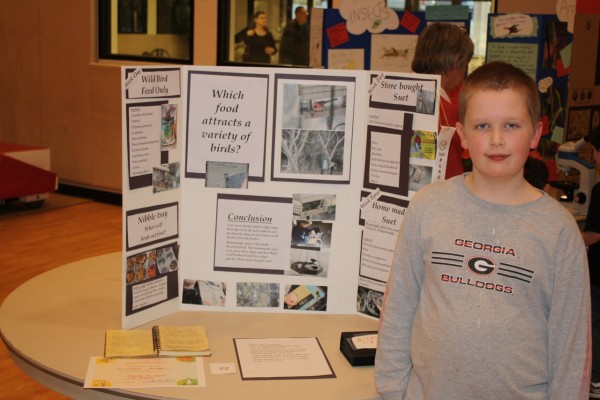 Which Food Attracts a Variety of Birds? Eldest boy offered up the backyard birds different feeders and muffin trays full of food, suet, etc. He kept a journal and shared his results.
Great Backyard Redo – Eldest Girl planned our summer garden, flowers, veggies, sketched a before and after.
Do Jonquil or Crocus Bulbs Bloom First in Our Yard? – Middle Girl was curious which of these flowers would bloom first. She also included a short study of the difference between annuals and perennials. The bulbs for the project came from Mama Ann's yard (great-grandmother pictured with Middle Girl, above).

Plus a bonus Hodgepodge family science project! Last year the science fair included a family category. So we couldn't pass that up. Especially since we all enjoyed our unit of study with Answers in Genesis' Our Universe. We've learned about the sun, the moon and its phases, asteroids, meteors, the space program, astronauts and more. We've stood outside in the driveway and watched the International Space Station fly over. This project included a display board (made with chalkboard paint and stars drawn on with chalk), a model of the solar system…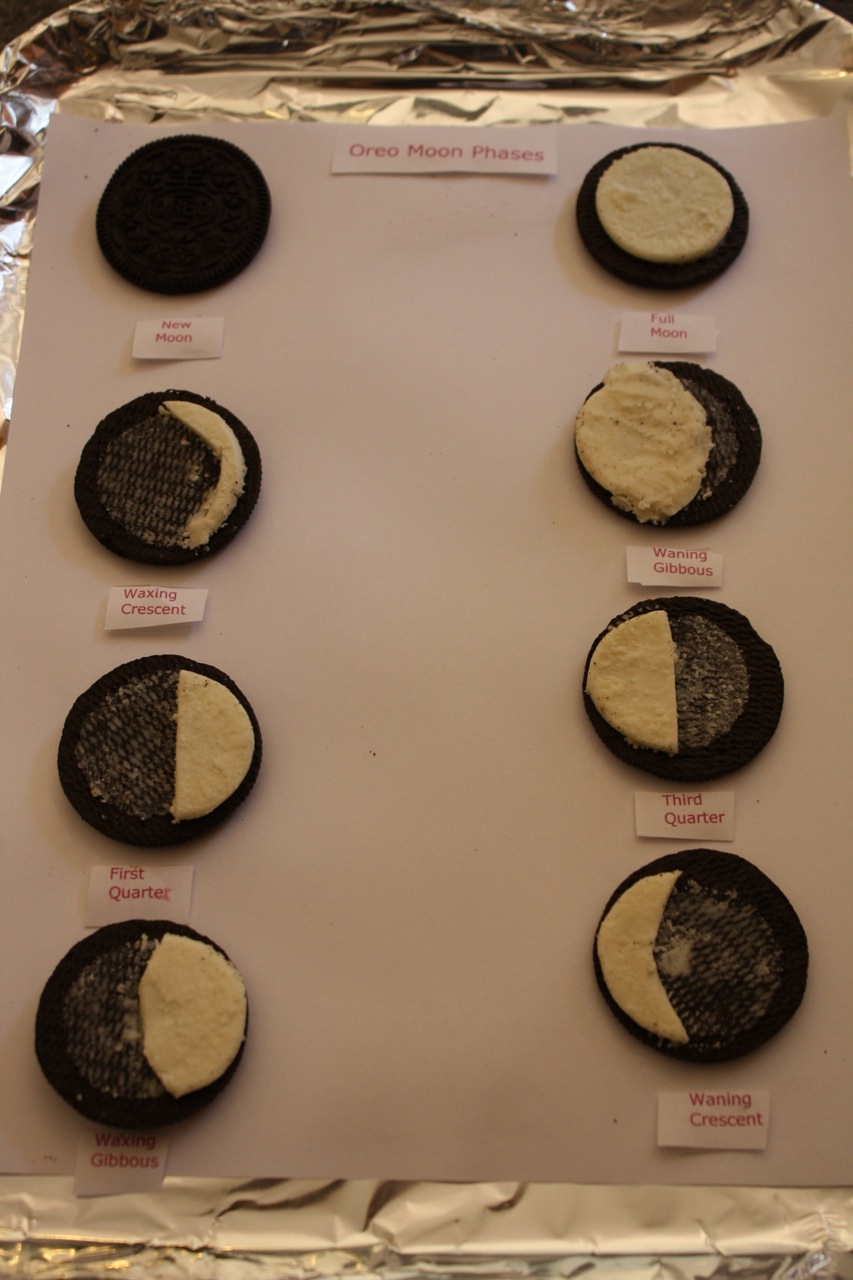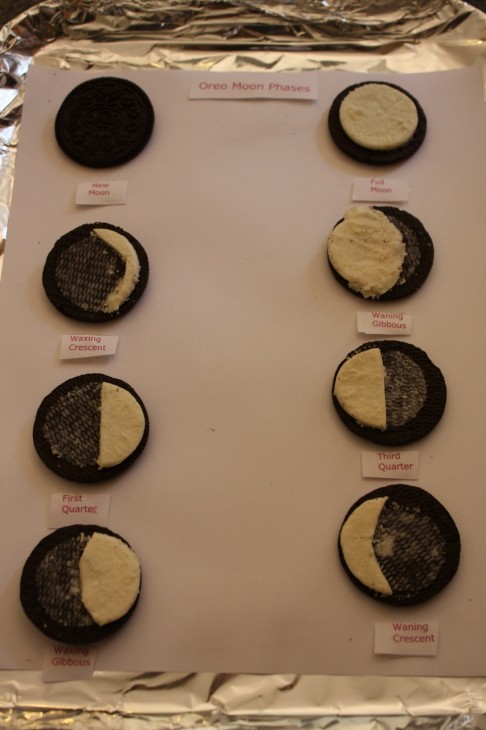 and, of course, Oreo phases of the moon.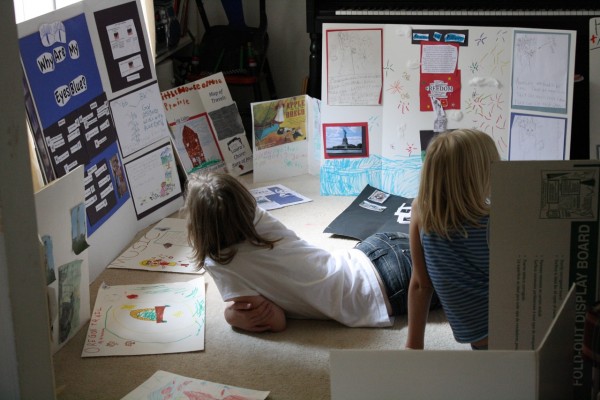 Another memorable science fair project we did as a family asked the question, Why Are My Eyes Blue? (you can see the board pictured in this photo above). This was such fun as we contacted grandparents and great-grandparents asking about eye color. All five of our children beat the genetic odds and have blue eyes.
More Homeschool Science Activities
You might also enjoy these homeschool science activities:
How about you? Does your family use display boards for learning? Participate in a science fair or make science fair projects?
Save
-A homeschool throw back from March 2012
Save