Here is a big list of March inspiration for homeschool moms. It's time to kick off spring, to notice beauty and to switch things up in your homeschool schedule.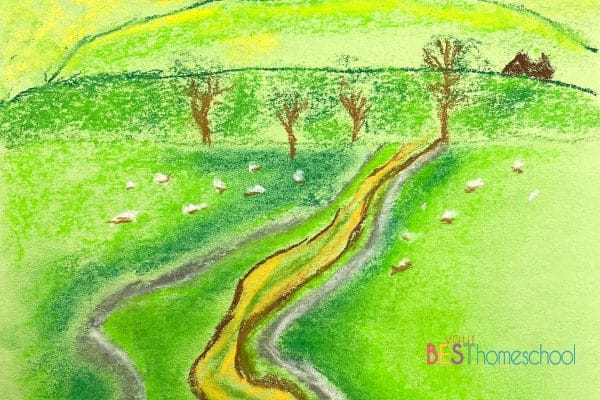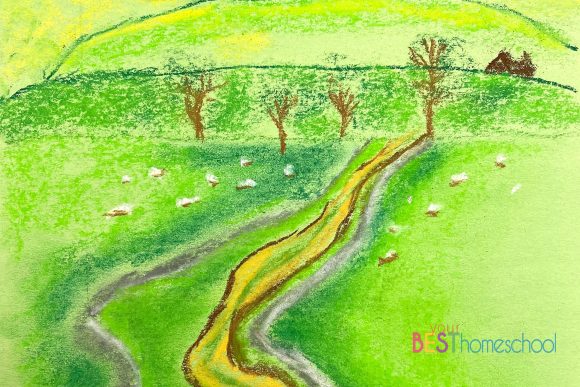 March Inspiration for Homeschool Moms
March marks the time of year when everything begins to turn green, from the tip-tops of trees with fresh buds and leaflets to the bottom of the toes with new blades of grass. With four-leaf-clovers and cookie sprinkles and t-shirts in every shade of green, the month of March hints that spring is around the corner. And it's a great time to incorporate some March Homeschool Family Fun Ideas!
What's that saying about March? In like a lion, out like a lamb? And, conversely, in like a lamb, out like a lion? The gentle breezes or ferocious ones of March seem to chase winter away and make room for springtime. Whatever the weather in your neck of the woods, enjoy the month of March by celebrating some of these March Homeschool Celebrations with the ones you love.
Nature Study for Your Spring Homeschool
10 March Nature Activities Perfect for Spring Celebrations – March brings beautiful spring opportunities to homeschool families. Enjoy these March nature activities perfect for spring celebrations!
Guide to Spring Nature Study – Getting outside with our children can be the sanity saving activity we all need. As spring approaches, have you considered adding a little nature study into your weekly routine? I've heard from families that they were reluctant to start a nature study plan, stating that they thought it would restrict their freedom to focus on one topic. But, they found that having a focus each week actually helped them to stay regular at getting outside and it helped them be better at taking a few minutes to learn about an object they encountered, even if it wasn't the original aim for getting outdoors.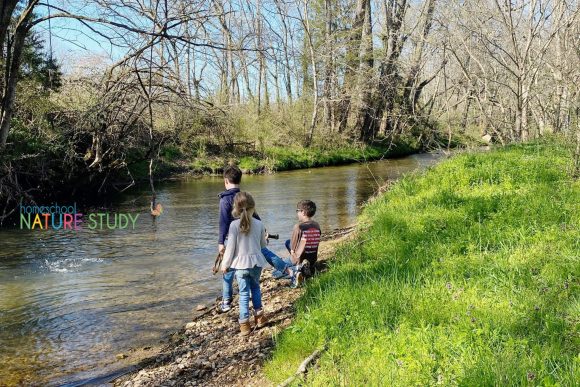 First Day of Spring – Simple Ways to Study Nature in Your Homeschool – We are excited to get started on this first day of spring with simple ways to study nature and a fresh set of homeschool nature study ideas. It hardly seems possible that we are at the beginning of another spring season but here we go! We look forward to another season of encouraging nature study. Have fun and get outdoors with your children!
Spring Nature Study with Art and Music Appreciation – This spring homeschool nature study curriculum contains all the nature study Outdoor Hour Challenges, custom notebook pages for nature study as well as three months' worth of art and music appreciation.
How to Make Memories This Spring with Fun Homeschool Ideas – Here are some ideas for how to make memories this spring with fun homeschool ideas. It seems to me that we are always talking about making memories with our children during the summer. Or over the Christmas holidays. But memory-making lasts year 'round. Spring can be the time to burst outside and enjoy. To build a new tradition.
Spring Nature Study with Multiple Ages – Warm sunshine on your back, leaves unfurling and marvelous moss and lichen? Yes, please. We enjoyed some signs of spring and spring nature study with all our ages this homeschool week. It went something like this…
March Homeschool Art Activities
Add a beautiful layer of education with art! With these March homeschool art activities and spring homeschool ideas, you can celebrate Lent, St. Patrick's Day, Dr. Seuss and Van Gogh's birthday and more!
Spring Homeschool Nature Study with Art – Perfect for commemorating spring, Nana's spring homeschool nature study with art explores all creatures great and small and all things bright and beautiful! These nature-inspired art lessons are easy and fun for the whole family!
The Periodic Table: Fun Activities for Kids! There's a saying that goes, "What in the world ISN'T Chemistry?" because everything we see is made up of elements (not necessarily as pure elements, but in their ionic, compound, and mixture forms!). Showing kids where they are most likely to encounter each element makes learning chemistry memorable and practical.
Easter Activities Perfect for Tweens and Teens – What if I told you You ARE an ARTiST offers Easter activities perfect for tweens and teens and suitable for all ages? Nana also has a brand new art lesson appropriate just for your tween or teen!
Redbud Tree Art Lesson – Every spring we look forward to the beautiful pink of the front yard redbud tree. We realized that many of our fellow artists might have a love of the redbud tree as well so we knew it was time for a redbud tree chalk pastel art tutorial!
The Perfect St. Patrick's Day Unit Study with Art! St. Patrick's Day is a fantastic learning opportunity in our homeschools, and unfortunately, it can easily get overlooked. But we can't let you miss out on all of the fun. We have the perfect St. Patrick's Day unit study ideas to share with you so that you can have a great time learning together in your homeschool.
March Holidays To Celebrate in Your Homeschool
The St. Patrick's Day Homeschool – St. Patrick's Day is celebrated annually on March 17, the anniversary of his death in the fifth century. The Irish have observed this day as a religious holiday for over 1,000 years. On St. Patrick's Day, Irish families would traditionally attend church in the morning and celebrate in the afternoon. But it's not just for the Irish! You can learn about and celebrate St. Patrick's Day in your home or homeschool even if you aren't Irish!
Celebrate National Craft Month – March is National Craft Month and Heidi shares the fun with a collection of craft ideas to use in your homeschool.
What are some of your favorites for a March homeschool? What inspiration for homeschool moms can you offer?