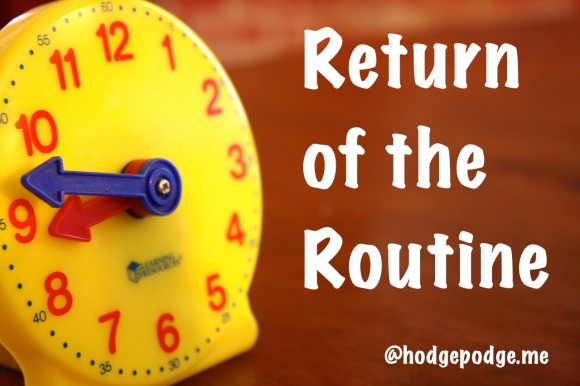 Welcome to Five Days of Return of the Routine! I'm so glad you are here. First of all, if you are a reluctant return of the routiner, take heart. Pin this series and stop back by later. Take what you need when you need it. (But really, this series is for you!)
The encouragement I offer these five days applies to getting back into a routine any time of year – whether it be after a summer break, a vacation, sickness or another reason. In all honesty, I am sharing these tips to not only help you, dear reader, but also to inspire myself to action.
I'm approaching this series like a ball game. Yes, I am a football fan and am anticipating fall. But I also know that no team would run out onto the field without preparation and a game plan.
So, to start our series I'm sharing an essential basic. This first step is the foundation. Because, often, if we skip this step, we find our routine quickly losing steam. Very first, and most important: What about your Mama heart?
1. Rest
You may still be feeling the weight of last year. Or you may be facing the overwhelming responsibility of the new school year. Allow yourself some rest. Pray that the Lord give you the motivation you need in the proper time. It will come. Don't force it. Lean into Him and listen. Jesus set the example in getting away and getting with the Father. Step out of the urgent into the quiet, out of your regular spot. Look to the source of strength. (Luke 4: 42-43)
I share with you an article I reread each year. It's one my friend Cassandra Frear shared over at Habits for a Happy Home. It gives you permission. Below is an excerpt but I hope you will click over and sink into her words of encouragement…
Rest, Mama. Rest a little longer than you need to. Still that nervous tick which makes you get up to clean the closet, or order the books, or put away shoes left out in the hall. Instead, when you awake each morning this week, notice the dance of green leaves outside your window, the small sounds of your children over breakfast, the rope of muscle cascading down your husband's forearm, the warmth of a chuckle deep in his throat, and the feel of your bare feet on the floor. Savor your first cup like you have all the time of a lifetime. Let the flavor of your fresh fruit charge your senses. Listen to the music around you. Can you feel it? This is the sweetness of home.
—>  Please read the remainder of Rest, Mama.
We are not going to plunge head first into a routine. We are going to baby step it. Still that feeling of overwhelm. Just rest for now. And as you rest, talk to the Lord about the coming year. Your dreams, your concerns. Place them all in His hands.
In repentance and rest you will be saved, in quietness and trust is your strength… Isaiah 30:15
Have you rested? Are you pulling last year's burdens into this year? Overwhelmed with the responsibility of the coming year? Talk to Him about it. Rest in Him. Friends, before we can even begin to return to a routine we need to take the time to take care of ourselves.
Remainder of Return of the Routine: Tomorrow we'll talk about how this restful time can also be inspirational for preparing, planning and goal setting. Other days this week we'll build up to the game plan, talk about punting on the bad days and, of course, celebrating the touchdown.
Five Days of Summer Series brought to you by iHomeschool Network. Be sure to check out all the really great topics by the wonderful ladies below. Pin them for homeschool encouragement throughout the year! The summer series is sponsored by BEECH Retreat: Blogging. Learning. Growing.
I invite you to subscribe to Hodgepodge so you won't miss a post. You can also receive new posts in your inbox by filling in your email address in the Free Hodgepodge in you inbox field in the top right hand corner.
So, are you surprised we aren't jumping right back into a routine?