It's been several weeks since I shared a Collage Friday weekly wrap. So I have a few collages to share. But first, a favorite curriculum…

When you stick with a curriculum throughout your homeschool years, I believe it speaks volumes to its success and ability to meet the needs of different learning styles. Three of our children have practiced spelling with Spelling Workout. But this workbook type curriculum is more than just spelling. Besides spelling practice, this series teaches…
Join me at The Curriculum Choice today for my review of Spelling Workout.
So, what have we been doing? Just simple summer things. The children and I have been in a routine of going to the pool in the mornings. Littlest boy has made huge progress in learning to swim – little fish that he is. We've also enjoyed an occasional stop at the library and visits with family. (Of note above: lots of pool fun, gulf fritillary caterpillars from Aunt Mary Ann, driveway fireworks show by Hodgepodgedad for Independence Day, the last day lily to bloom, okra from Nana's garden)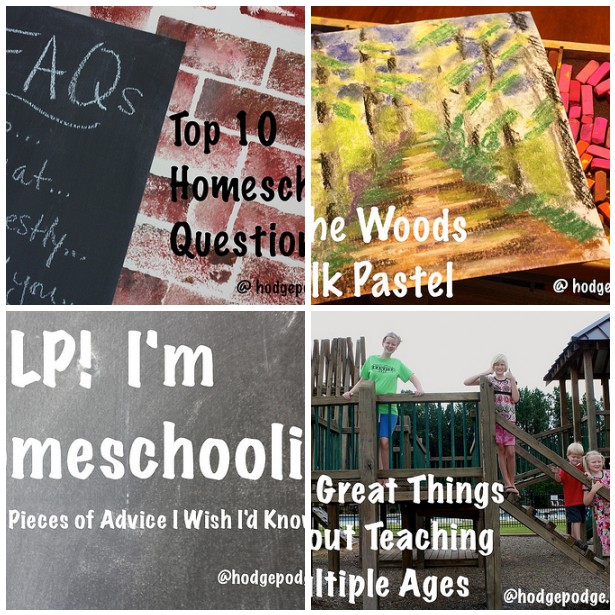 Here at Hodgepodge I have been concentrating on homeschool posts like those questions people ask me frequently and advice I wish I'd known when I started homeschooling. It's the Hodgepodge top ten. Nana and I also shared a mini unit study of Henry David Thoreau with iHomeschool Network's Birthdays in July. To The Woods Chalk Pastel Tutorial.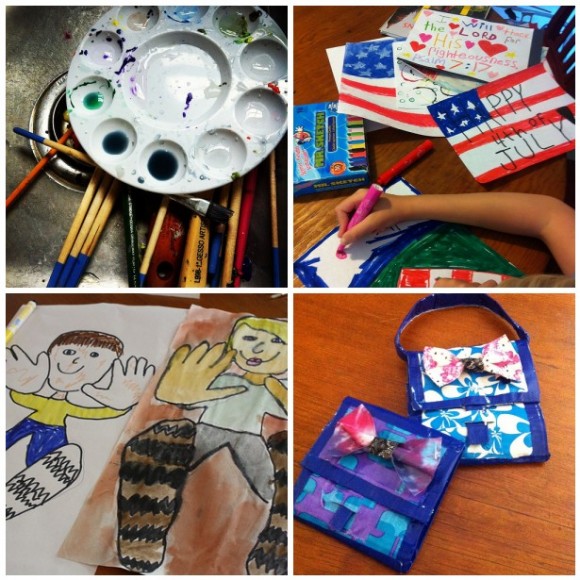 We've been creating! We've been doing projects from my All Things Art Pinterest board. 1. Acrylics with no agenda. | 2. Pictures for the hospital | 3. Floating in space watercolor fun | 4. another duct tape project to add to Middle Girl's duct tape series!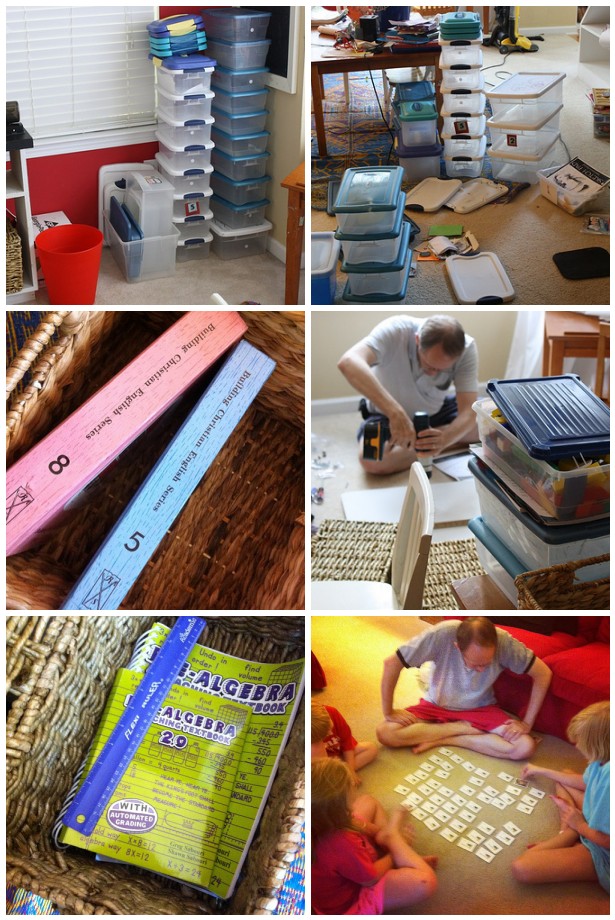 Homeschool update and more. Plus, we have been doing some major purging and moving around. Not only in our homeschool but also closets! A big thanks to Hodgepodgedad – he took some days off work around July 4th and did the biggest part of the overhaul. It feels so good to cull through and spruce up. Though it does get a little overwhelming and turns into a huge mess. It gets worse before it gets better. And it's worthy of a break for a nature matching game (in that last photo). I plan to share more details on the updates around here in the Not Back to School Blog Hop in a couple of weeks.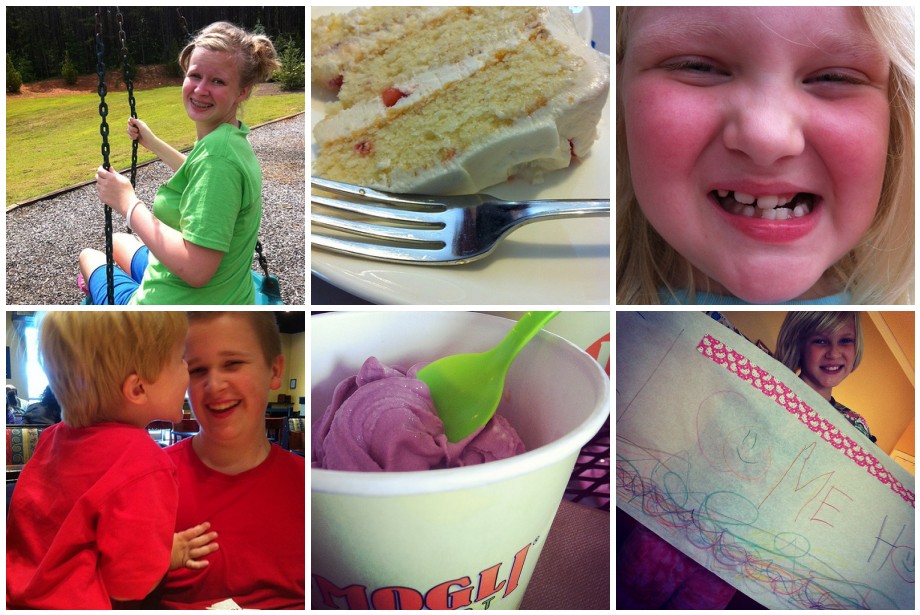 One last collage of Big Things! 1. This Eldest Girl of mine went away to church camp for a whole week and had a wonderful time! | 2. Strawberry cake for my birthday – brought by Nana from Gabriel's | 3. A lost tooth! (and another lost since I took this photo!) | 4. Just me, Hodgepodgedad and the boys out for supper at Moe's – eldest away at camp, and the little girls sleeping over at Nana's | 5. Date night last Friday at Yogli Mogli frozen yogurt | 6. Welcome home banner made by Middle Girl for her big sister!
Relaxing, enjoying summer and slowly slipping back into a routine soon. To gear myself up for…
Return of the Routine. We plan to baby step our way back into school in a few weeks. And you are invited all next week for Five Days of Return of the Routine! I'll be sharing strategies and helpful habits – from getting food on the table to habits for the school day. I hope you will join me and the other ladies. Click over and check out all the wonderful topics. This five days series is sponsored by BEECH retreat.
Many thanks to our Friday hostesses!
One caterpillar has formed a chrysalis already. This will be our second time to watch metamorphosis up close. Have you watched a butterfly emerge before?