The encouragement offered in this collection of practical advice applies to getting back into a routine any time of year– whether it be after a summer break, a vacation, sickness or another reason. Our Return of the Routine ebook is for you…
Return of the Routine ebook: 6 Simple Steps to Success
You may still be feeling the weight of this past year. Or you may be facing the overwhelming responsibility of getting back into the school year. You may even just be clear of the bustle of the holiday season or weeks of sickness.
These six simple steps for success included in Return of the Routine will help!
What's included?
15 pages of tried and true homeschool routines and habits
Examples of our back-to-school days
Tips and recipes for feeding the family – What to feed the masses after working so hard at getting back into a routine
Strategies for those days you just have to punt
Bonus tips on starting a morning routine and homeschooling multiple ages
Reluctant return of routine-r? Download now and save it for when you are ready.
Simply subscribe to Hodgepodge and you will receive this ebook, three more ebooks and all the subscriber-only art tutorials.
FREE! Subscribers, download now!
Help for Homeschool Bundle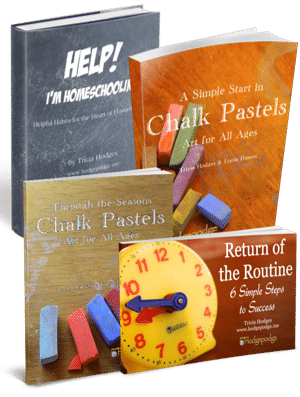 Right now, for a limited time, you can also get our Help for Homeschool Bundle with over a year's worth of our art tutorials, a dozen years of practical and seasoned homeschool advice plus the free Return of the Routine ebook for a discounted price.

Your Best Homeschool Year Ever
Coming Friday, July 15th, Your Best Homeschool Year Ever. An online summit with many, wonderfully practical and encouraging sessions. I will be sharing Simple Strategies for Feeding the Family. "Seating" is limited to 100 so head over to The End in Mind and register now.
—>> You can listen to a short, preview podcast. I had fun talking with Lori Lane! How to Feed Your Family Easily and Efficiently Interview.
Encouragement for you!

Save
Save
Save
Save