Don't miss the giveaway at the end – enter to win the full set of Home Art Studio – all grades!
Would you appreciate a simple and easy way to add art to your days? Home Art Studio offers just that. With Home Art Studio, all I needed to do was clear the table, gather the supplies, put on the DVD – and the children came. I chose the third grade curriculum simply because the theme, Be Creative, appealed to us all.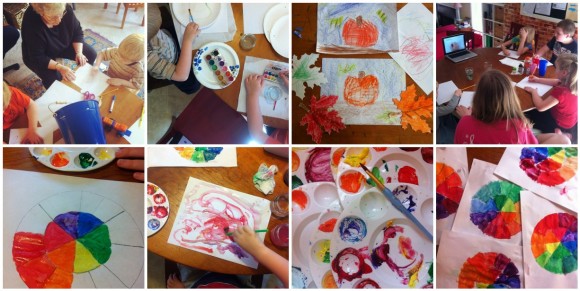 We used third grade for all my children – age five up to fifteen!
I'm often looking for resources we can use with all our ages. Home Art Studio did not disappoint. I'm not sure that we can possibly choose a favorite art lesson from the third grade DVD, but the children do remember well our afternoon making a tertiary color wheel.
Home Art Studio Introduction Video from Official Home Art Studio on Vimeo.
This program is designed to increase students' love and appreciation of visual arts ~ Home Art Studio
With each lesson I either put the DVD to play on the family tv or placed my laptop on the kitchen table. Everyone gathered around.
What is Home Art Studio?
Home Art Studio is a DVD-based curriculum taught by Lindsey Volin. The program is available for individual grades from kindergarten through fifth grade. Ms. Volin is a certified art teacher for K-12 and a mother of two boys. Downloadable and printable pdf explanations are available with each year plan.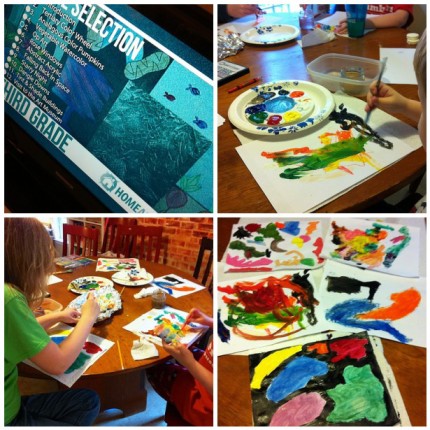 Abstract Acrylic lesson we enjoyed – all ages together!
What do we love?
Short lessons you can pause whenever you'd like to.
Techniques in a variety of media – acrylics, pastels, watercolor and more.
Upload your completed artwork to showcase your finished pieces – and Ms. Volin will comment on your child's work. Feedback from the art teacher!
DVD program makes it easy for mom to say yes and incorporate art lessons and appreciation into homeschool days.
Watercolor resist veggies
How many lessons?
The third grade DVD contains 16 lessons. We did one lesson approximately every one to two weeks. Those art afternoons were something we truly looked forward to!
Pumpkins with a familiar medium – chalk pastels!
How much?
Each grade DVD program is $24.99. What a bargain for a certified teacher in your own home on your time schedule!
Art supplies are an additional charge. But we found that many of the supplies we already had on hand.

It's fun to see the same project through the eyes of many different ages. From the top: by 15-year-old, Middle left by 10-year-old, by 13-year-old. Bottom left by five-year-old and bottom right by seven-year-old.
Where can you find Home Art Studio?
In Summary
It's always a huge help for a homeschool mama to find a resource that can come alongside her and joy to the days. Especially a gifted artist to teach children in your own home. Ms. Volin definitely brings the fun! No prior art experience required for student or parent. Just turn on the DVD and enjoy!
A big thumbs up all around from the Hodgepodge!
Enter to Win at Hodgepodge AND at Curriculum Choice
More reviews by fellow Curriculum Choice authors:
Enter to win a complete set for your family. Ms. Volin has been so very generous and is offering a full set – all grades – to one Hodgepodge reader. In addition, Daniele is reviewing and giving away a full set at The Curriculum Choice too! Just follow the instructions in the Rafflecopter widget below. And be sure to head on over to enter at Curriculum Choice too!
Unit Studies by Amanda Bennett: Your Passport to Learning Adventures!