Summer seashells are a favorite any time of year! It is especially fun to create a summer seashells chalk art. Can you just hear the ocean waves and see the sparkle of shells? Let's gather our paper and chalk pastels…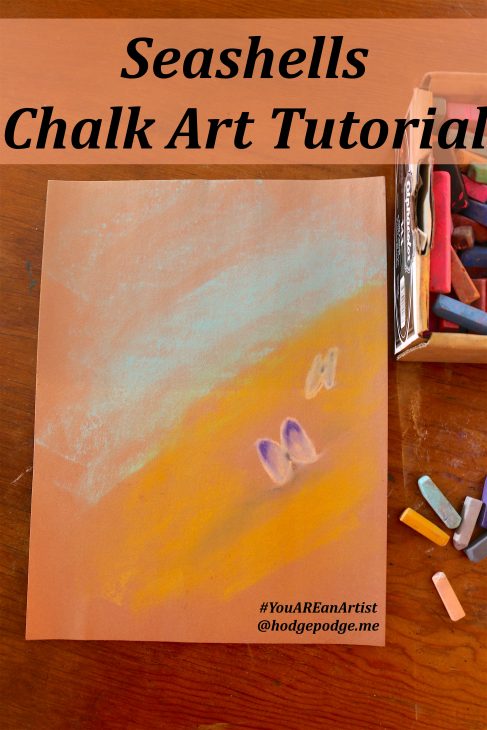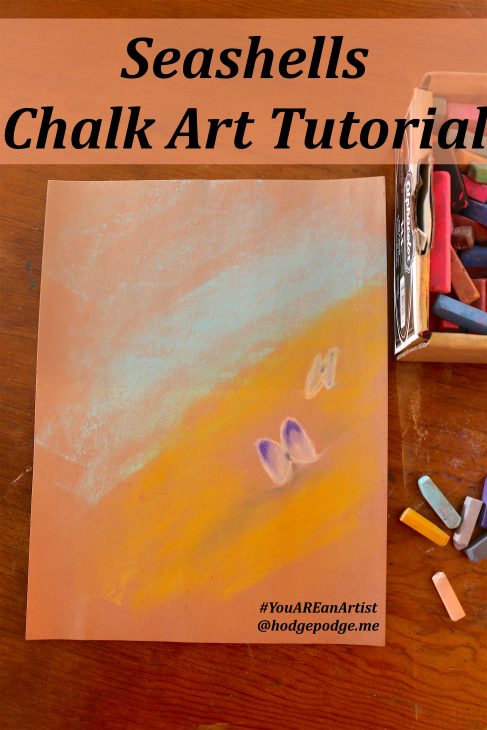 Summer Seashells Chalk Art Tutorial
Chalk art supplies needed: brown construction paper or whatever paper you have on hand. Colors: purple, light blue, yellow or sandy yellow, peach, light gray, dark gray.
This painting is best when you turn your construction paper vertically. Pretend that you are walking along the seashore looking for shells. So the perspective is look down! Your seashells are swept by the ocean and are off to the side of your picture. We call these seashells angels wings. They are known on the Florida Gulf Coast as coquina shells.
Begin with either a light gray or white chalk pastel and sketch out the shape – almost like a butterfly. Fill in the inside of your shell with a little bit of gray. Then take your purple chalk pastel and dot some purple at the inside top of the shell.
Next, take your finger and blend the colors with just a quick stroke, pulling the purple down the side of the shell. Add a purple dot where the front and back of the shell connects. Continue to work with your colors, layering until you are happy with your shell.
Place just a very slight, purple  shadow underneath. Or a 'trail' left by the wave heading back into the ocean.
Feel free to add as many shells as you'd like!
Next you can add the sweep of the sand with a yellow chalk pastel. Turn the pastel stick on its side and pull the color across the page. Do the same with a light, ocean blue pastel stick – making the ocean. Blend the colors with your finger. It's ok if the colors overlap and blend.

Bonus Starfish Chalk Art
Remember, this is your painting, so you might want to add your favorite from the seashore. We added a starfish! This is a fun addition. Start with a dark gray or blue chalk pastel and sketch the basic star shaped as pictured at the top left hand side of the above photo. My drawing the line down each of the starfish arm first, you can shape the rest easily.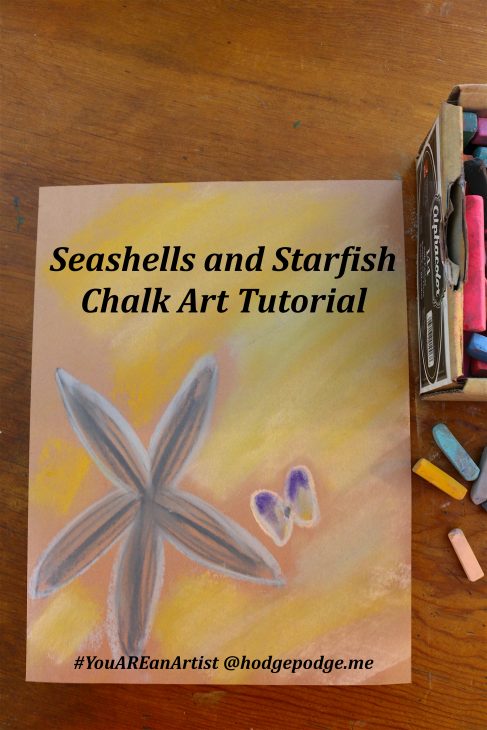 Add several more lines along your main line. Then take your chalk pastel and sketch around each 'arm' to make your starfish shape. Finally, take your gray chalk pastel and make a strong outline to give your starfish even more definition and color. Gently blend the color and you have a beautiful starfish next to your shells – because you ARE an artist!
You might like our previous Starfish Chalk Art Tutorial too!
Featuring You! You ARE an Artist!
So, paint your seashell picture and be sure to share with us! Simply tag @hodgepodgemom on social media, send a photo via the Hodgepodge contact form here or post on the Hodgepodge Facebook page. We will be sharing these via the Hodgepodge instagram or on our Art Tutorials Showcase Pinterest board – or both! Nana will even comment on a few I am sure!
Free eBook and More!
Get your FREE ebook (with a coupon)! Getting Started in Chalk Pastel Art.
See how you can get started in just three steps! Watch the one minute You ARE an Artist video at chalkpastel.com.
A note on chalk pastels: Pastels are an easy, forgiving medium. Fun for children and adults alike! Details on the pastels and paper we use, how and where to purchase are in our series, Chalk Pastels 101. A simple set of chalk pastels is very affordable. Nana also teaches acrylic lessons.
The practical aspects of a mess: Pastels are blessedly messy. We always have baby wipes close by to wipe hands. We wear something we don't mind getting stained or don a smock.
Be sure to subscribe to our Hodgepodge YouTube channel for free video art tutorials!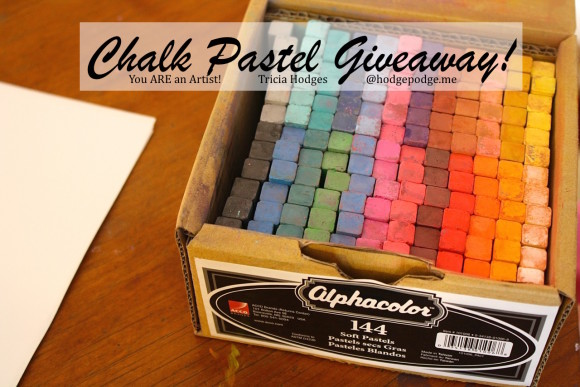 Be sure to enter the BIG You ARE an Artist package giveaway with a set of 144 chalk pastels and our entire You ARE an Artist curriculum bundle!
Have you subscribed to Hodgepodge so you won't miss any free art tutorials?
Save
Save
Save
Save
Save
Save