We celebrate chalk pastels daily here but this month we are celebrating eight years of Hodgepodge! Why do we love chalk pastels? Well, let me share five reasons…

~Don't miss the GIANT You ARE an Artist Package giveaway at the end!
5 Reasons We Love Chalk Pastels
Yes we love acrylic paint, watercolors, markers, crayons and more but chalk pastels are our favorite medium. They are frugal, forgiving, for all ages    and, most of all, FUN!
Chalk Pastels Are Frugal
~ This post contains affiliate links to art supplies we adore. If you click on them, you won't pay anything extra but you will help us continue to offer art tutorials for free. Thanks for that!
Since we have been sharing chalk pastel art tutorials, we have always suggested starting with the student grade alphacolor set of 12 pastel sticks. A starter set is currently $6.40. You can get these at your local arts and crafts store, like Michael's. This student grade starter set is what we started with and shared amongst our five children. You can even break a chalk pastel stick in half to share. Chalk pastels are frugal!
We are the proud owner of the big basic set of 144 chalks (pictured above). But in our defense, we are a class of five students and two teachers who love to haul out our pastels when the artistic vibe reaches out to us!
Chalk Pastels Are Forgiving
If you make a mark you don't like or a mistake, simply blend the mark away or layer over it. This gives artists of all ages such freedom!

Chalk Pastels Are For All Ages
Our youngest children were just preschoolers when we started with chalk pastels. Our youngest son was two. Yet he joined in our art times, if even for a short while. We let him create paintings with chalks and showed him how to draw swooping circles of color. How to Start Art with Young Children
And, I, through watching my mother teach my children, have realized that I am artist too! Tips for youngest, middles, older/independent: Chalk Pastels Are For All Ages.

Chalk Pastels Are Easy Clean Up
Yes, I have heard the complaints. "But chalk pastels get everywhere!" But in my years of practice with art time, I have found that chalk pastels are simply the easiest to set up and clean up. There is chalk dust but we just wipe it away with a wet paper towel or baby wipe. Here is more on how to deal with the chalk pastel mess.
Watch this time lapse of our art set up right after lunch.
And here is an example of how quick art time is with Nana's shark fin.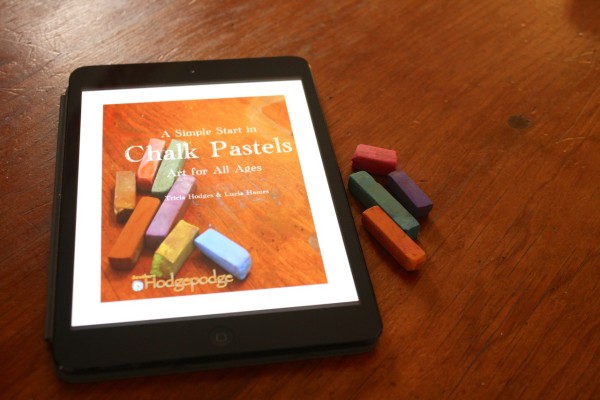 Chalk Pastels Are FUN
That's what it all comes down to folks. Building a love of art. Exploring the creative side. And seeing those smiles spread across the faces around the table!

More Chalk Pastel Art Resources

Now for the You ARE an Artist Package giveaway!
It's a giveaway in celebration of eight years of Hodgepodge! A You ARE an Artist package giveaway of…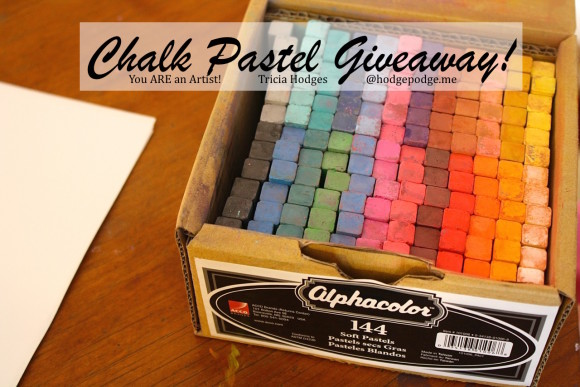 One (1) set of 144 Alphacolor chalk pastels (value $40.45) AND
One (1) full You ARE an Artist art curriculum set from www.chalkpastel.com (value $128.88)
Simply follow the instructions in the rafflecopter widget below…
a Rafflecopter giveaway

What questions do you have about chalk pastel art?
Save
Save
Save
Save
Save
Save
Save