Art with sharks! Get yours for only $5.99 this week – Shark Week the price will be $7.99!
Think you are not an artist? As Nana would say, You ARE an artist! Chalk pastels are a wildly successful medium! If you have been wanting to add art to your days, now is the time with a fun topic!
Frugal, fearless and fun!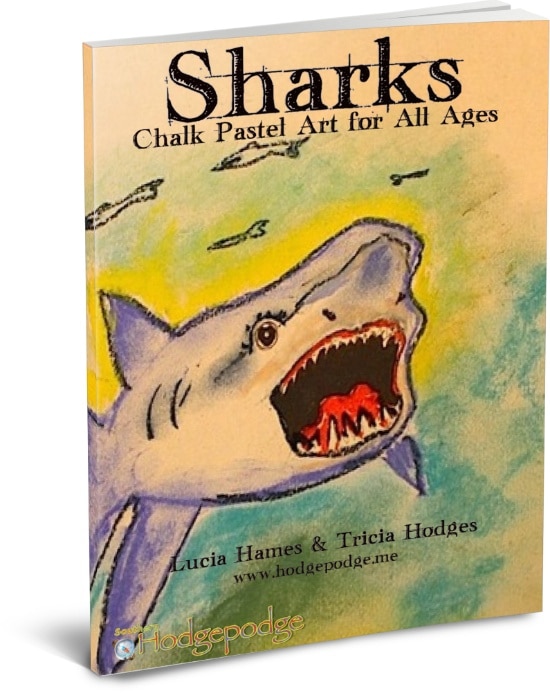 "We are enjoying everyone of your art tutorials! My seven-year-old now pulls out the pastels like she would crayons!" ~ Heidi Ciravola
What's included in this art curriculum?
Step-by-step how-to instructions.
One book for all ages. No need to purchase separate grade levels.
Ebook format – simply download, open and go!
Encouragement for getting started with chalk pastels, a simple supply list and…
NEW Tutorials – All kinds of sharks!

Great white (try the FREE video tutorial below)
Hammerhead
Zebra shark
White (or black) tip reef shark
Night shark (popular in our Art at the Beach book)
Flying sharks
Shark fin
Cookiecutter shark
Goblin shark
Whale shark
Try it. We Know You Will Like It! How to Draw a Great White Shark
Video Demonstration of How Quick, Fun and Successful Chalk Pastels Are!
Simple Art Supplies
No lengthy, expensive, intimidating supply list! Just add:
(1) chalk pastels
(2) paper
open, and go!
How Can You Use These Shark Tutorials for All Ages?
Shark art! Learn what variety swims our oceans.
For the simple enjoyment of art!
To see that you are an artist. No prior skill level necessary – yet tutorials are challenging enough for older students.
Create a spark of interest in your students!
Try a new medium – chalk pastels!
Grow a love of art with tutorials that are successful in a short amount of time.
Sample Page
"I cannot express to you how much my daughter enjoys chalk pastels. I'm so grateful that you wrote all these books. It gives her a mental and artistic release." ~ Michelle, The Holistic Homeschooler
Now you can have a Master Artist teach all your ages! Just add chalk pastels and paper!

What do I need to get started? 1, 2, 3
ebook
Chalk pastels — available from any art store or by clicking the red shopping cart in the sidebar
Paper — even copy or computer paper will get you started
22 pages, ebook
Get your copy of Sharks today in the Hodgepodge store!