Raise your hand if your homeschool day ever gets sidetracked. (Me raising my hand.) Sidetracks are sometimes a glorious route for learning – following a trail to learn a little more about a certain subject. I've shared about those type of homeschool sidetracks here at Hodgepodge before. Those are the good sidetracks and I'm all for them. I'm sharing how to skip the homeschool sidetracks that we don't want taking over the day.
How to Skip the Homeschool Sidetracks
~ This post contains affiliates links to resources we adore. Please see our disclosure policy.
The type of sidetracks we've been working on are those I want us to avoid. Those things that keep us from getting started and those that are simple to fix if we take the time. A helpful habit! You know the ones I'm talking about. I've learned a few things in our homeschooling years, even these past weeks (always learning). So I thought I'd share just a few tips in a Collage Friday sort of style.
Skip the Homeschool Sidetracks with Sharpened Pencils WITH Erasers
As pictured above. This is so simple but such a huge sidetrack for us. This week I was ready with five new pencils every day. What a difference that made. We are back to a simple, manual pencil sharpener. We've been through two electric pencil sharpeners.
Next up, this manual, classroom sharpener my friend Heidi recommended. It's like the sharpeners I remember from school. It is on the list!

Skip the sidetracks! ? Did you know you can purchase Compass Classroom Visual Latin worksheets and quizzes PRE-PRINTED? These have saved us with two high schoolers! Great companion to the new subscription option. #HodgepodgeHomeschool More on Visual Latin in my review.
Skip the Homeschool Sidetracks with Preprinted Worksheets and Quizzes
Often we come to the end of a lesson and need to have something printed. Now I know that I could have printed all these at the start of the school year or the start of the semester. With homeschooling five in elementary, middle and high school, printing did not happen. Then, sometimes the printer is out of ink or sometimes we are out of paper (because we are often pulling printer paper for chalk pastel projects!). Sidetracks!! Enter Latin worksheets…
A big stack, already printed. Already three hole punched. Ready for a binder. Open and go! Yay! Laugh through Latin and master English.

Skip the Homeschool Sidetracks with Subscription Classes for Easy Learning
Master teachers the frugal way! I've shared before about the video classes we enjoy at the high school level. Well, now we have an easy, low cost subscription version available. Read my Visual Latin review then click over to Compass Classroom for more details on subscriptions and digital curriculum!

Skip the Homeschool Sidetracks with Notebooking Journals and Multi-Media Science Supplements
I've mentioned before that we have several different types of learners in our homeschool.
Auditory learning with Apologia is a big way we skip sidetracks. If we are on the go, we can listen to our lesson in the family car. Or those that learn best can listen while I am helping another.
The video instruction thumb drive is also such a handy way to click right over to the video supplement for what we are learning that day (I shared more in our General Science review). Explore more multi-media supplements at Apologia.
Our middle girl learns best by reading the text and using the accompanying notebooking journal. Those journals are the best! Space for On Your Own Questions, experiments, notes and more. Such a lovely way to build independent learning. You can read more about how she uses the journals in our review of Advanced Biology.

Skip the Homeschool Sidetracks with Meals Prepped Ahead
Tonight's supper brought to you by @prepaheadmealsfromscratch – the meat I batch cooked a couple weeks ago and just pulled from the freezer for a yummy recipe from #PrepAheadMeals cookbook. I ❤️ practical, frugal and crowd-pleasing! Thanks @aleamilham for making it easy. #frugalliving #glutenfree  – My review of Prep-Ahead Meals From Scratch. Find the cookbook at Amazon.


More Homeschool Highlights
Late morning homeschool moments brought to you by second and fourth graders. #HodgepodgeHomeschool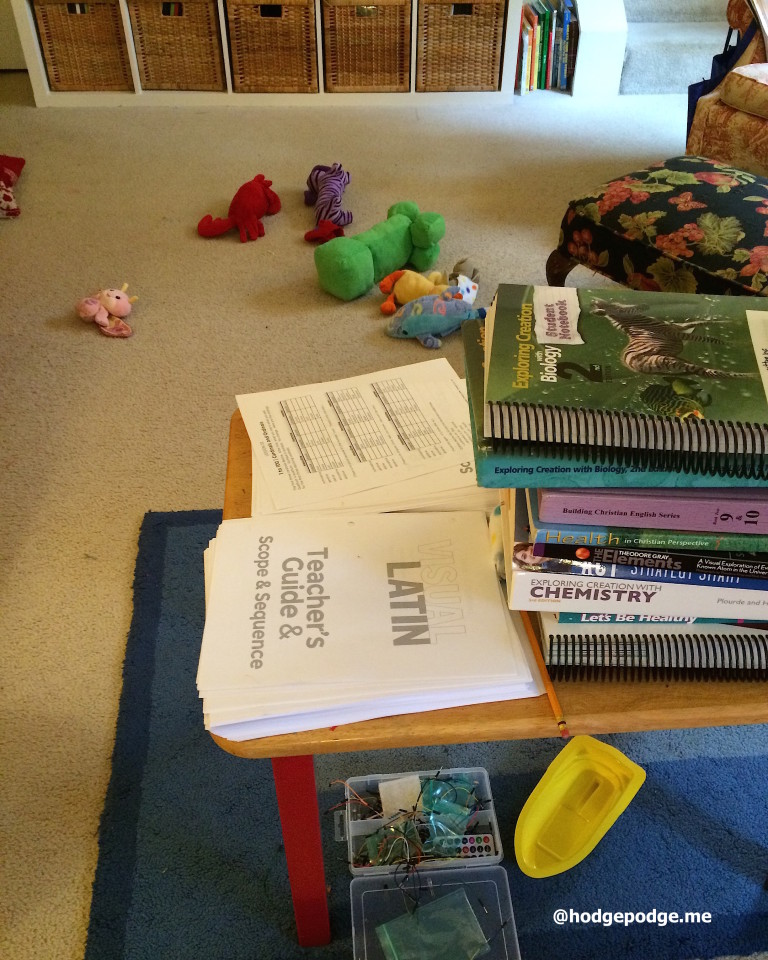 You just might homeschool multiple ages in elementary, middle and high school if your family room looks like this. ??
When it is 27 chilly degrees out but you need to see if the stuffed animal will float and if the wind will catch the sail. #imagination #sayyestoadventure #sinkorfloat #HodgepodgeHomeschool
Hope you are having a warm start to your day. (sometimes just a little morning quiet time by the fire is the very best start to the day)
You might also like:
What tips do you have for avoiding the homeschool sidetracks?
-originally published January 2016