I'm so pleased to introduce my wonderful friend, Jamie Rodriguez! She is a fellow homeschool mama, a wonderful writer and an encourager. I know you will love her words and her heart…
I sit with my feet propped up, my mind shifted into neutral. Before long, however, it starts again. The whirl of thoughts moving faster than a car in the Indy 500, I find myself feeling more revved up by the second. Where is my planner? What field trips should we add this year? Volunteer hours – we need more of those, and I need to write my goals for the coming school year that starts in…5, 4, 3… Before I know it, my "rest break" has turned into a stress break, and I am even more overwhelmed. My posture may be one of peace, but my mind is far from being peaceful.
The Peace of His Omniscience
The Bible tells me to cast my cares on Him (I Peter 5:7), and yet I tend to keep the details of my busy life to myself. After all, why would Almighty God be interested in the logistics of coordinating college visits with field trips and service projects? That's why He gave me a brain, right? So it is up to me to figure these things out, because honestly, I can't imagine my Heavenly FATHER teaching me how to be a better homeschooling MOTHER. That's really the rub, I think. I don't really see God as the expert in every aspect of my life. In fact, I tend to completely disregard His infinite wisdom on a regular basis. I live by the mantra: If anyone lacks wisdom, let her ask of Google. However, the good news is that there is no limit to God's expertise, and truly grasping this will radically change our lives.
We know the term "omniscience". You have probably taught your children this concept. God knows it all. Everything. There is no subject that He is not the expert in. He created math, language, science. He is the ultimate artist. History is His Story. He knows it all. He is the source and end of all knowledge. He is not limited to knowledge acquired through experience, gender roles or societal norms. He knows the best way to bake a turkey and how to change spark plugs. There is nothing God needs to learn; He already knows everything about everything.
He also created you. He knows exactly the point to the very millisecond when your patience runs out. He knows the precise amount of glucose you have available to continue concentrating when you work past lunch, or you skip breakfast to pray over a willful or struggling child. He knows the measure of your self-doubt, as well as the pool of past failures and painful memories that you draw from automatically in your vulnerable moments. He knows all of it. Everything.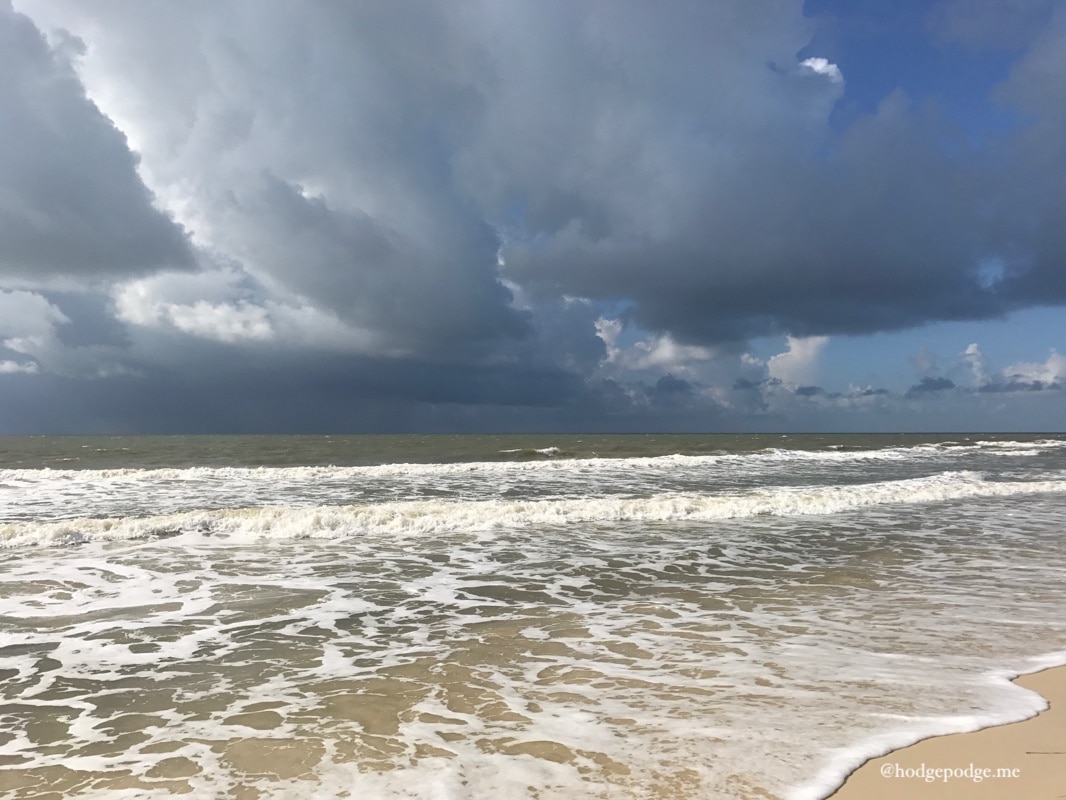 The other reason why we don't consult God in every matter, is that I think a lot of us, in the way deep down, wonder if He really cares. Surely God has better things to think about than helping me with creating a transcript or deciding the best curriculum for my child who is behind in math. I think sometimes I view God as the Great and Powerful Wizard of Oz, who knows my needs but says, "Come back tomorrow!" Again, not true (Hallelujah!). When we pull back the curtain of Scripture, we find a very different scene.
Remember the woman at the well in the book of John, chapter 4? When Jesus flexed His omniscience in conversation with her, telling her about all of her former husbands, He didn't just expose her sin and leave her thirsty. She came to draw water, but He drew her into conversation to offer much more than she came for, living water. Life. His purpose was to give. That is always His purpose. He is The Source.
Do you need a solid plan for high school? He is the Guidance Counselor (Wonderful Counselor, to be exact). Do you need more time in a day? He is the Expert in Time Management (He has been known to stop the sun, by the way. He actually created time.). Do you need a fresh start because you blew it? Again? His mercies are new every morning (Somewhere in the world it is morning, so go get your cup of tea or coffee and start again. Again.). Whatever the problem, He already has the solution.
There is one caveat to this ultimate source. He does not distribute his resources like a vending machine. If we pray for wisdom, he does not drop it into our minds like a care package with a greeting card: "Here you go! Enjoy." Everything He gives is through faith, i.e., relationship with Himself (James 1). Just ask Peter when he was wave-walking. Jesus didn't give him a superpower for him to strut temporarily. The moment Peter stopped looking to Jesus he began to sink. The ability was tethered to the person of Jesus. Philippians 4:19 tells us that God supplies all our needs according to His riches in heaven (without limits) in Christ Jesus (within relationship of complete faith and trust in Him).
Jesus' offer to the woman seeking water was based on Himself, Jesus the Messiah, the Son of God. It was all about who Jesus was and is. He was able to meet her needs because, as He said: "I am He." He was the one she was looking for. She had already been looking for everyone else to satisfy her thirst, and He knew that. He knew, He cared, and He provided. He is the source of all. Everything.
Have you limited God to three traits of His divinity: omniscience, omnipotence, and omnipresence? He is all of that and more, you know. He is omni-everything that is good. He is without limits. When we finally see Jesus in heaven, we will spend eternity with Him and yet never reach the end of His splendor, His glory, His love, His kindness… He is eternal in every facet of His being.
What is it that keeps you up in the night? When you sit down to rest, what thoughts tear through your mind like squirrels in a cage? What gives you a faraway look in your eyes when your children tap you on the shoulder for the 7th time: "Mama, were you listening?" When you rest, oh Weary One, drop your head on the shoulder of the All-Everything. He knows. He can. He does. Always.
Jamie is a freelance writer specializing in topics of faith and family relationships. When not hiking or daydreaming over coffee in the mountains of Colorado, she spends her time writing, reading and spending time with family at home in Denton, Texas. She is married to her college sweetheart; together they are launching their brood of three into the wide world. She can be found on the web at www.jamiesewellrodriguez.com.