An absolutely free Slow Cooker Batch Cooking ebook for you. It is the super supper saver!
Save supper with this simple slow cooker strategy.
Save money! Family meal time is easy and you won't spend big bucks on delivery or drive thru.
Slow Cooker Batch Cooking
I've compiled the how tos for batch cooking ground turkey, beef and chicken in the slow cooker. Tuck that main ingredient in the freezer and then every day meals are simple!
Perfect for the summer months when you don't want to turn on the oven. Perfect for those comfort food needs of winter. Well, of course, I think the slow cooker is great for every day!
Simply subscribe to Hodgepodge to download this free ebook (and you will receive all the other subscriber-only art tutorials, Getting Started in Chalk Pastel Art ebook, Return of the Routine ebook and our Homeschooling in Georgia ebook).
Four Free eBooks at Hodgepodge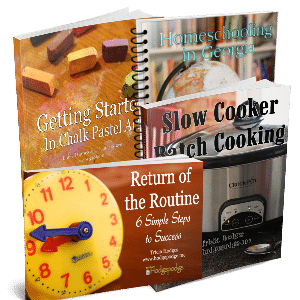 I love free – don't you?
Save
Save
Save
Save