Seven pile out of the family van. All with hungry tummies. Four more family members are arriving in ten minutes.
It's Sunday after church. But as I come in the door, a wonderful smell greets me. Thank you slow cooker for doing all the work!
It's easy to feed a crowd on a budget with cube steak. Plus, those meat and potato types really love this recipe! A perfect man-pleaser for Father's Day. Or easy to make when you don't want to turn on the oven or grill.
Three ingredients…
I'm sharing my family favorite Slow Cooker Cube Steak recipe at $5 Dinners tonight. And it's the $5 Dinner Challenge link up! Click over to join us for dinner…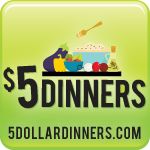 How about you? Do you make it a habit to invite folks over for a meal?