We have made a point this year to enjoy local parks, attractions and historic sites here in Georgia. St. Simons Island is one of the coastal islands of Georgia. And it was a special destination for our mother/daughter trip last week. Folks, St. Simons is so diverse, I could write ten posts on all you could enjoy during a stay there. But for now, an overview, a continuation of our series on exploring Georgia and the first in a series on the Golden Isles of the Georgia coast. St. Simon's Island – a Golden Isle of Georgia.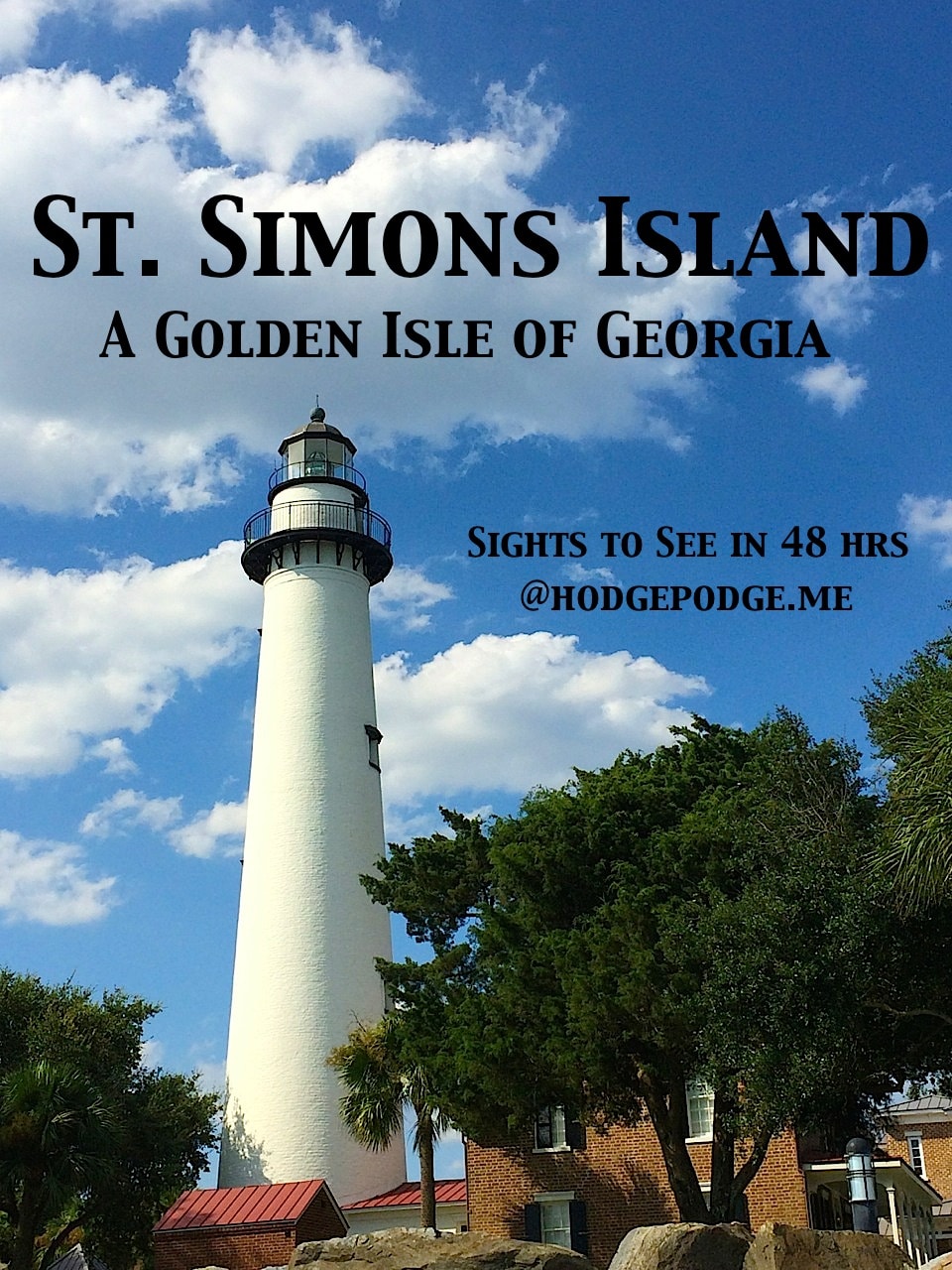 When I was growing up, my family would go to the beach every summer. We would head to either the Gulf of Mexico's panhandle of Florida or the Georgia coast. Or both! I am quite familiar with St. Simons from those summers and was also was a 'nanny' an entire summer for a family who owned a home on St. Simons Island. So when it came time for our Middle Girl to choose a destination for her 12-year-old trip, she picked St. Simons after hearing all I had to say about it and researching online herself.
St. Simons Island – A Golden Isle of Georgia in 48 Hours
Why St. Simons Island? Because it offers a lovely mixture of nature study, history plus downright beauty and fun! There is just so much to see right here in our home state – just a few hours drive from home.

At low tide there is plenty of beach to stroll right beside the pier and within walking distance of The Inn!
St. Simons Island – Nature, History and Fun
nature study – coastal birds, beach, ocean life, beautiful old oak trees with Spanish moss
history – from native Americans to Oglethorpe, Ft. Frederica, colonial Georgia, Christ Church to Civil War history and the retreat spots of the upper class in the early 1900s. About 400 years of history you can study and learn!
fun – the beach – need I say more? Plus we walked to Pier Village – shops, restaurants, the historic lighthouse and Neptune Park's water/pool area.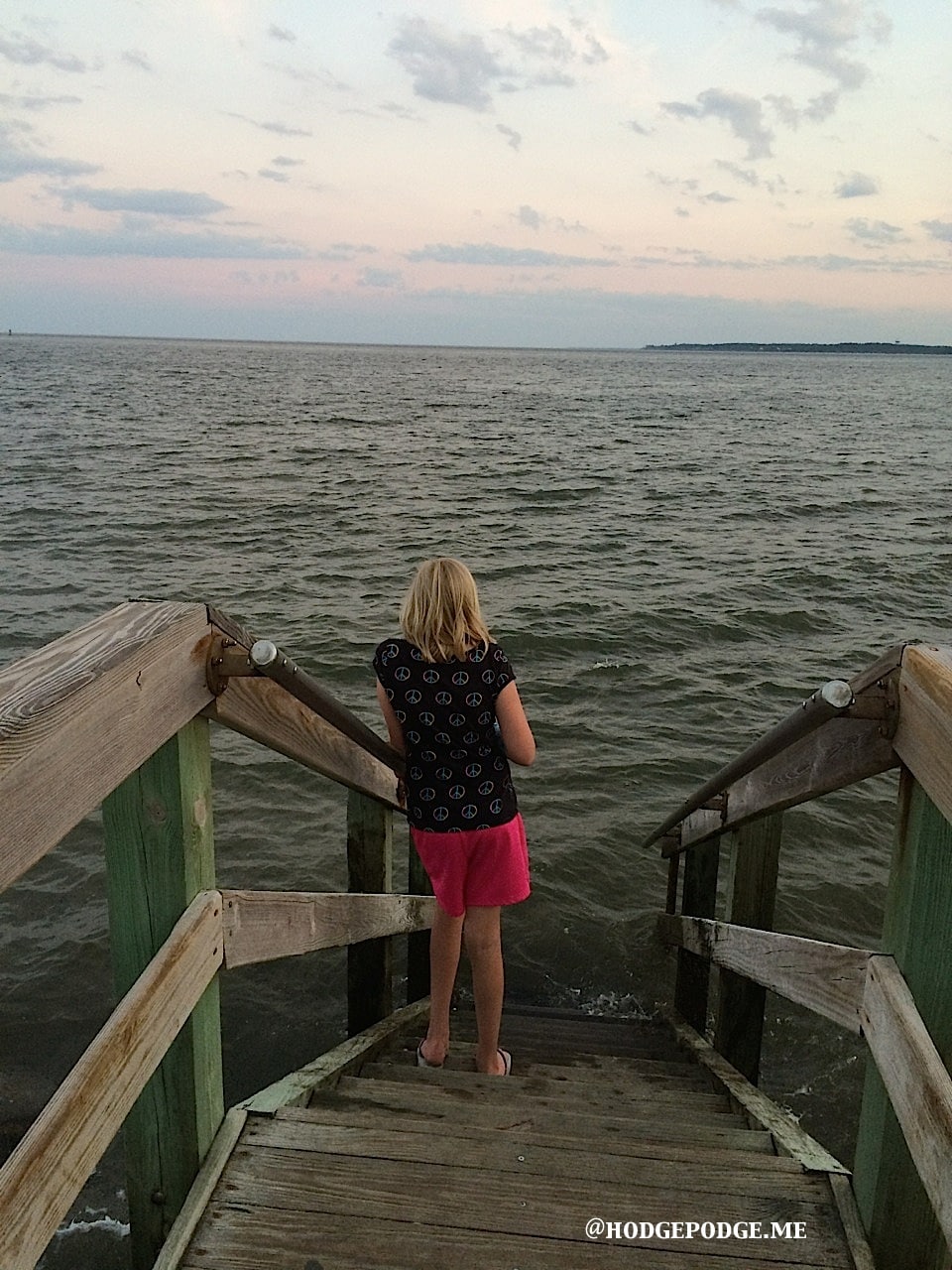 High tide, the water comes half way up the stairs leading down to the beach. (Jekyll Island in the distance)

Middle Girl mainly chose the area because of her love of sea turtles. Day trips to Little St. Simons were booked (we hope to go another time!) but we made a point of going to the Sea Turtle Center on neighboring Jekyll Island (more on that in a whole 'nother post).
We left about 5:30 a.m. on a Monday and arrived at Pier Village at 11:45. We stopped by the lovely St. Simons Visitor Center there. We knew we wouldn't be able to check in to our hotel until about 3 p.m. so we had made plans to ride the St. Simons Colonial Trolley. Fortunately for us, there was a tour that started at 12:30. Just enough time for lunch. We decided on something quick and close by – Yobe Frozen Yogurt! (Yes, two girls on their own little getaway trip can eat frozen yogurt for lunch!)

St. Simons Colonial Island Trolley Tour
Captain Rod of the St. Simons Colonial Island Trolley Tour was a fantastic guide! We got an overview of the island's history (about 400 years!) in about an hour and a half with brief stops at all the highlights:
Lighthouse
Neptune Park and the amazing story of Neptune Small
First African Baptist Church and lesser known slavery and heritage stories
Fort Frederica
Christ Church
Where Alfonso's restaurant used to be (I remember seeing it as a child!) and the story of his family
Epworth by the Sea and the Lovely Lane wedding chapel
Retreat Plantation and The Avenue of Oaks
Eugenia Price and her three historical novels
Fifth street erosion
Tabby Slave Cabin at McKinnon Airport
and so much more!
The trolley is air-conditioned and you can bring food and drink with you. $20 for adults and $10 for children. It is a fantastic way to start your time at St. Simons Island! The tour was just enough to whet our appetites and make us want to spend more time at each spot. You can like St. Simons Colonial Island Trolley Tours on Facebook for the latest updates.

St. Simons Inn by the Lighthouse
By the time we returned we thought we'd stop by the St. Simons Inn by the Lighthouse to see if we could check in a little early. Indeed we could and we enjoyed some nice, cool lemon water in the lobby before we headed up to our room to rest a bit. Staying at the St. Simons Inn gave us a central location where we could walk to most everything we wanted to.
(Side note: My daughter is sporting a cool, waterproof cast. She broke her wrist roller skating – less than a week before our planned trip. Thankful for waterproof so she could enjoy the beach and the pool!) The Inn offers a free continental breakfast (delicious spread to choose from), a lovely and comfortable room (a true retreat!)…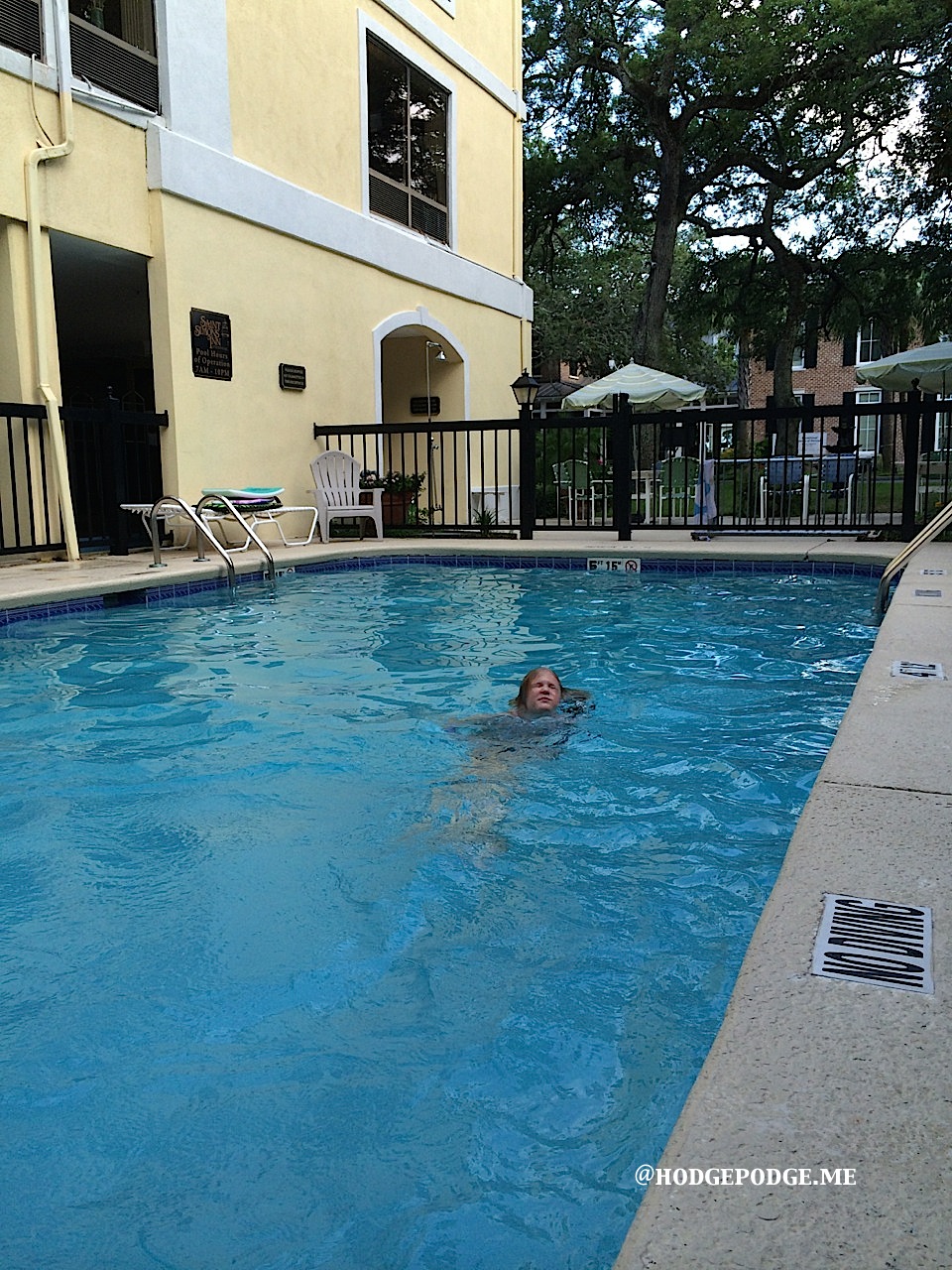 …and even a pool to cool off in. Parking was right underneath the inn.
And we could so very easily head out for a walk in the surf and a stroll along island's edge at sunset for many, many light house photos! And speaking of the lighthouse…
St. Simons Island Lighthouse
After our spot of rest at the inn, we walked across the street and toured the St. Simons Lighthouse. Just in time to climb the 129 stairs to the top before it closed for the day. It is worth the climb!
And we were very much impressed by the museum and history lessons there. A touchscreen iPad caught the attention of Middle Girl as well as the pieces of the original lighthouse from prior to the Civil War.
We did it! All those steps! Great view of Neptune Park from the top! Learn more about the history of the lighthouse, admission and more at saintsimonslighthouse.org
St. Simons Pier Village
What we surely loved about staying at the St. Simons Inn by the Lighthouse was being right by the seashore! It was so easy to walk over to the pier, the shops, stroll the sidewalks and feel the coastal breezes then stop in to dine in the local restaurants.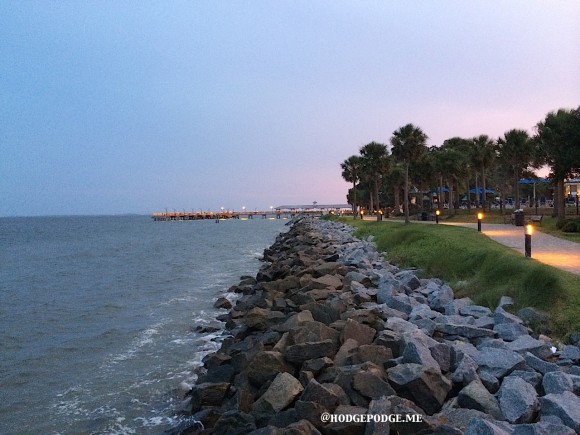 Wonderful, wide and beautiful brick sidewalks with benches all along the way. (Those rocks, above, save the shoreline.) Each bench inviting you to sit a while and soak up the St. Simons seashore. Plus Neptune Park was right there with fun for children of all ages. A playground and swing set, water park, pool.

St. Simons Restaurants
We were on a budget and only sampled a few restaurants. But those we tried we have to recommend to you! 1. Yobe Frozen Yogurt (we ate here three times! And the last time they greeted us with 'Welcome to Yobe, again!') 2. Good ol' yumminess at ZuZu's! corn dog, fries for Middle Girl and hamburger topped with pimento cheese and a side of sweet potato fries for me. 3. Palmer's Village Cafe for breakfast (thanks for the recommendation Capt. Rod!) – Middle Girl enjoyed her grits and biscuit and I savored my order – the 'local' – an omelette with avocado, some sort of fabulous cheese – topped with thinly sliced cucumber and a sprinkle of herbs and tomato. It was such a work of art I felt bad eating it. We also had the privilege of hearing one of the locals play hymns on a harmonica. Perfect!

More Georgia Travel and Studies
I hope you are enjoying our continuing series as we explore our home state! Next up, the historical spots we visited: The Avenue of Oaks, Christ Church and Fort Frederica (where Middle Girl earned a Jr. Ranger Badge with her orders from General Oglethorpe!) plus our adventures on Jekyll Island.
Oh I haven't even mentioned all the biking you can do and the many golf carts we saw riding all over the island. SO much to see and do! What favorite spot have YOU visited lately in Georgia?
-originally published August 2014