Strawberries and bananas just go together. Well, so do strawberries and whipped cream. Strawberries and pound cake. Well, anyway, you get the idea.
Back when Nana drew the steps for a watermelon pastel and a blueberry pastel, she also created…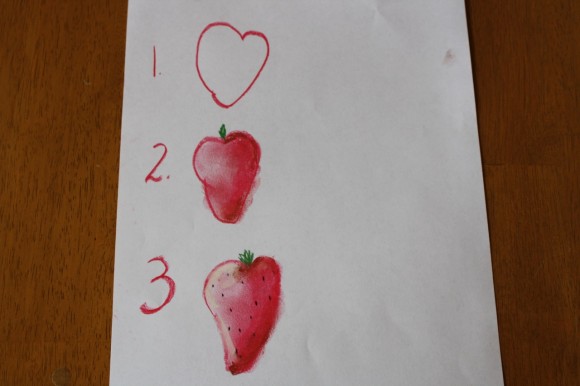 a strawberry and…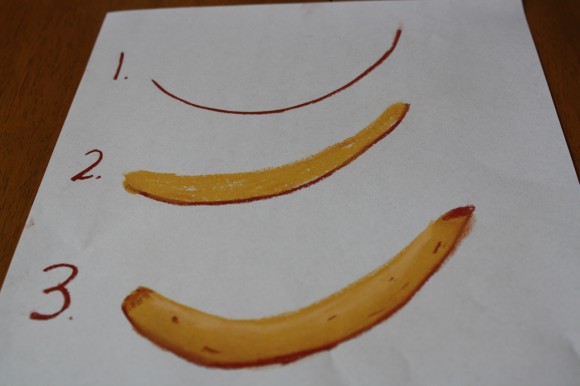 a banana pastel lesson! Today, we'll begin with the strawberry.
Start by making your basic heart shape. Notice that on the left hand side there is a little extra curve. Fill in your strawberry color well on the right hand side. Leave the left white. This will be your sunshine.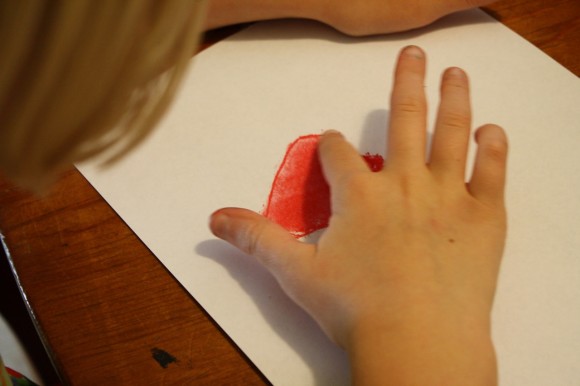 Take your finger and blend your color. Spread just a little over the white on the left side.
Add your green stem and the black 'dots' and you've made a strawberry.
Ready for a banana to go with it?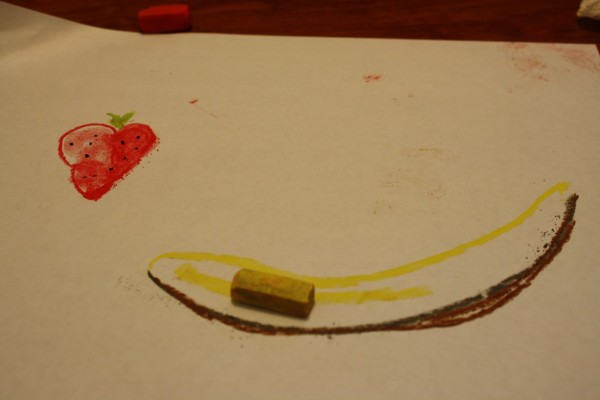 Get your brown and draw your banana curve.
Finish your banana shape with your yellow, filling in then blending with your finger.
Eight-year-old's strawberry and banana.
Take your brown again and fix your ends. Add a few 'spots.'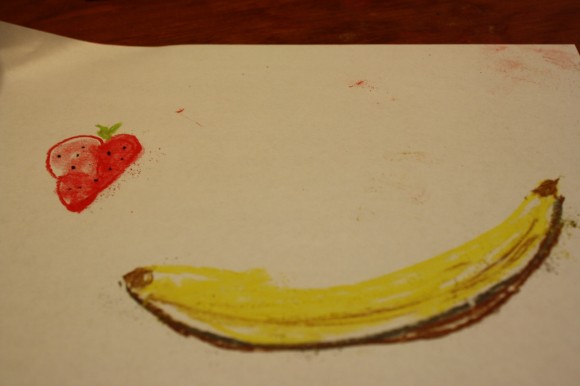 Mama's strawberry and banana.
Now you have both!
Time for a banana snack.
And here's a bonus. Nana taught the pastel lesson. Now, I'm sharing Grandma's Glazed Strawberries and Bananas recipe. A highly requested favorite!
A note on pastels: Pastels are an easy, forgiving medium. Fun for children and adults alike! Details on the pastels and paper we use, how and where to purchase, and links to all of Nana's other pastel lessons (over 20 now!) are all contained in the post Pastels plus links to tutorials. A simple set is very affordable.
The practical aspects of a mess: Pastels are blessedly messy. We always have baby wipes close by to wipe hands. We wear something we don't mind getting stained or don a smock.