Oh I am such a rule follower! So, in writing this and sharing about our week of taking advantage of a homeschool schedule, I am speaking to myself too. See, I have to remind myself that there is a wonderful balance that can happen when we keep our diligence in homeschool, yet take advantage of those wonderful opportunities that the Lord puts in our path. Here are a few ways we took advantage of our flexible homeschool schedule this week…
This photo taken by the birthday girl, while in her new ENO hammock. She hauled her school books out there and said that it was a little more productive and "a little less noisy." She gets to use her new ENO on an upcoming camping trip with our church youth group. And when the weather turns cold we have big plans for making it a semi-permanent fixture in her bedroom.
Like many homeschoolers, we take the day off for birthdays. That means we have five built in celebratory days each school year! And, each time, there always seems to be some sort of educational aspect. Isn't that always the case?
This time we celebrated a 17-year-old. Now, how many more times will we have this privilege?? So, the birthday girl wanted to go spend some birthday money at the Lifeway Christian Store. Love that place! We also got to meet Grandma and Grandpa for lunch at Chick-fil-a. Nana brought a personal-sized strawberry cake from Gabriel's Desserts. Then the birthday girl and I got to run through the Starbuck's drive thru for her vanilla bean frappa later that afternoon!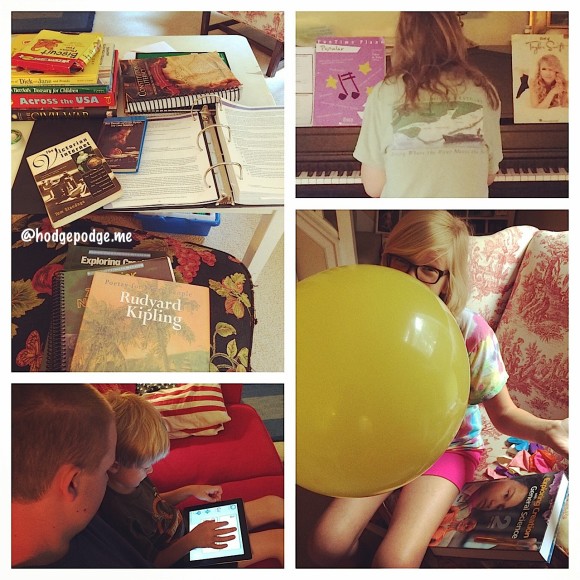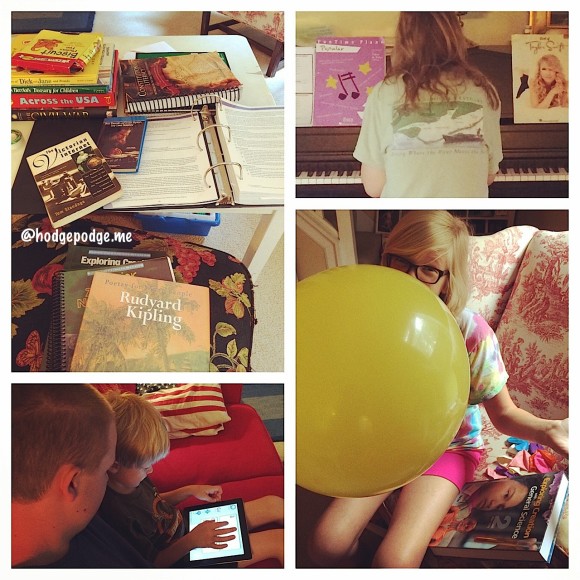 A collage of Monday's homeschool morning.
"To a genuine lover of books no house is completely furnished which has not a good many of them, not arranged formally in one room, but scattered all over the house." ~ Margaret E. Sangster
Take advantage of unstructured and spontaneous time. Like Bible study on the couch with all three eldest children – comparing Bible translations. Not only did Eldest Girl find some great music and books at Lifeway, Eldest Boy found himself a new study Bible. One he really has been needing and it was on sale. Middle Girl found herself a new Bible as well. The cover on her Bible had fallen off (nice problem to have since it proves it has gotten good use!) She also found a journal to match for just $5! Eldest Girl has been carrying a journal with her Bible to take sermon, Bible study and Sunday school lesson notes. So, Middle Girl is following her example. We also found a new devotional for the family  – Jesus Calling for Kids – an update to our Bible Study and Character Training for Multiple Ages.
We also take advantage of the comfortable family room couches for Visual Latin viewing (photo above by Eldest Girl). And I don't think I have ever introduced you to our newest addition to the Hodgepodge. Oswald is a bearded dragon. Middle Girl bought him with her own money when she and went on our mother/daughter 12-year-old trip to St. Simons Island back at the end of July. She saw him in a shop down there at the St. Simons Pier Village. I was hesitant, of course. A pet requires a good deal of care. But it has been about two years since we lost our beloved marmalade kitty. So, after much discussion with Hodgepodgedad, we decided that Middle Girl should do some research. And that she did. She researched everything there was to know about bearded dragons. Then she presented her 'case' for pet ownership to both me and to her Daddy. She truly has been a great pet owner – and I have not had to feed or take care of him one time.
Take advantage of a hodgepodge of flexible homeschool scheduling: 1. Pancakes piling up on Monday morning | 2. Surprise lunch time visit from great-grandmother! | 3. Football chalk pastel art late in the morning (new this week!) | 4. Silly selfies in the family van while out on the birthday.
Take advantage of local ball games! Hodgepodgedad was given Braves baseball tickets by a coworker. He took three of ours to the game Monday night. A first time for all three! As you can tell, someone was especially excited!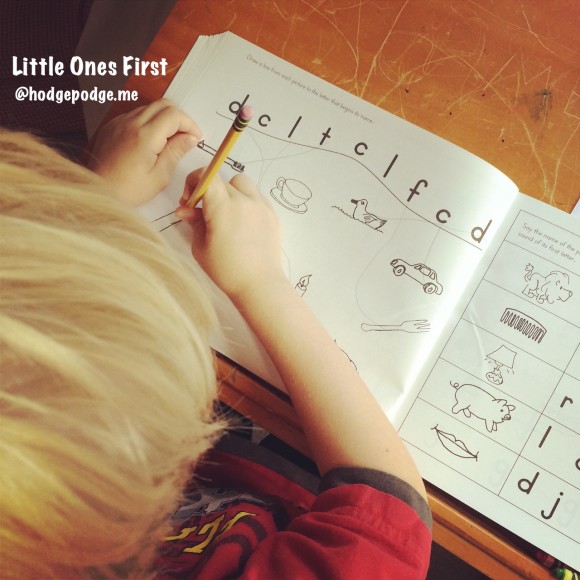 Little Ones First: Now I've written a whole post on this habit and this week was no exception to how we take advantage of our mornings to get things done. "And just like that – he is done! Off to play for a while until we do a few more things after lunch."
On a related 'Homeschooling is Great' note …
It seems I have to remind myself of the advantages of a homeschool schedule quite often. Maybe you too? Here are a few thoughts I've shared before: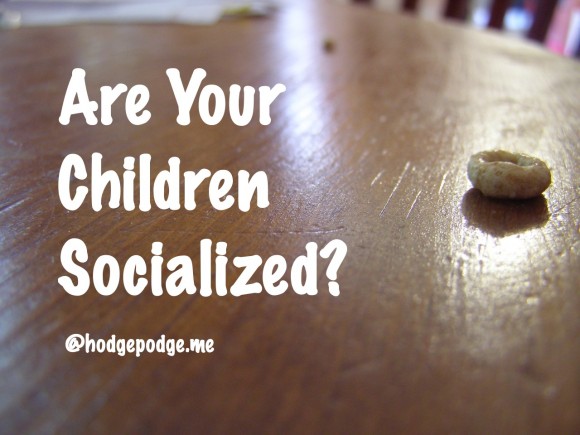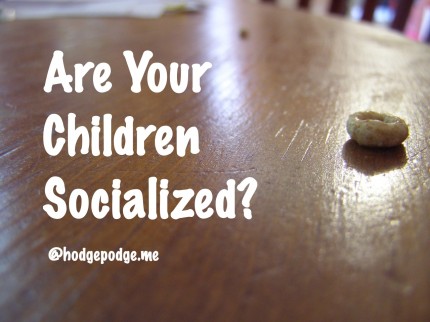 Oh! and this post was quite popular this week. Actually it is one of the all time most popular posts here: Are Your Children Socialized? (this was my answer to that often-asked question)
Many thanks to these kind hostesses (I'm linking up!):
How have you taken advantage of your homeschool schedule?