What's a lapbook? I had no idea what to do with one when we first began our Tapestry of Grace days. So, we figured it out together, as a family. Now, it's a time we look forward to each Tapestry unit.
Tapestry of Grace lapbooks are available for each unit – four lapbooks for each of the four years. The lapbook can be purchased on a CD to print as many as you'd like. However, we like to purchase one pack, already printed on color card stock.
When it's time to work on the lapbook for the first time each unit, we gather around the kitchen table and we open up the pieces. We look at the instructions. And we divide and conquer. That's how we've always completed the lapbook – one lapbook for the whole family.
Instructions suggest working on the lapbook a little each week, adding a new flap or topic. What we've discovered is the lapbook is a wonderful tool for review. Each child can pick several favorite or interesting topics. Then, using our Tapestry of Grace books from the library, on-hand resources or the online Tapestry of Grace links, the children put it all together.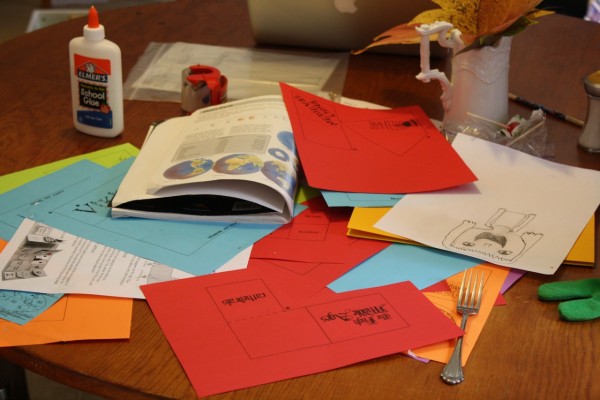 We usually take the last 3-4 weeks to work on review a little at a time. Take it out, complete a few topics, fold it back up and put it away until the next day. We've also done intense review within one week. So, this tool can serve your family in the way that is best for you.
If for some reason we glazed over a topic when it was first introduced in the unit – it's there for us to discover in the lapbook. Those topics prompt us to learn!
We don't reserve the lapbook just for the elementary crowd. Our middle school children join in as well. I just usually ask them to do a little more in-depth research. Three-year-old isn't excluded either – he can contribute some beautiful coloring!
Though each child contributes, the lapbook is the very best fit for my hands-on learner. She could complete an entire lapbook on her own. For that reason I am grateful for the many display boards and arts and activities Tapestry of Grace has to offer.
With our Thanksgiving Unit Celebration coming up in just a few, short weeks, we're working on the lapbook together. It's a One More Thing After Lunch activity. And it will be fun to share. (You may remember that we are spreading one Tapestry year over two years. So we will complete our first unit of Year 2 around Thanksgiving. Then we will start a new unit after the holidays.)
If you are curious about just what a lapbook is, my friend Heidi shared a great explanation here. She includes links to many resources as well as free lapbooking sites.
How about you? Do you include lapbooks in your homeschool? Do you use them for review too?