A dear reader asked the question: Have you posted somewhere your schedule? Her question made me realize I have shared many of our homeschool habits here and there – even in a gigantic list. However, I've never typed out our basic school schedule, or order.
Today's 10 in 10 theme is 10 Things You Should Know About Me. I'm putting a spin on that and sharing our schedule. Our school day doesn't always happen exactly like this. Sometimes the lines blur. And there are daily challenges. But these are the basic bones, the habits of our day:
10 Things You Should Know About Our Homeschool Schedule

I discovered this guideline from HSLDA and Everyday Homemaking's Vicki Bentley. Bible and morning quiet time are included. As well as all the regular sorts of reminders like brushing teeth, making your bed, clearing your spot at the breakfast table and even getting dressed. Rest assured there are those days it is more like a Before 9:45.
Sometimes we might start the day with a 'circle time' all together. But always, before I oversee the older ones I first help the littlest ones with their math, phonics and handwriting.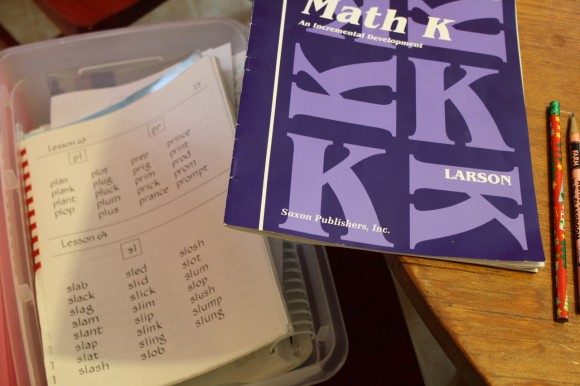 The younger two use workboxes to help them visualize their learning time. We can move the workboxes from the school room shelf to wherever is best that day. Even outside on a nice day.
One of the FAQs I get is what about the little ones? What do they do while you school the older ones? After I start with the little ones, the younger two children then have morning room time. This works especially well with babies or toddlers. It's how I can be in two places at once. Sometimes the younger two may simply play together while I help the older children. They've become really good companions over the summer.

4. PE
Pool time through the end of August – outdoor time or some other activity the rest of the year.
5. Finish up the 3 Rs
6. Lunch
For the older children, this is often several, rotating subjects or activities after lunch. This is when we look forward to many of the things we learn together: 365 Days of Celebration and Praise, nature study and journaling, a history project or read aloud, science, Visual Latin, English from the Roots up and our artist and composer studies with Harmony Fine Arts.

The longest standing habit of over a dozen years. Often when older children enjoy some history reading. We all need just a little bit of quiet time separate from one another. And when summer refreshingly changes up our schedule, this habit remains the backbone of our day.
Because I can't possibly follow behind five children and keep the house picked up. And don't service opportunities sound better than chores? These happen here and there throughout the day – whenever things are spread far and wide (often). Here's our list of Housekeeping Habits.
Sometimes the children are rewarded with some computer or iPad time immediately following their Before 8:45 time in the morning. (If those things are done well.) And, of course, we use the computer for learning as needed throughout the school day for research, Teaching Textbooks, etc. But late in the afternoon, everyone takes a turn on the computer.

*The Sprinkle of Extracurricular
There's guaranteed to always be a challenge to my balancing skills. Daily! Besides these basics, there are extracurricular activities mixed into our schedule throughout the week: Drama Troupe practice, piano lessons, church activities (youth group, Bible study, choir, puppets), homeschool group activities (weekly park day, occasional field trips, monthly creation club, socials).
Our Hodgepodge Curricula and the review index of our favorites.
Thanks to Angie at Many Little Blessings! Be sure to stop by to see Angie's top ten and all the top ten link ups. Plus, don't miss the other 10 in 10 posts at iHomeschool Network…

Subscribe to Hodgepodge for more homeschool posts! What are some things that help your homeschool day? Click to comment…