The other day I noticed 'Stripey' was not in bed with Selena as I came in to say goodnight.  In fact she hadn't been for several nights, but this was the first time it really registered with me.  Stripey has been her constant companion since she was three and she would not sleep with out her, until now.  I asked her why and she said the Stripey was not real but just a stuffed animal.
WOW
That's a big change.  Those two have been inseparable for so long.  Stripey has bathed with her and lost all her pink stripes swimming in an overchlorinated pool.  She has been recovered by me when she fell apart.  I actually remade her and stuffed her into her new skin, transferring the eyes to the outside of the slip cover.  I personally have a lot of time and effort wrapped up in that little pink and white frog!  For many years Selena carried tucked under her left arm and had trouble at playgrounds climbing because she couldn't lift her arm to climb.  Recently she had been leaving her home but never had she slept without her.
At first I felt sorry for Stripey.  Wait, no, I felt a sense of loss for myself.  My little girl is leaving girlhood behind and growing up.  Those Stripey years are passing away, never to return.  But, I must let go of them too.  Let go and embrace the future.  Don't cling to the past and regret it's going.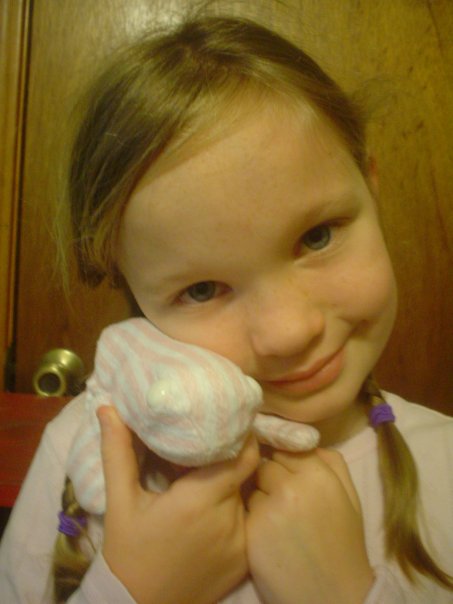 God is working in her life and mine.  Creating a new thing.  Maturing us.  Some days I don't feel much more mature than her.  So Lord fill me with joy and the energy to leap into this new phase of life you have for us.  Be near me and help me to guide Selena in your ways.  Because this is not the end, but the beginning of a new era.
~ written by Amy Waters