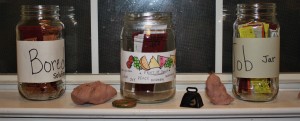 You know how sometimes you just need to
mix things up a bit
. You might need to do something new or it might be something you just haven't done in a long time. The point is it's something different from what you're doing at that very moment. Well, a couple of weeks ago I was at that point. That point of knowing something needed to change. The change needed to effect the good or bad consequences I may or may not be handing out depending on my boys behavior or attitude.   I knew I needed to be more intentional with my boys about pointing out their good choices, you know those times they were submitting to the spirit, that is why I am using the
Fruit of the Spirit Jar
again. I also knew I needed to mix things up a bit when it came time to decide on what to do for their not-so-good choices.   You see my boys love video games, so I got into the habit of only taking video games away when the boys made a not-so-good-choice. I just felt like that I needed to add some variety into this type of parenting situation. So, for these not so good choices I put out a "Job Jar". The Job Jar consist of strips of paper that list out different activities that my boys would consider jobs.  
You know actual work such as:
sweeping
vacuuming
dusting
cleaning toilets, tubs, sinks, baseboards, etc.
math worksheets, copy work, practice multiplication tables, etc..
  If they have to pick something from the job jar, they have to put their initials on the strip of paper. That way if they pick it the next time, they will put it back and pick another one that they haven't done.  
This has worked:
to add some variety
give a little surprise factor
for me to get a little extra help with house work
for them to get in a little practice in on some important educational skills 
I am very pleased and thankful for the prompting of the Holy Spirit to use both of the jars I have mentioned above.  As I said, sometimes you just need to mix things up a bit!   ~written by Angie