Warning
: Trying to access array offset on value of type null in
/home/n0c986d/public_html/hodgepodge/wp-content/plugins/amazon-associates-link-builder/vendor/mustache/mustache/src/Mustache/Parser.php
on line
278
~This post contains affiliate links to resources we love. Any purchases you make through our links help us continue to share absolutely free art tutorials with you! Please see our disclosure policy.

On this, the final day of our You CAN Be An Artist series, I am arming you with resources. We've made the progression from you CAN be an artist to you ARE an artist!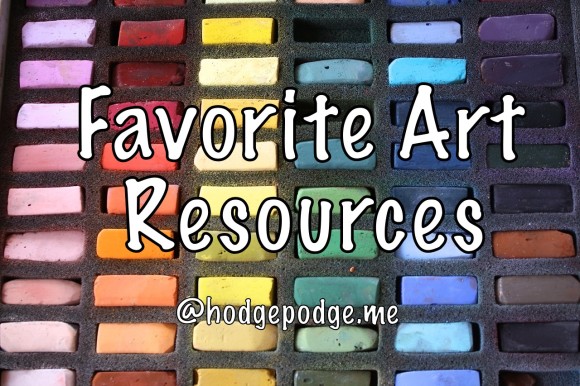 I've mixed in Hodgepodge reader favorites amongst all the resources I'm sharing today – to help you as an artist!
"For sheer excitement you can keep movie premieres and roller coasters. An empty white canvas waiting to be filled. That's the thing." ~ Pam Brown
If you'd visited here at Hodgepodge, you will know that our absolute favorite medium is chalk pastels. Soft pastels are forgiving and offer such wonderful results for any age. Our love of art and our skill as artists has grown because of Nana and her chalk pastel lessons. Chalks help us capture nature studies, they even help grow our curiosity and long to study famous artists.
100+ Free Art Lessons for All Ages – a list of the chalk pastel tutorials we have shared since that first Path to the Beach lesson. I actually need to update this list with our latest tutorials. At last count it was 100+ tutorials.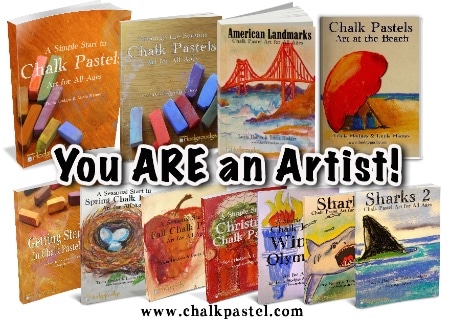 Plus, because you asked, most are available, for ease of use, in ebook format in our You ARE an Artist Curriculum for All Ages. That's so you can carry your iPad or laptop to the table with you and enjoy a tutorial!

Art Encouragement
Getting Started in Chalk Pastel Art – a FREE ebook we put together to help you get started. All of our best resources and the simple steps for chalk pastel art plus free tutorials – all in one place.
Feedback for your artists! Featuring You! You ARE an Artist! – Paint one of our tutorials and be sure to share with us! Simply tag @hodgepodgemom on social media, send a photo via the Hodgepodge contact form here or post on the Hodgepodge Facebook page. We will be sharing these via the Hodgepodge instagram or on our Art Tutorials Showcase Pinterest board – or both! Nana will even comment on a few I am sure!
My article, Art for the Homeschool, in HSLDA's Early Years newsletter. "Well, I'm just not artistic." I've heard that statement rather often from other homeschoolers who are at a loss as to how to incorporate art into their homeschooling. Since adding in the joy of art is one of my passions, I'm here to encourage you that building this habit is not hard. You did not have to inherit the art gene to pull out the paint brushes."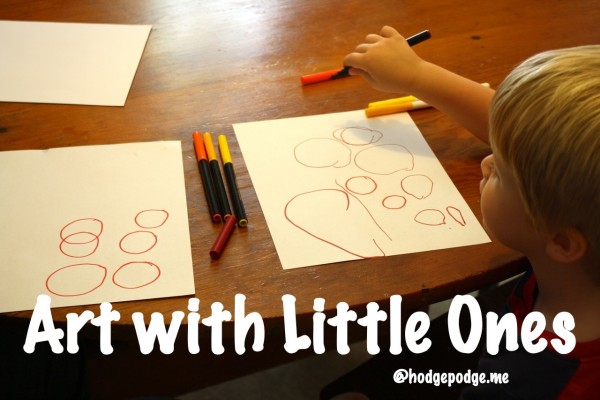 How to Start Art with Little Ones. Nana's post, "The idea is to build a wonderful habit of enjoying art. This art time may even be less than 5-10 minutes. Then, as months and years go by, you can build on the basic love and joy and add the learning and the technique."
Favorite Art Supplies
Pastels Plus Links to Tutorials
. Basically, you can find a small, starter, student-grade set at your local arts and crafts store for less than $10. I found a set of 12 chalk pastels at Michael's Arts and Crafts for $6.99. Start with this and see if you like the blessed messiness of chalk pastels.
Simple Afternoon Art Projects. Not to say that we don't enjoy art in the mornings. We just might pull it all out before lunch. But the kitchen table is free after lunch and invites us for simple afternoon art projects. You might also like the accompanying How to Plan Simple Afternoon Art Projects.
Simply Fun Start with Art "Every now and then, I come across a learning tool that catches my attention and takes my breath away." ~ Unit Studies by Amanda Bennett – Amanda has paired tutorials from A Simple Start in Chalk Pastels with many of her unit studies. Take a look at her list!
Acrylics Plus Links to Tutorials: You can make a small investment at your local craft store and get enough basic, primary colors to mix any other color or hue that your heart desires!
"I paint as a bird sings!" ~ Claude Monet
Easy Art Projects for Easter and Spring
We Enjoy These Art Resources Every Week
Harmony Fine Arts Plans for Art and Music Appreciation – "Are you like me? Do you long to enrich your homeschool with studies of composers and artists? Do you wish that someone would just do it all for you? You know, invest the time in research, find the online links, point you to the resources you need? All I really wanted to be able to do was open something up and teach. Have it all right there and not have to pull it all together myself. IIt's done. Yes, really. It's all done for you. Barb-Harmony Art Mom has created just what you need. She, too, was like us." You can read my full review at The Curriculum Choice.
Sketch Tuesday "Every Tuesday I post a new sketch assignment on the Harmony Art Mom blog. Everyone is welcome to sketch and you do not need to sign up to participate. You can participate every week or as often as you wish since there is no commitment." ~ Barb-Harmony Art Mom

We Also Supplement With These Art Resources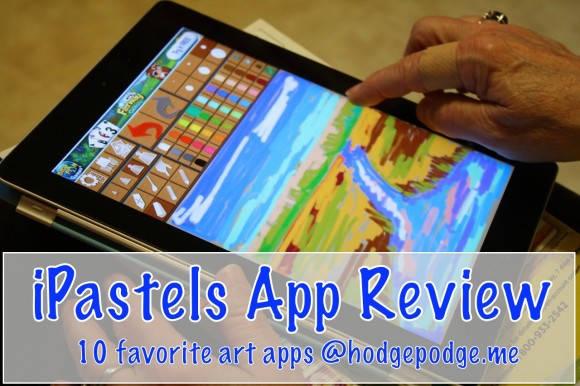 iPastels App review "Of course this app isn't exactly like holding a piece of soft chalk in your hand. But it does offer a close creative capability. iPastels will help you create a digital pastel painting!" Nana and the children put it to the test.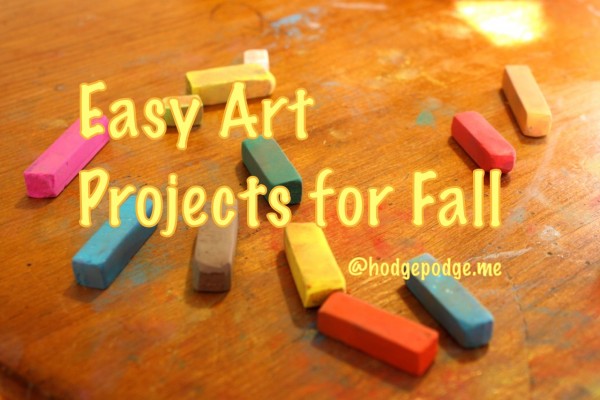 Wonderful resources from friends
Unit studies from Confessions of a Homeschooler:
Henry Matisse
Claude Monet
Michelangelo
Georgia O'Keeffe
Pablo Picasso
Jackson Pollock
Vincent Van Gogh
Leonardo Da Vinci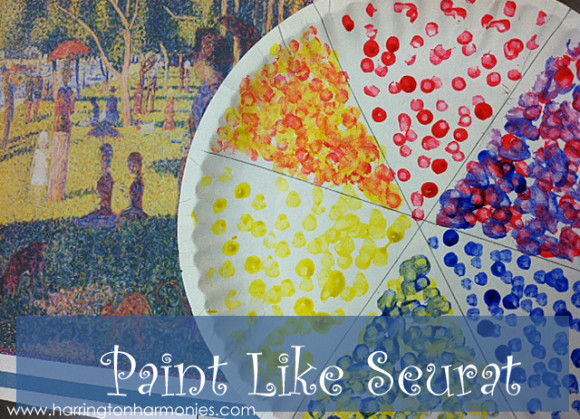 Stephanie at Harrington Harmonies offers projects and notebooking pages: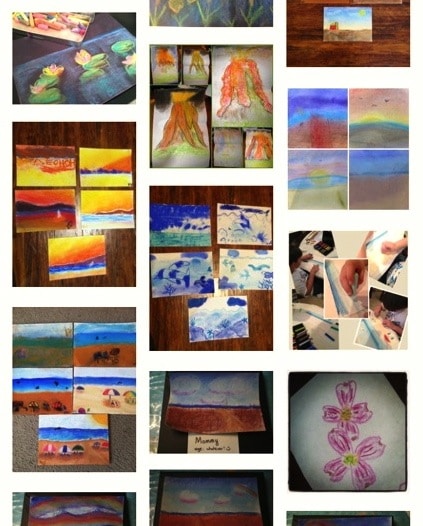 Art Tutorial Showcase Pinterest board. There are many families that have enjoyed our art tutorials. I have gathered photos and posts that readers have sent me onto an Art Tutorial Showcase Pinterest board. Heather at Blog, She Wrote's post on the chickadees her children created is showcased there – beautiful and even framed! Be sure to check it out: Chickadees in Chalk Pastel.  Have you enjoyed one of our tutorials? I'd love to hear. Just use our contact form to send me an email!
The spring hopscotch series is brought to you by these lovely ladies…
Be sure to click over to see all the wonderful series of Spring Hopscotch posts by iHomeschool Network bloggers – 280 posts in all!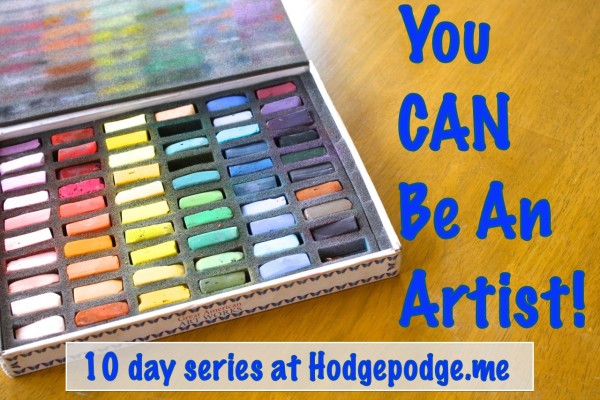 Day 10 – Favorite Art Resources at Hodgepodge
I hope you enjoyed our You Can Be an Artist series and will be back for a visit often. Don't miss any future art tutorials – subscribe to Hodgepodge!
So, what do you think? Do you have any questions? I do and it's this: Are you an artist? Yes you are!