(Photo of Queen Anne's lace full of seeds at summer's end in September). Back last summer we had a time hunting for Queen Anne's Lace. We went to north Georgia looking, found it on the roadsides but couldn't find a safe spot to pull over.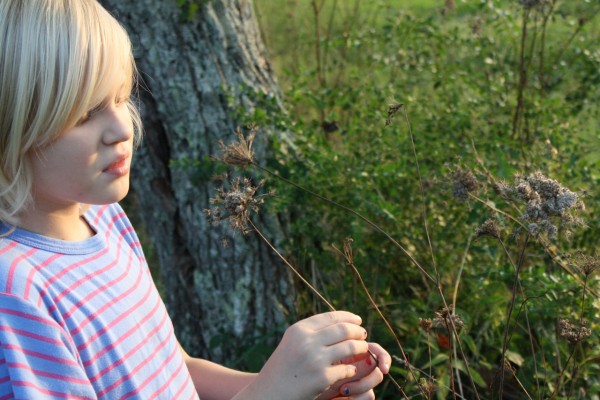 Then, on a regular walk up my childhood road, we found it!
(Photo of Queen Anne's lace in spring – March). So, a couple of weeks ago, we went back to the known patch of white lace. It was still there. Not mowed over. The very same patch! What we noticed was, it was all brown.
No tops full of seeds anymore. We decided we'd be back in a month or so to see if we could see that pretty white.
And, we did find a yard full of fun dandelions to blow, just down the road!
What fun to watch the seeds scatter.
Fast forward to this week. We decided on our spring break we'd hop over to the park across the street as much as we could. Right after lunch today we did. And we had the place all to ourselves. We hunted all over for Queen Anne's lace. But none was found.
Instead, the children and a friend played prey and predator. It's a fun sort of hide and seek where one plays the predator and counts while the others are the prey that hide in the woods. The predator can only approach so far and just quietly watch for prey.
Along the way we found delightful wildflowers. Buttercups. And violets.
Eldest boy picked up a neat branch with some fungus.
The dogwood trees were in full bloom.
Both the white and the pink.
We might just enjoy Nana's Queen Anne's lace pastel lesson again. I love those photos from the mountains.
It's been fun to see our across the street park in different seasons. And we'll still keep our eyes alert to roadside lace and stop back by the known patch. Can't wait until the lace blooms and we can use food coloring to dye them!