This week began our December school time habits. Earlier in the week, I shared how we Take December Off. Really, it's a mindset. We don't really take off, lazing around all day. We act like homeschoolers, enjoying many Advent activities, taking advantage of unit study type learning, carrying on with math here and there and counting the blessings of a packed calendar of celebrations. For example, this week, we…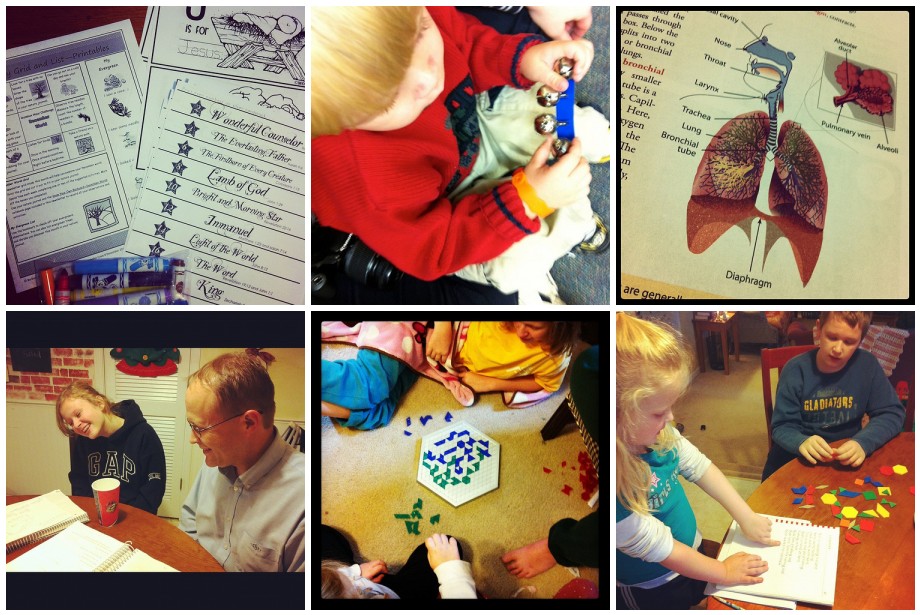 1. Enjoyed a few learning activities: December newsletter grid from Handbook of Nature Study, Names of Jesus advent chain from Spell Out Loud, ABC Christmas Coloring Book from Musings of Me | 2. Lil' Buddy's Little Angel Choir Christmas program (he sat in my lap the whole time – too many parents and grandparents for him!) | 3. Studying the lungs with our AiG Human Body Science text | 4. 8th grader smiles with math – that's what I like – thanks Hodgepodgedad! | 5. Blokus – family favorite and living math | 6. Kindergartener reading Alphaphonics lessons to big brother.
Our Helpful Habit this week answers a friend's question: I find myself wasting h-o-u-r-s of precious time when I'm answering emails, uploading photos, writing posts, gathering ideas for school studies, etc. Any tricks?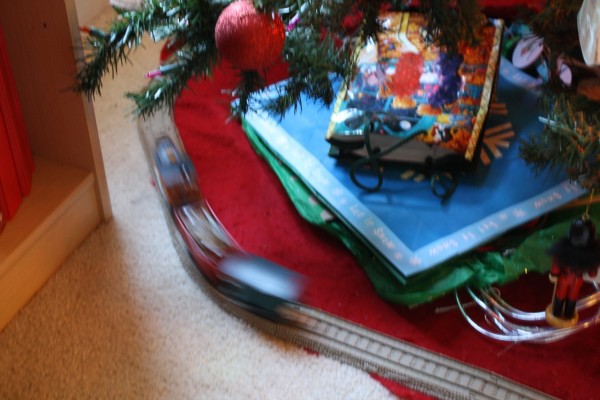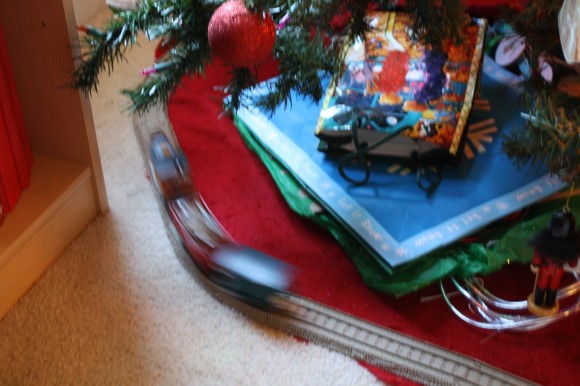 We put our Christmas tree up over the weekend, including a train track around the base of the tree for our train-loving Lil' Buddy.

Have you found ways to keep everything streamlined – like checking in on Facebook, Pinterest, blogs and the like? Maybe you can find some tips in my hodgepodge of habits…

First of all, I try to follow the basic schedule of our day, a helpful habit I shared in How Do You Fit it All In? The habits that have been in place and are constantly being tweaked. Those helpful habits really bless our day.
I follow Erin Chase's example of The Daily 7. It's a time management system she shared on the Savvy Blogging site.
I turn off email notifications. I no longer receive an email when I get a message or a reply to a status on Facebook. Nor am I informed when I get a new follower on Twitter. This way I can prioritize my time and am responding to comments and questions on my time.
I try to save answering email for afternoon quiet time or the evenings.
I use helpful plug ins for Hodgepodge (love the calendar plug in!) to save time. I use a template for recipes.
1. Slow Cooker Mac and Cheese – oh yum! | 2. Major malfunction of washer caused overflow and a huge mess over half the downstairs. Two days of clean up. Thanks to Hodgepodgedad for fixing the family washer! Whew!! | 3. Angry Birds fancy party | 4. Middle Girl read The Best Christmas Pageant Ever | 5. Our Christmas kitty | 6. We've enjoyed lots of time up next to a warm fire. Eldest Boy has kept one going often.
I limit my time. I spend time on the computer:
following morning quiet time (when I sometimes write and then do my daily 7)
mid-morning maybe a check of email – 5-15 minutes
after lunch – 5-15 minutes
during Afternoon Quiet Time – I sometimes write/draft/schedule – 30-45 minutes
in the evenings
We will finish up this Answers in Genesis: Human Body unit study in the next week or two! We'll be kind of sad to finish it as we've learned much reading the lessons together during lunch. Littlest Girl even did a wonderful human body diagram – in her size, complete with balloons for intestines, navy beans for teeth and more in her first place science fair project.
Flylady's "you can do anything for 15 minutes" is etched into my brain. I am encouraged, rather than overwhelmed, when I spend just 15 minutes on housework, school subjects with reluctant children – and just 15 minutes for computer time as well. If I know I will only be doing something for 15 minutes (even setting the timer) – wow what I can get done! So, though it might look like, based on my posts, photos, or my Facebook or Twitter stream, that I spend hours on the computer each day, really, it's spurts of time. 15 minutes! This post I have had in draft, on the calendar, for about two weeks. I spent 15 minutes here and there writing, 15 minutes adding photos and links…I'll go into more detail about this when I share about when I write.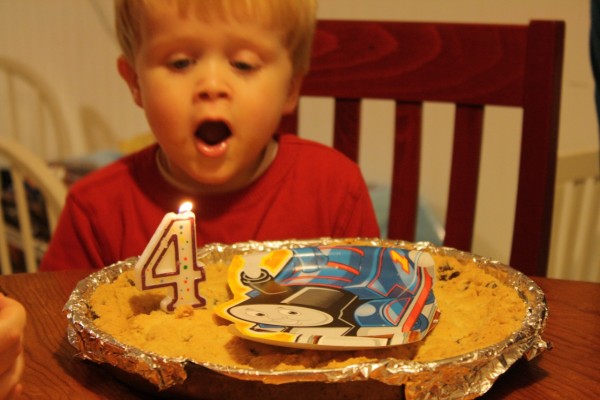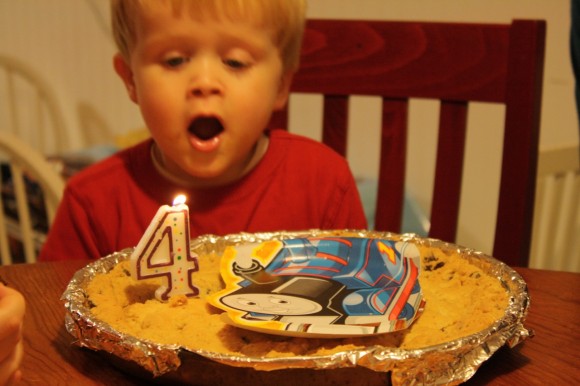 We celebrated Lil' Buddy's 4th Birthday – complete with egg-free, allergy-friendly, homemade cookie cake!
When I do check social media sites, I double/triple task.
As I click through my Google Reader, finding the latest posts from my favorite sites, I pin on Pinterest. A new recipe, a great homeschool resource. Sometimes I click the Twitter button on Pinterest so that it tweets my pin.
My Hodgepodge Facebook page is connected to Twitter. When I share on Facebook, the post goes to Twitter as well.
Using Instagram shares the regular, every day sorts of things of our days. It's also a nice record of homeschooling for the weekly wrap ups I participate in.
If we are currently using a great resource in our homeschool, right then I might pin it and share Pinterest. It takes less than a minute!
I try my best to answer comments on Hodgepodge (daily) and comment on blogs I follow (weekly). I keep a mental half an hour limit on commenting time. Building those online relationships is a good thing but not as important as evening family time.
We made gifts for choir and Mission Friends teachers. I adapted an idea from Brown Paper Packages.

And…"So, for instance, all your posts include lots of wonderful photos, but from experience I know photos can take quite some time to sort through, upload and add into a post." For photos, I use iPhoto and my iPhone. iPhoto has wonderful, one click social media sharing. Plus, I love photos. I love to sort through them. It's a hobby! I pull photos in from my camera a couple of times a week because I take so many. I have way more than I share here! I sort through and find the key photos I'd like to use, export them to my desktop, then upload to the blog. Next, insert into the post. Or, for Camera Phone Friday, I pull my phone photos from my photo stream, click the 'upload to Flickr' button in iPhoto, create a mosaic in Mosaic Maker (learned that tip from Dawn at MHSH), export to my desktop then upload here. The steps are quick and I enjoy the results.
Someone was a little under the weather this week. Lots of reading time.
There are other tips and tricks but this post is getting really long. Instead I'll share a few other resources for online time Hodgepodgedad and I have written about in the recent past:
We started our Jesse Tree Advent devotional this week. A free download from Ann Voskamp.

Many thanks to our Friday hostesses…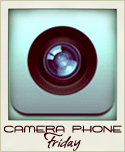 Camera Phone Friday hostess Dawn Camp @ My Home Sweet Home and…


Weekly Wrap-Up hostess Kris at Weird, Unsocialized Homeschoolers.
**Important update: My friend, Barb-Harmony Art Mom, posted on this very same topic today. Her message is one we all need to read. Stop by: The Myth of Accomplishing It All Homeschool Moms and Online Time

How about you? How do you manage your time online? Any tips and tricks?