I'm continuing to post past pastel tutorials. This one is an all-time favorite! Nana's second lesson is rich in color. Plus, the original photos were lost in some type of transfer. So I'm very thankful I still had them on our original Hodgepodge site. In honor of spring weather, a tornado in pastels…
Nana said she'd like to teach another art lesson during spring break. To share the beauty of pastels. Little did we know how perfectly the study would coincide with the tornado week and today's rainy weather.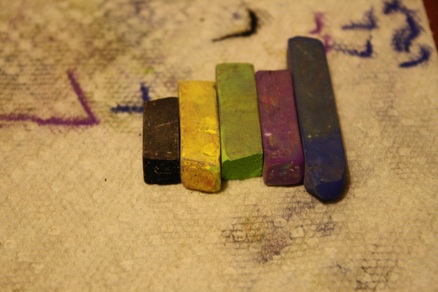 Nana passed out storm colors.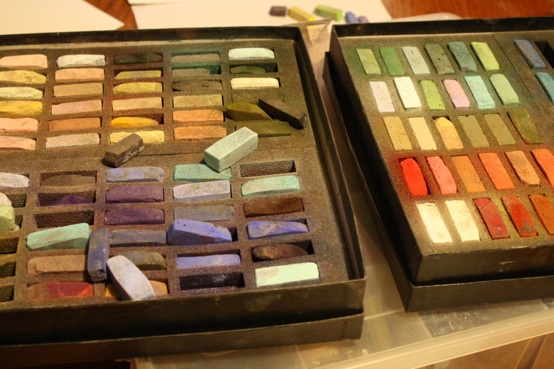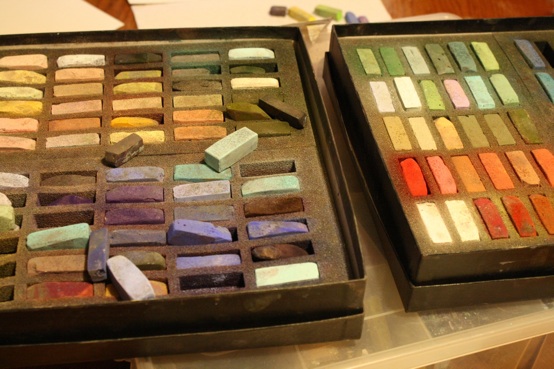 While we looked admiringly at her Master Artist palette.
And, as before, she instructed to begin with the ground. Just a line. In dark green.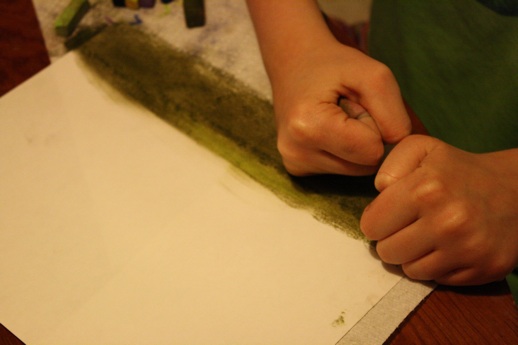 Fist it in. Blending the colors into beautiful ground.
Next add a little hill.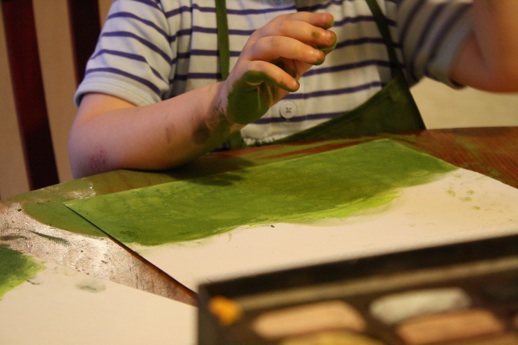 Make it light green.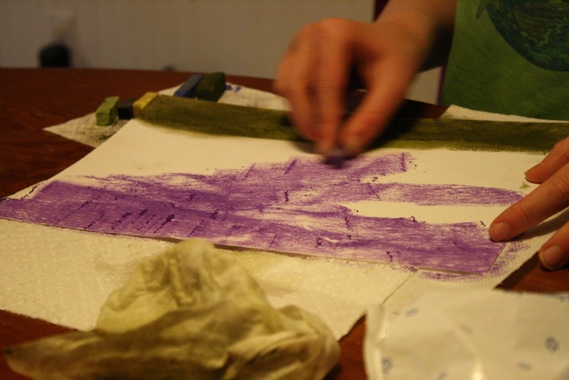 Then brush in the dark, foreboding purples of the tornado.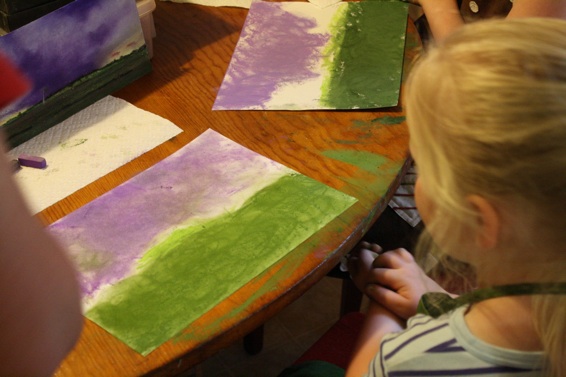 Touches of green in the clouds.
A bit of blue too. For depth.
Always fisting in the colors. Blending to show the swirl.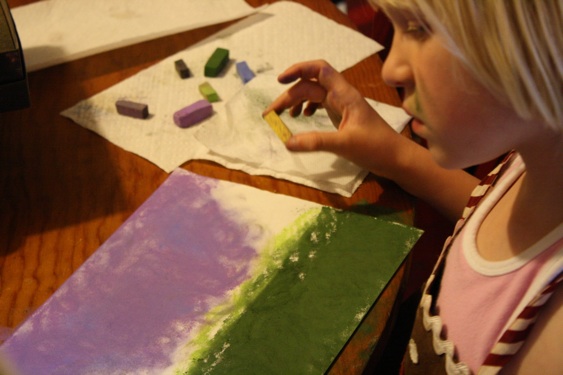 What next? A bit of yellow for drama. The light.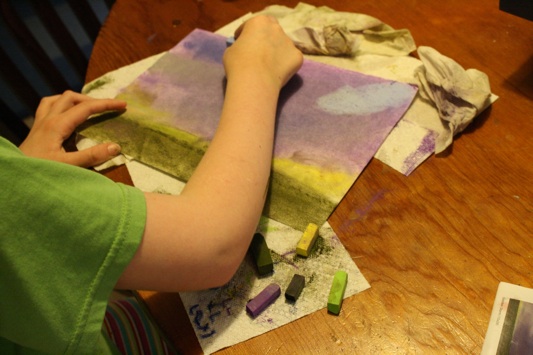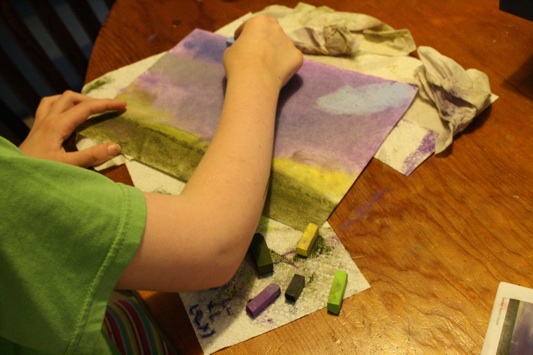 Fist it in. And stop a bit to admire the formation of your tornado. Add some light blue at the top.
More purple.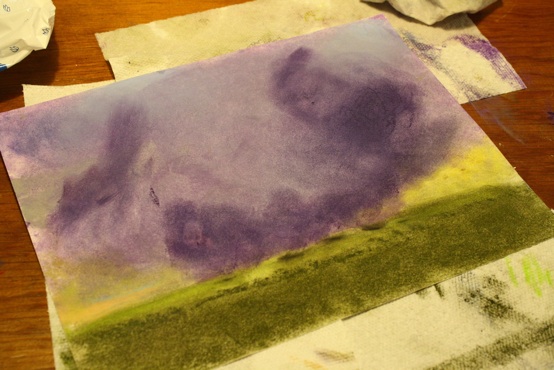 Add as much as you like for the swirls.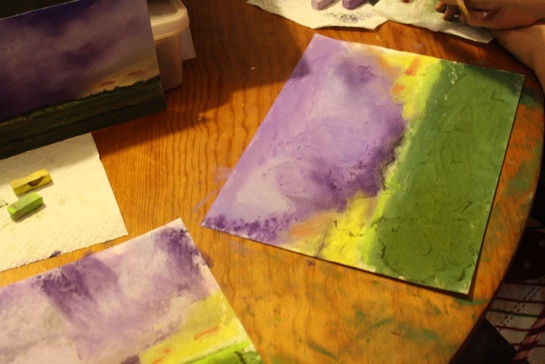 Storm colors turned into a twisting tornado.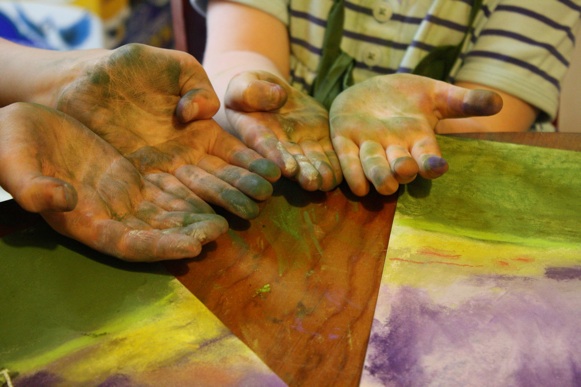 With pretty fingerprints too.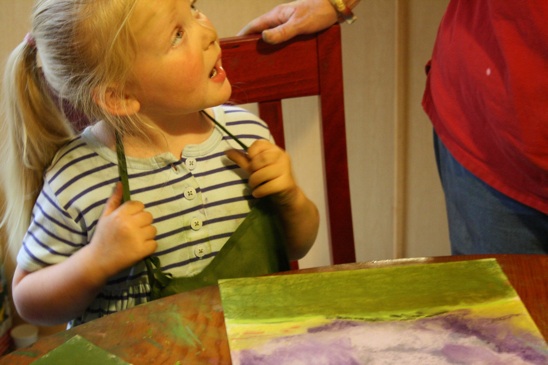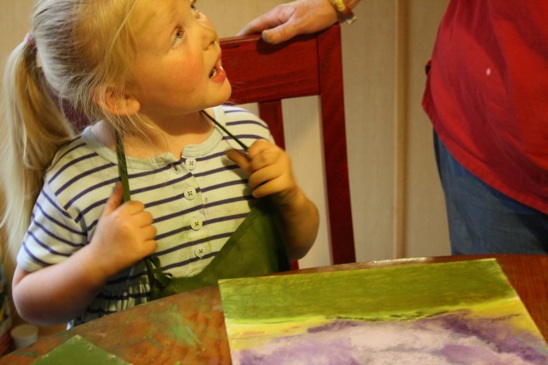 The greens spread all around.
Two added a lightening strike for dramatic effect.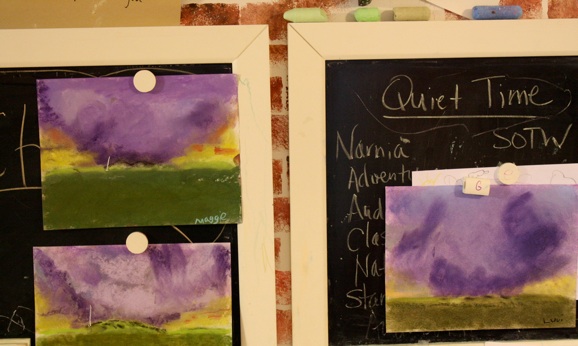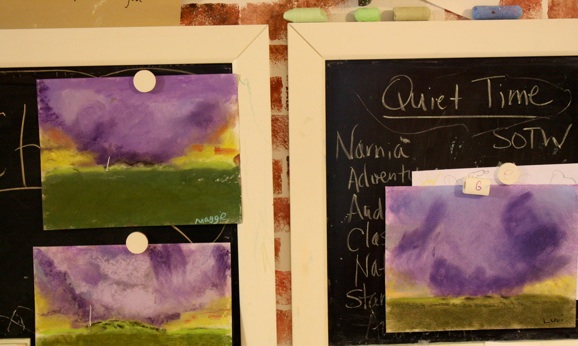 Stormy tornado pictures hang on the chalkboard waiting for Daddy to see. Tornadoes. This tornado week!
Art is a much prettier way to study their powerful movement.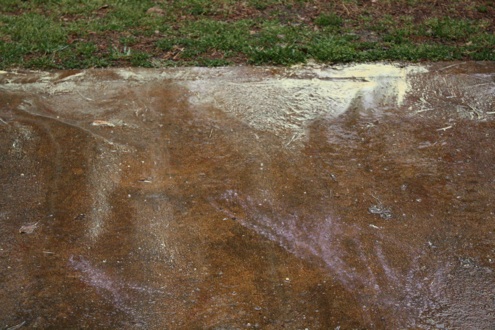 Outside the rain rinsed the world of yellow pine pollen. And the forecast thunderstorms passed us by. Perfect for our Outdoor Hour study of spring weather.
Enjoy!
Print this lesson: Just click the green, 'print-friendly' button at the top, left of this post. You can choose to print the lesson with or without photos. By clicking the 'remove photos' box, you may print the text directions only.
A note on chalk pastels: Pastels are an easy, forgiving medium. Fun for children and adults alike! Details on the pastels and paper we use, how and where to purchase, and links to all of Nana's other pastel lessons (over 45 lessons now) are all contained in the post Pastels plus links to tutorials. A simple set is very affordable. Nana also teaches acrylic lessons.

The practical aspects of a mess: Pastels are blessedly messy. We always have baby wipes close by to wipe hands. We wear something we don't mind getting stained or don a smock.