Warning
: Trying to access array offset on value of type null in
/home/n0c986d/public_html/hodgepodge/wp-content/plugins/amazon-associates-link-builder/vendor/mustache/mustache/src/Mustache/Parser.php
on line
278
I've had big plans for our homeschool year. But, as I've mentioned before, I'm often the one learning. Learning how to be extremely flexible. Never have we had such a rough year with health. Even so, the negative aspects of illness really can be turned into positives. And in our homeschool we can turn negatives into positives.

Turn Negatives into Positives
Even though we'd rather not have had all those strep positives like this last week and a half. Pictured above, Yankee Doodle Boy for Eldest Girl's Tapestry of Grace studies. 

1. Littlest Girl found a spot up in my bedroom to do her Math. Complete with a backyard view of the playhouse. | 2. A relaxing Saturday | 3. The two big kids got in some good Apologia studies before they got sick this week. | 4. Eldest Girl made brownies from scratch (yes that counts towards culinary arts!) because she's great like that.
Positives and Adjustments
Because we started our school year the last week of July, we were able to:
Rest through the family flu the month of December.
allow Littlest Girl the time to recover from a tonsillectomy in January.
adjust our schedule around yet another sickness stretched out amongst five children.

1. Making Valentines for friends in our homeschool group gives us plenty of handwriting practice. We'll save the Valentines for next year. | 2. the girls made sure things were festive around here! | 3. I asked him to stop by the store for some apple juice and he got something that wasn't on the list! | 4. Heart-shaped pancakes for Valentine breakfast.
Refocus with my Older Two
Guess what? We can change things up these last months of this school year. Eldest Girl finished her ninth grade Rod and Staff English this week, despite being sick. She finished 9th grade English in February! Her brother is just a few lessons away from finishing his. So for the remaining few months we will focus on Institute for Excellence in Writing. Mesh assignments with Tapestry of Grace.
Last weekend, when all were feeling well, Nana helped us with a volcano chalk pastel we'll be sharing next month!
Our homeschool group's homeschool expo is coming up soon and we've decided on a science fair project we might share. Starting next week we are enjoying Unit Studies' Volatile Volcanoes as a follow up to our Child's Geography studies. We'll make a volcano – which we've yet to do yet!
Eldest Boy, quarantined because of germs, has had focused time to work with his raspberry pi he got for Christmas. Pair that with studies on the iPad on Lynda.com plus plenty of discussion with Hodgepodgedad and you've got quite a course!
Is it spring yet?? We're sure seeing signs of spring. 1. Jonquils heavy with rain – jonquils bloomed in early January this year! | 2. iris buds this week! | 3. green anole in the sunshine (Middle Girl got him safely outside) | 4. Hearts and Trees kit for spring.
Counting each accomplishment and just enjoying in spite of illness has allowed us plenty of time to appreciate fine arts. 1. We can draw something orange for Sketch Tuesday, listen to our Harmony Fine Arts composer. | 2. The big kids at the doctor yesterday – one more strep positive | 3. silly siblings | 4. Littlest Girl helping big sister with Cowardly Lion lines for Drama Troupe.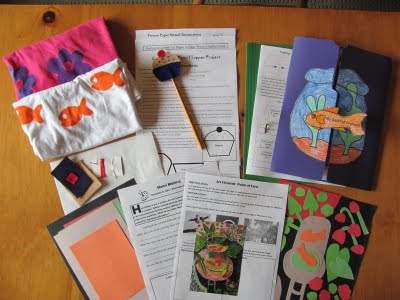 We are also eager to get well and get to our new spring kit from Hearts and Trees. Starting today we will count birds for the Great Backyard Bird Count. Will you be counting backyard birds?
What this busy, blessed family life really amounts to is that I am made to rely on Him and not my own strength. We are blessed over and above. Henry Blackaby's quote encouraged me this week: "The heroes of the faith had one thing in common: They were all ordinary people with no power of their own. The difference is the mighty presence of God."
You might also like:
Many thanks to our Friday hostesses!
I'm so grateful for good doctors and medicine to help these children toward health. Have y'all been well?
Hearts and Trees: Art, Handicrafts and Nature Study for your Homeschool