Welcome back to Lasagna Learning: Teaching Multiple Ages. Don't miss the link to a review of Harmony Fine Arts Plans below!

Unit studies are great for an age range because everyone is immersed in the same subject. Unit studies are often how we fit it all in! After the 3 Rs, we can mostly finish up the remainder of our subjects all together – all ages.
What is a unit study?
Both Amanda Bennett and Tapestry of Grace offer explanations of what a unit study is. A unit study, in my words, is a thorough investigation of one topic – using living books, hands on projects, notebooking and more. For us, it is a lasagna approach – layering the learning. A unit study often is a suggestion or jumping off place for more research. You can just do a search at your library on one subject you want to study and you will find books for every age. Readers and story books for young ones, chapter books for older ones, living books for the whole family. Following are several of the unit studies we've enjoyed as a family.
History and Literature
One way we accomplish the other subjects – everyone together – is with Tapestry of Grace. Let me share an example of how unit studies can work in layers and levels like lasagna. In our Tapestry of Grace studies we were learning about Renaissance Italy. So, over the course of a week we worked on a salt dough map of Italy. The afternoon we mixed up the dough, some stirred, some created. The youngest ones got out the rolling pin and just had fun.
With the leftovers, Middle Girl remembered that da Vinci sculpted. So she created mini pieces of art work and painted them. She then completed another Tapestry of Grace assignment – a self portrait. (Full review of Tapestry of Grace).
Five in a Row (FIAR) – this unit study is the resource we started homeschooling with! So, on another morning that week I remembered a Five in a Row book, Papa Piccolo is set in Venice, Italy. Yet another geographical spot we were studying. So we pulled it out and read it.
Math
I introduced you to Loving Living Math in last week's 3 Rs with Multiple Ages. This ebook also opened my eyes to the fact that we were already enjoying many living math opportunities in board games, Snap Circuits, Saturday morning trips to the store and simply setting the table! Our favorite game, Blokus? Check! For my family, living math cued up the fun. (Full Loving Living Math review).
Science
Answers in Genesis: God's Design for Science series – we've studied plants, animals, the human body, weather and water, the universe, our planet Earth and heat and energy – all together and around the table right after lunch 2-3 times a week. Gone are the days of buying separate science curriculum for various levels. Focusing on different topics in multiple grades. For me, as homeschool parent, I no longer have to set aside time to "do science" with each child. Everyone is learning together. (Full review of AiG Science)
Topical Unit Studies
Last time the Olympics rolled around, we took a month to learn all about the games! Everyone together – older children down to the younger ones. We completed our 3 Rs and then moved to the Olympics. Not only did we find out what it takes to be an athlete, we studied the events, the history of the Olympics and the city they were hosted in. We created flags from different countries, learned about famous American athletes.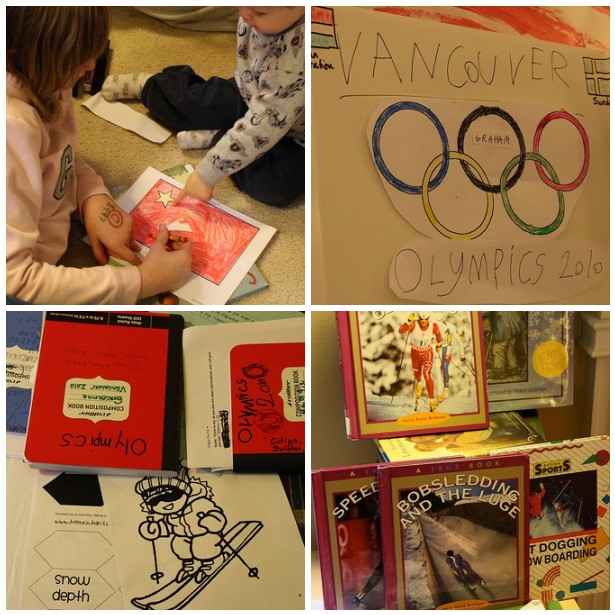 For copywork, the children wrote famous quotes from Christian athletes. We added all kinds of vocabulary to our memory banks. We even held a closing ceremony for our studies while we watched the closing ceremonies on TV.
Nature Study
Nature study? It's for all ages. No requirements. No prerequisites. Really, all we have to do is step outside. We don't have to stop and analyze what is best for each age.
But, what is nice is that there are resources available for all ages – to enjoy all together, at the same time, same study. We've found this with Barb-Harmony Art Mom's Handbook of Nature Study ebooks. Not only are there coloring pages for the youngest ones but advanced study for the older ones. Handy prompts. I share regularly the nature studies we enjoy with the Outdoor Hour Challenges.
Nature Study is one of the pure joys of lasagna learning in our homeschool.
Artists and Composers
Our Harmony Fine Arts studies? Composers and artists from the Renaissance! Younger ones colored coloring pages of famous pieces of art, older ones completed notebook pages on composers and artists. Everyone listening to a composer together.
Are you like me? Do you long to enrich your homeschool with studies of composers and artists? Do you wish that someone would just do it all for you? You know, invest the time in research, find the online links, point you to the resources you need? All I really wanted to be able to do was open something up and teach. Have it all right there and not have to pull it all together myself. It's done. Yes, really. It's all done for you. Barb-Harmony Art Mom has created just what you need.
—-> You have the opportunity to enter to win a copy of Harmony Fine Arts Plans. The giveaway is part of my review of the Harmony Fine Arts plans we love so much! Just click over and visit me at The Curriculum Choice.
Meeting the needs of the styles of learning! Unit studies include read-alouds, hands on activities, independent reading, writing and more.
Topics in this series:
**Remember to subscribe to Hodgepodge, so you won't miss any lasagna learning! You can also have free Hodgepodge delivered to your email inbox by entering your email address in the top right hand corner. Thank you!**

The 10 Days Series is organized by iHomeschool Network, a collaboration of outstanding homeschool bloggers who connect with each other and with family-friendly companies in mutually beneficial projects. Visit us on Facebook, Pinterest, and Twitter. And of course, click the image below to visit all the 10 Days posts from these homeschool moms of the iHomeschool Network. You'll be blessed with tips on how to handle bad days, cultivating curiosity, teaching with Legos, and much much more!
These are examples from our lasagna learning. Do you have unit studies you've enjoyed that fit the needs of the age range? Be sure to stop back by tomorrow for a free art lesson for the whole family!