What an experience! The Van Gogh Experience was our daughter's choice for her birthday celebration. This art museum is truly an immersive experience. Our entire family definitely felt immersed in Van Gogh's beautiful works of art. Especially in the immersion room after walking through the galleries! The Van Gogh Experience would also be a great homeschool field trip or educational opportunity to celebrate your Van Gogh studies. This is a great way to experience the paintings and works of this famous artist. We had a wonderful time!
What Can You Expect at the Van Gogh Experience?
Here is an overview at what we experienced – starting at the entrance where there are giant sunflowers and Van Gogh's self portraits for photo opps.
Depending on your location, you will also experience:
A film celebrating Van Gogh's life – What Makes Van Gogh Unique? There are benches so you can enjoy the film at your leisure. The film repeats so you can catch whatever you missed.
Up-close look at galleries of Van Gogh's famous works of art. There is an entire section of Van Gogh's sunflower paintings.
A timeline of Van Gogh's life.
A display detailing the five highest amounts Van Gogh paintings sold for at auction.
Van Gogh by the numbers – his artistic journey and where he painted.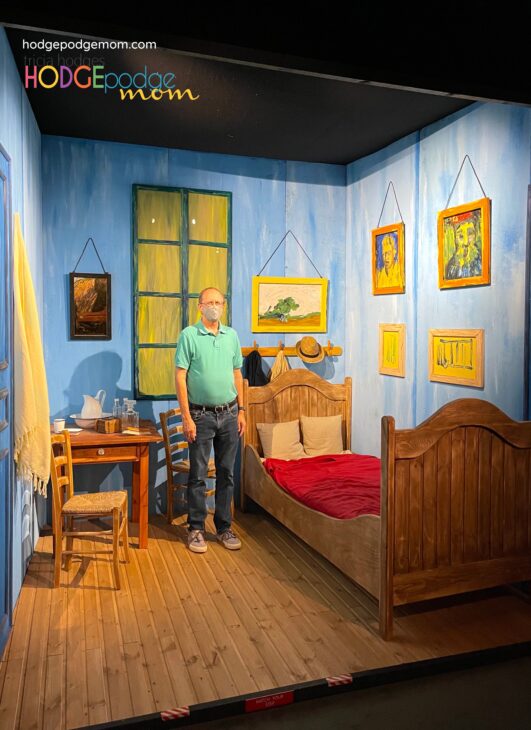 A life-sized, interactive display of his famous Bedroom at Arles.
A life-sized display of The Vestibule.
Van Gogh and the Japanese Prints.
The Immersive Experience – incorporating over 200 of Van Gogh's works of art.
The chance to create your own works of art! After the immersive experience, there is a room filled with tables, coloring pages and crayons. When you finish, you can scan your completed art work so it will be displayed on a screen.
"Instead of trying to reproduce exactly what I see before me, I make more arbitrary use of color to express myself more forcefully."

Vincent Van Gogh
How to Find a Van Gogh: The Immersive Experience Near You
We were able to go to the Atlanta experience but you can find one closest to you. Go to Van Gogh: The Immersive Experience to get your tickets.
"Paintings have a life of their own that originates in the painter's soul."

Vincent Van Gogh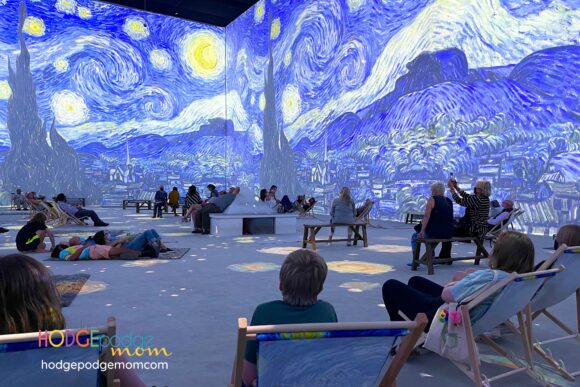 The Immersive Room
After going through the Van Gogh museum galleries, we moved into the immersive experience room. The immersive experience is definitely the main attraction and is why everyone wants to go to this exhibit. The immersive room is a very large room! This is a perfect place to take in Van Gogh's works of art since there are benches, lounge chairs and soft picnic style mats for seating – all inviting you to stay and enjoy!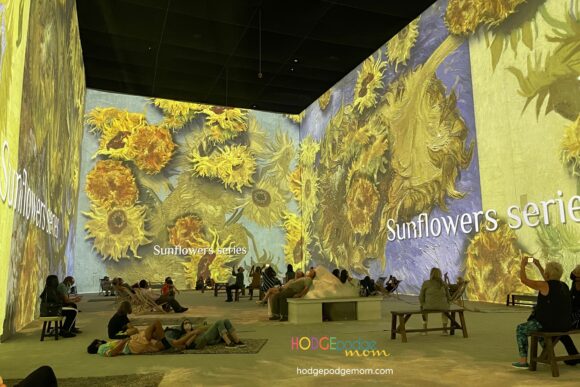 Each part of the room is continually changing with beautiful video. You are surrounded by art!! This is about a 30 minute experience with a narrator leading you through Van Gogh's life.
I shared a few more Van Gogh experience photos on my Instagram.
Van Gogh Experience Homeschool Field Trip
I can easily see the Van Gogh Experience being a great opportunity for homeschool field trip. You can plan your visit for during or after your study of famous artist Van Gogh or while studying famous artists in general.
Nana at You ARE an ARTiST has a fabulous Vincent Van Gogh Homeschool Study that includes a podcast, art history and several Van Gogh Lessons. We invite you to enjoy this before or as a part of your overall Van Gogh studies: Hands-On Homeschool Study of Vincent Van Gogh.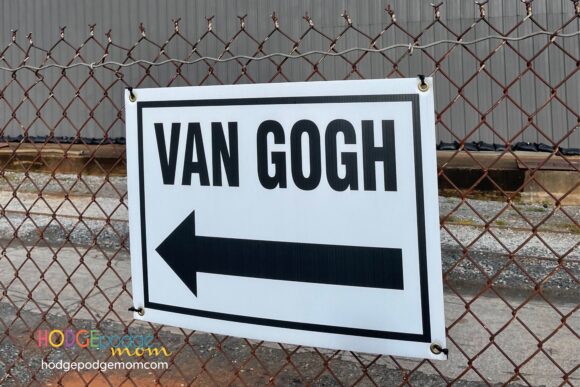 Tips for Your Art Museum Experience
Check out the parking situation. Our parking was an online app for a contact-less payment.
Be ready for the gift shop. There are some really fun things there!
For tips on preparing for an art museum experience with children, you might like my Fun With The Art of Eric Carle and Why You Should Take An Art Museum Field Trip.
We highly recommend The Van Gogh Immersive Experience! Be sure to let us know if you go too.