Tuesday night was veggie plate night. That meant that we were using up goodness from the garden.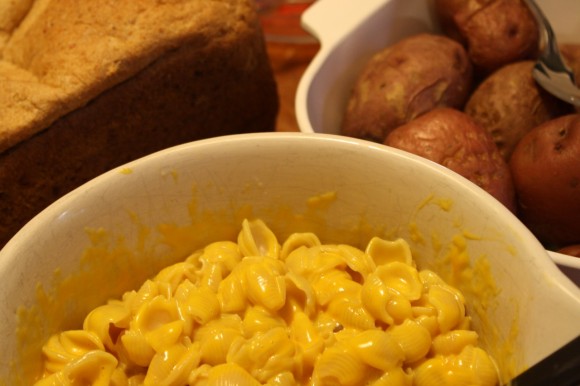 And throwing in a box of macaroni and cheese for good measure (to make children smile).
Plus some homemade bread.
Fruit, other veggies.
And store-bought red potatoes. It was delicious! I've shared before how we usually have a veggie plate at least one night a week or once during a two week, cheap eats meal plan. When veggies fill your plate, they are filling and, it goes without saying, good for you! Plus they are mega frugal.
Children can add toppings like butter, cheese and a shake of Jane's Krazy Mixed Up Salt. Having a veggie plate this often gives children more opportunity to try and to like vegetables. Plus, by adding homemade bread and macaroni and cheese, there is always something on the table they really do like. And, letting children grow their own vegetable garden really makes them want to try it. My most finicky eater is growing a square foot garden full of squash and now loves squash and zucchini. Last year growing cucumbers made her a tasting fan.
Adults can add sweet tea or iced coffee to really round out this meal nicely.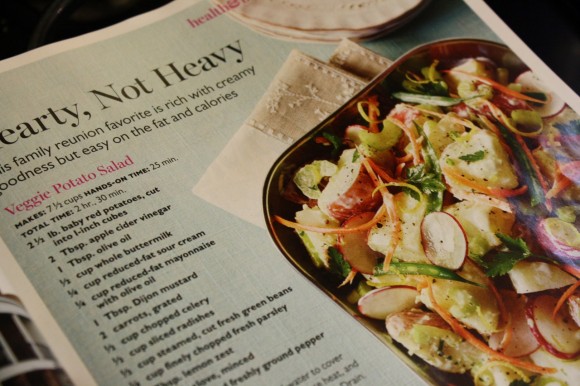 Now, those red potatoes above? Several were left over. So, I saw this recipe from Southern Living for Potato Salad. Decided to try it on Wednesday night. It was a hit with all who tried it (two were hold outs).
Veggie plate. Potatoes x 2. Good for you.