One of the very special decorations we bring out each Christmas is this little, red VW bug. Nana gave us this cute little VW carrying the Christmas tree home. I put it up on the kitchen window sill for us all to enjoy each December. And one afternoon this week we decided – we should do a chalk pastel of bringing the Christmas tree home. So, we had fun with a VW Bug Chalk Art Tutorial!

VW Bug Chalk Art Tutorial – Bringing the Christmas Tree Home
Supplies needed: paper plus red, green, black, blue and brown chalk pastels.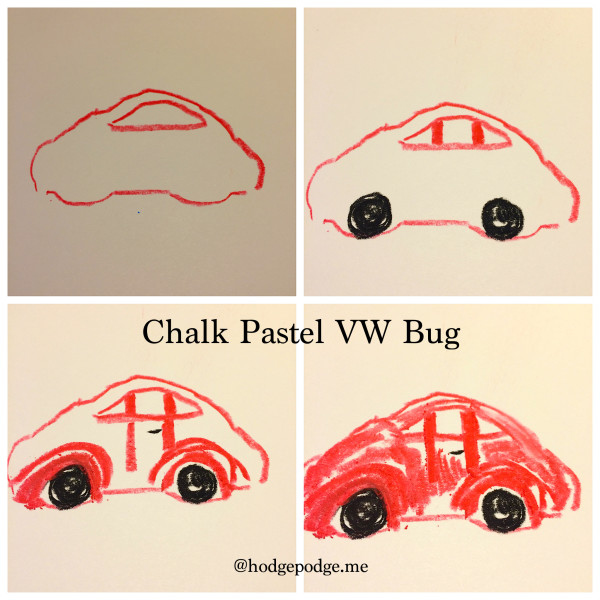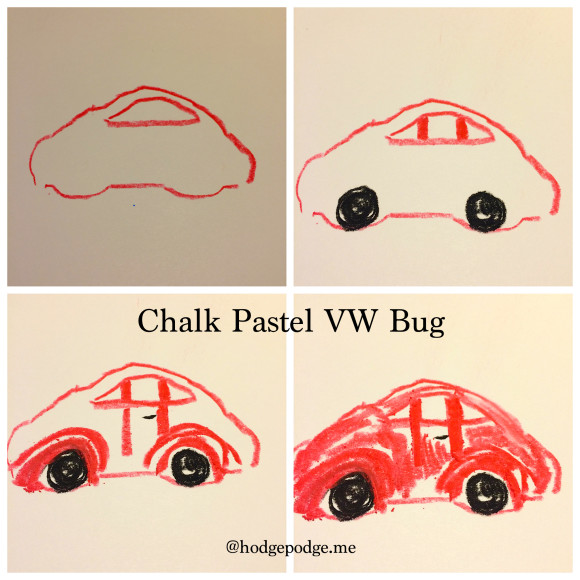 To begin, turn your paper horizontally. First, study the shape of the car then take your red chalk pastel and draw the shape of the VW bug. Start at the front or back bumper. This cute little car has a cartoon like quality to it! And, I think the front hood really has more of a curve than I gave mine.
You will be able to take your black chalk pastel and draw the tires right over the red outline. While you have your black pastel, go ahead and add the door handle with just a little line. Next, draw in the half moon shape of the car windows. Notice the window frame matches up with the door.
Take your red chalk pastel and define the bumpers and other curvy parts of the car. Fill in the color of the car as well. You can take just one finger and smooth the color in nicely. If you brush away any details – you can just add them back!
Next, smooth out the black tires. Then, while you have some black chalk on your finger, just gently touch the windows to make them a bit gray in color.
Oh! then you get to draw the green tree on top of the car! Notice that the tree top extends over the windshield and sticks straight out. It also curves along the top of the car. Draw the basic shape of the tree. Then you can simply use straight lines to fill in the tree color and make branches.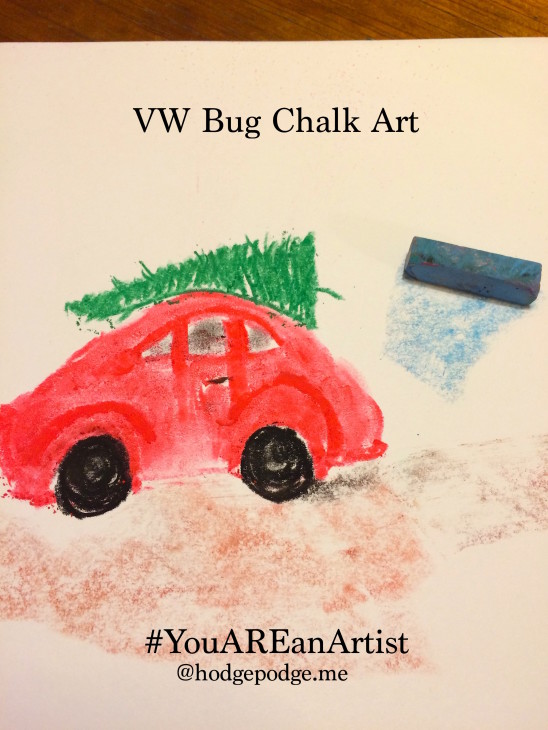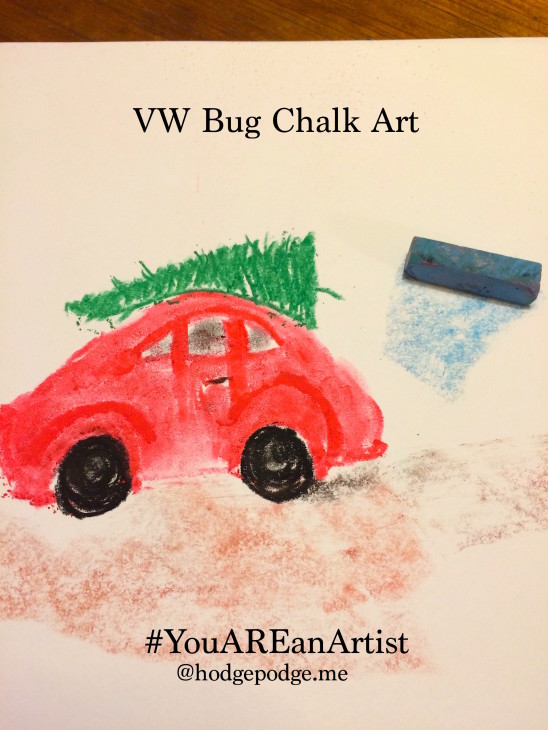 Now you need add something for your VW to drive on. So take your brown chalk pastel and skumble in a road. Just turn your chalk pastel on its side to do this. Same with your brilliant blue sky. We are just adding a painterly effect. Just a hint of a background.
Now I think it would be such fun to see a Christmas tree being carried home on top of a VW. And I love yours! You ARE an Artist!
FEATURING YOU! YOU ARE AN ARTIST!
So, paint your VW bug and be sure to share with us! Simply tag @chalkpastelart on social media, use the #YouAREanArtist hashtag, or upload a photo to the ChalkPastel.com Facebook page!
A note on chalk pastels: Pastels are an easy, forgiving medium. Fun for children and adults alike! Details on the pastels and paper we use, how and where to purchase, and links to all of Nana's other pastel lessons are here: 100+ Free Art Lessons for All Ages plus the video The Very Few Must Have Supplies for Chalk Pastel Art. A simple set is very affordable. Nana also teaches acrylic lessons.
The practical aspects of a mess: Pastels are blessedly messy. We always have baby wipes close by to wipe hands. We wear something we don't mind getting stained or don a smock.
Do you and your artists learn best with a video art tutorial? Find our Christmas, Nutcracker and Preschool Winter Video Art Lessons at ChalkPastel.com!
O Christmas tree, O Christmas tree, how lovely are your branches!
—>> Subscribe to Hodgepodge so you won't miss any future art tutorials! <<—
I wonder how long our little, red VW will stay on our window sill this year?

-originally published 2015