"With Jesus Christ at the center, our aim is to shape both minds and hearts in his image."
~This is a sponsored post. See full disclosure policy for more details~
The iPad is a homeschooling tool in our home in many ways. We use apps to supplement and enrich various subjects. Not long ago, my husband admitted he no longer carries a Bible to church – he brings the GloBible on his iPad. Just last week I shared our favorite Bible apps, with 5 Heavenly Apps at Habits for a Happy Home.
So, to find out that a Christian homeschool curriculum is soon to be available  – on the iPad, for all our ages – is exciting!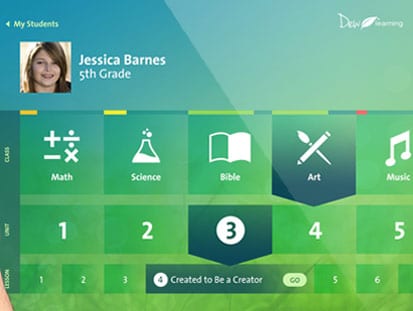 Just take a look at:
Dew Learning courses
Daily lessons are updated with current events. Take a look at the eight subjects covered:
Art- 72 lessons or 2 days a week
Bible- 180 lessons or 5 days a week
Language Arts- 180 lessons or 5 days a week
Math- 180 lessons or 5 days a week
Music- 72 lessons or 2 days a week
PE/Health- 72 lessons or 2 days a week
Science- 108 lessons or 3 days a week
Social Studies- 108 lessons or 3 days a week
How this would work well for our multiple ages
Backup and storage is part of the program. So all the records from these subjects will be available anytime. Won't that be handy for the college application process that is just a couple of years away for my eldest two children?
A family license would allow us to access Dew Learning on the iPad as well as the computer. I also understand the designers are working on an Android version as well. I can see resource enhancing the learning centers already in our homeschool.
Printable activities are available – check! for our kinesthetic learner
The platform
This curriculum is built for the iPad. And it is accessible on any internet connected device. As a homeschooling family on the move, with multiple children with different needs – accessibility definitely appeals to me!
The grades covered
This summer Dew learning will launch grades kindergarten through fourth grade. Summer 2014 will bring the remaining grades through twelfth.
The teachers and partners
"A library of Christian worldview video lecturers written by Christian worldview experts and delivered by today's leading church leaders." How wonderful will that be to have experts at your fingertips?
If you click over to the features http://dewlearning.com/ you will find a listing of the founders, the partners and future plans for Dew learning. Plus they are partnered with God's World news, Impact 360 (college age gap-year program) and Mardel (a leading Christian educational retailer).
Partner in His plan, in teaching our children His ways
Following the statement of faith, Dew Learning developers share what matters most: "As much as we value academic rigor and excellence, it is important to state that, for Dew Learning, rigor is not an end in itself; pursuing academic excellence and professional success apart from the glory of Jesus Christ would be mere vanity. Our prayer is that, even as we seek to provide products and services that are the very best in the world, Dew Learning would be best known for serving God's grand project of exalting Jesus Christ among the nations. Soli Deo Gloria."
How did I find out about this? Through Teach Them Diligently (TTD). Dew Learning is part of the Teach Them Diligently marketplace. They will be at several of the TTD locations. I also noticed there is a 10-month money back guarantee.

Hodgepodgedad has shared multiple reviews of the technology we use.
But what about all curricula you currently enjoy?
One of the many beauties of homeschooling is being able to try new resources. To switch things up a bit. With Dew Learning I see another Christian voice speaking into my children – via one of their favorite vehicles for fun – the iPad.
I remember being in a GHEA State Homeschool convention session listening to Susan Wise Bauer. It was early on in my homeschooling. Just one part of her sharing was about using several different resources for a subject. Why limit yourself and your students to just one way of learning? With a different approach you just may discover your child's primary learning style. Plus, with a new platform, a subject a child is proficient in is enhanced even more. New ways of learning from new teachers. Help for struggle areas. Just plain fun with electives.
Early in our homeschooling past we used Alpha Omega's Switched on Schoolhouse for support in various subjects. This worked very well. Once we have used Dew Learning I will be able to better share how it works best for all our ages and our variety of learning styles. I can see this being an enrichment of all we already do!
How do you find out more about Dew Learning?
Click over to the Dew Learning website. It has everything you need. There's also a contact form if you have a question. Preorder by phone at 770-240-1005 before June 30, 2013 for discount pricing: $65 per subject / $295 for all 8 subjects (40% OFF).
You can also register now for a chance to win an iPad or a free year of Dew Learning!
I'm impressed. And I'm really excited about this. What do you think?