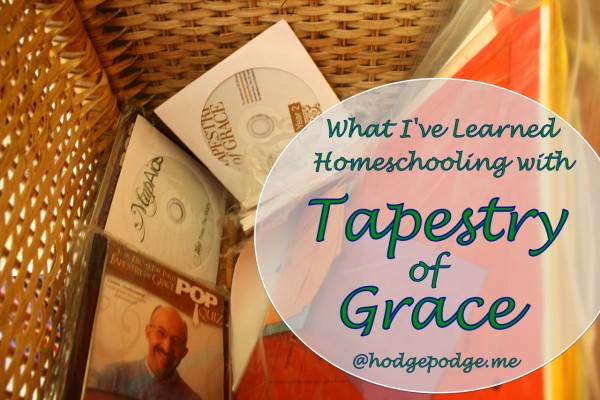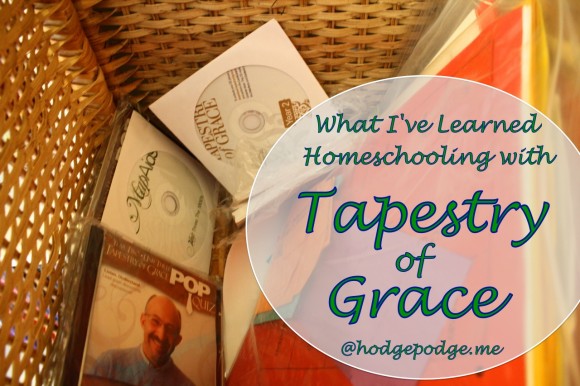 One of those wonderful benefits of homeschooling is continuing to learn right alongside your children. History, a love of art, composers, nature study. I just love continuing education. For many years now, Tapestry of Grace has truly woven together all the learning in our home. All ages learning the same topics, on their age, grade and skill level.
We've used Tapestry since our eldest was in upper grammar level. Now we have a child in each level: lower grammar, upper grammar, dialectic and rhetoric. It just keeps getting better because now we are cycling back through history!
Today, I offer you a Tapestry tour. A top ten list of Tapestry of Grace resources, frequently asked questions and tips for the teacher. And if you don't use Tapestry of Grace, I hope you just might find some of the advice for teaching multiple ages and homeschool planning helpful in general.
How Tapestry of Grace Can Flow  A Hodgepodge reader asked: I can't grasp how it all flows? You schedule one subject per day so what exactly do they DO on those days within those subjects?…read and answer questions, do projects, have meetings…I guess I don't follow how you can just cover one thing per day…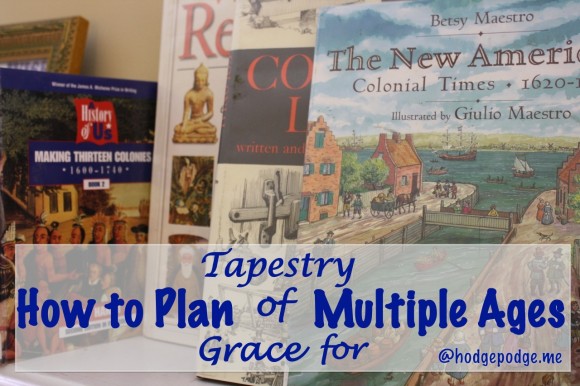 How to Plan Tapestry of Grace for Multiple Ages and Levels (when you are teaching lower grammar, upper grammar, dialectic and rhetoric) I think the biggest learning curve with Tapestry of Grace is finding what works best for your family. Opening up that year plan full of a wonderful amount of information and a long list of resources can be overwhelming. Give yourself a grace period of settling into a Tapestry of Grace plan that works best for you – and in learning how to use that plan. Be easy on yourself. But, you, as the teacher should always continue discovering how to best use Tapestry for your family.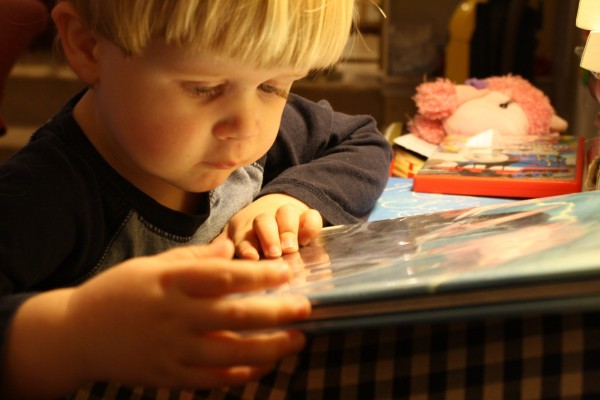 Tapestry of Grace for Kindergarten Of course I absolutely love Tapestry of Grace for many, many reasons. But if your oldest is Kindergarten, I honestly would wait another year or two to make a big purchase. Concentrate on the three Rs and reading wonderful books together. Update: My review of Tapestry of Grace Primer for K-1st grade.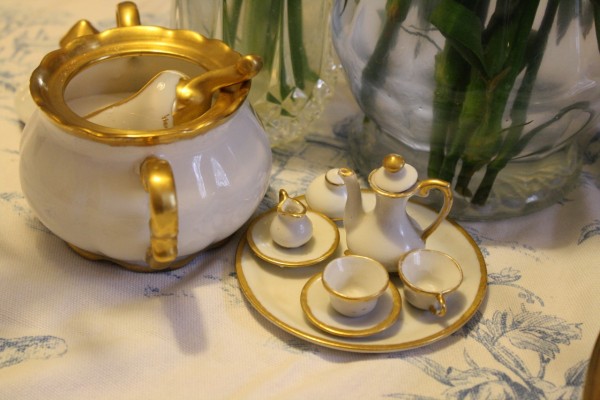 Tapestry of Grace for the Teacher  Answering a reader question: "But I feel overwhelmed by Tapestry of Grace. How do I make it work? Never have we ever done all of the subjects each week. Tapestry is truly a smorgasbord. When I open that week plan, I zone in on the learning levels for my children and ignore the rest. Even then, depending on the week, we may choose to only tackle the core history assignment. Other weeks, as we are wrapping up a unit, we may concentrate more on the arts and activities, doing assignments and larger projects together as a family.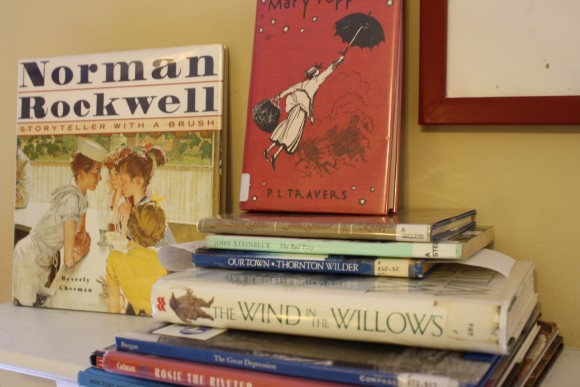 Books for Tapestry of Grace Question: How do you choose the books you need for Tapestry of Grace? Answer: Basically, Tapestry of Grace has done the work for you! However, in this post, I will share examples of how I tailor the Tapestry book list to our needs. I will also walk you through the simple steps of planning – pointing you to Tapestry of Grace plans, the Tapestry website and their Bookshelf Central.
Hands On Art and Activities (Salt Dough Maps, Display Boards & More) Hands on geography is a super fun way to learn. Earlier in the school year we created an imaginary land, each child contributing to the map as we reviewed mountain ranges, peninsulas, tributaries and more.
You might also like Hands on Geography for Multiple Ages.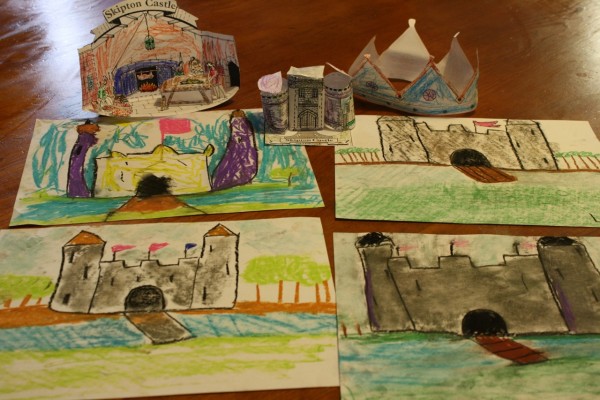 Unit Celebrations A unit celebration brings closure to our studies and boosts us on to further learning in the next unit. In the past, we plan for our unit celebration to happen on Thanksgiving Day while the side dishes are warming in the oven. I shared more about this at Heart of the Matter: A Thanksgiving Homeschool Celebration.
Tapestry inspires our own art projects like a Medieval castle (pictured above)
Unit Review with Lapbook  What we've discovered is the lapbook is a wonderful tool for review. Each child can pick several favorite or interesting topics. Then, using our Tapestry of Grace books from the library, on-hand resources or the online Tapestry of Grace links, the children put it all together.
Homeschool Makeover: History Shelf The Problem: Spending time searching for what we needed to start our history studies. History books scattered throughout the house. Supplemental material getting lost in my stacks. Answer: IKEA Expedit shelf! With two baskets for all those Tapestry of Grace extras (e.g., Map Aids and Writing Aids discs, Pop Quiz and more).
Interested in more Tapestry of Grace? Visit: Tapestry of Grace to learn even more!
Follow Tricia's board Tapestry of Grace on Pinterest.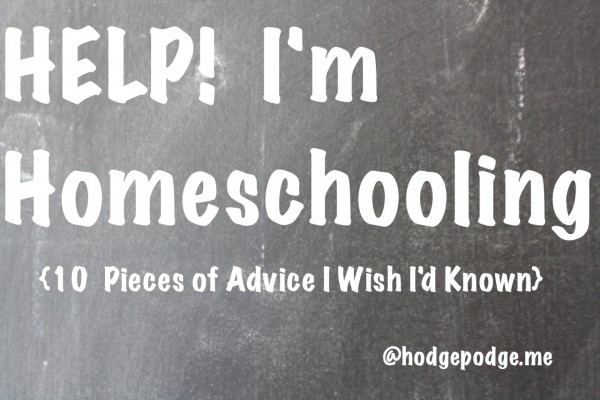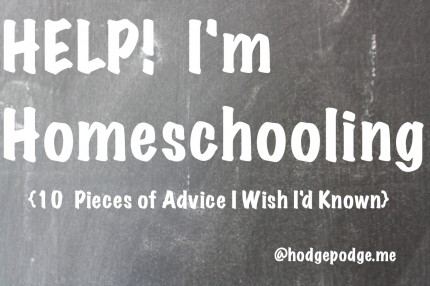 It's ten weeks of top ten lists with iHomeschool Network and Top Ten Tuesday with Angie at Many Little Blessings! Click over to see the 10 week schedule and visit all the other homeschool participants.
Are you a fellow TOGer? What years have you worked through? Do you have any Tapestry of Grace questions?