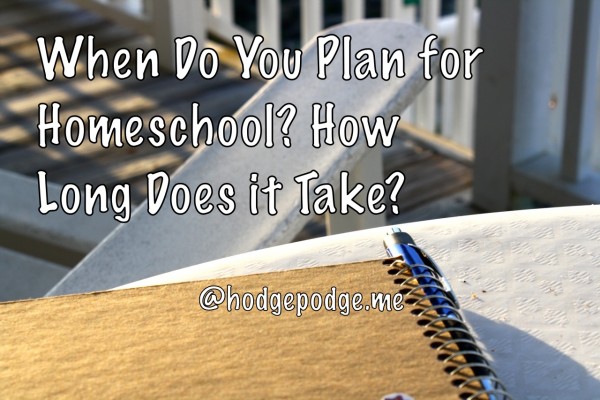 Continuing the habit of sharing a helpful habit on Fridays, today I'm answering a friend's question: When do you plan for school and how long does it take? For several years now I have looked forward to annual planning and goal setting – on vacation over the summer. I do this while watching the sunrise, cup of coffee in hand. I'm away from home, relaxed and often have a new perspective. With five children, I devote one morning to each child. Anywhere from 15 minutes to an hour to just jot down ideas and God prompts. Not only do I consider academics but life skills, character training. I also take a morning to set goals for myself and my marriage.
I detail this with many examples in this post: Mama on Vacation: Annual Planning and Goal Setting.
As mothers we sometimes live in the urgent. This hungry child, that weepy one, another needing a  push on the swing…However, it's beneficial to step out of the urgent into the quiet, out of our regular spot and look to our source of strength. Jesus set the example. (Luke 4: 42-43)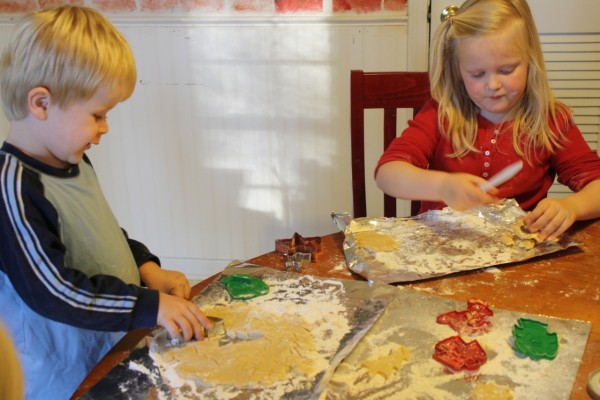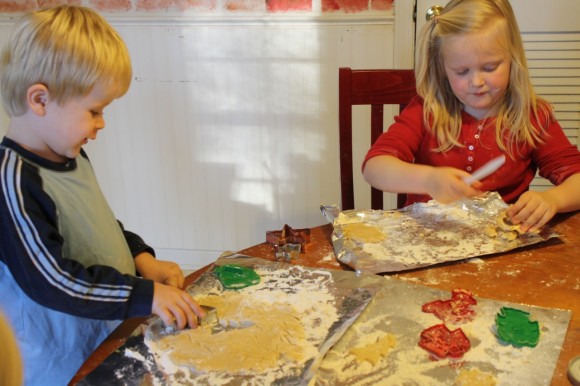 We had so much fun making Christmas cookies this week!
So the annual planning I do takes roughly 7-8 hours spread out over one week. Then, once I'm back home I pull out that spiral notebook, ready the tools and implement the plans. Prepping just a little a day over the summer. 15 minutes planning, 15 minutes printing. Half an hour a day. This is explained in more detail in Readying Tapestry Plus the Rest (on our old site).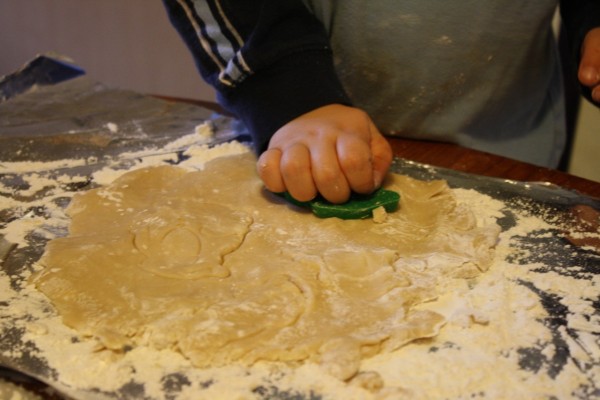 Once I have the plans, curricula and goals in mind, I map them out in a loose structure. I have our daily habits already in place. Then I reserve library books for Tapestry of Grace about monthly. I leave room for God. And I stay aware of changing needs. I do not stress if we don't check something off one day.
Then, (ideally) each week, 8th, 7th and sometimes 4th grader and I hold a weekly Tapestry of Grace meeting. We talk about what we are learning, reading, writing that week. Fill in assignment sheets. This is what I appreciate about Tapestry. The building of independent learning and research skills. We have a loose schedule of completing history, writing, arts and activities, geography and other Tapestry assignments on particular days of the week.
I also spend time planning on Friday afternoons, thinking ahead to the next week.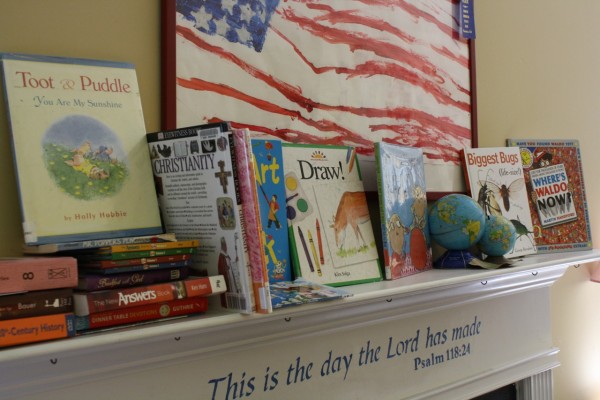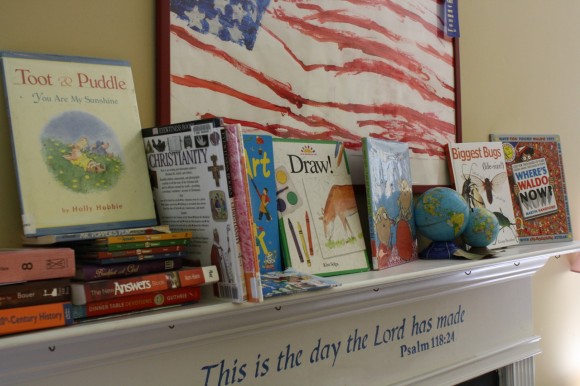 Last  year I gave myself permission to use the family room mantle to feature our current reading. Why not? It's right there in the middle of everything. And it's pretty besides. A sampling of summer reading, above.

I've shared before about our family room bookshelves. One for history, one for science and nature and one for Bible resources. I explain our loose organization in All Things Chalkboard. The children know where the resources are and the shelves are similar to learning centers. What we need is within reach.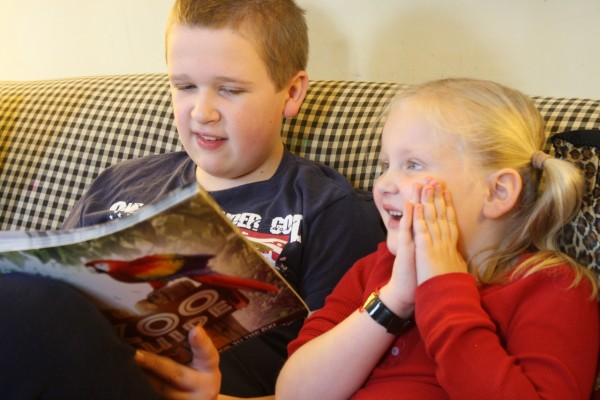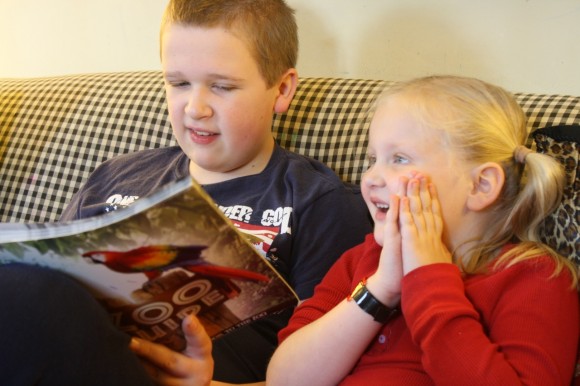 This was the week of guides. One day Middle Girl pulled out all the nature field guides and everyone picked a favorite to browse. These two, above, have paired up often to read the Answers in Genesis Zoo Guide, Aquarium Guide and Museum Guide.
I also take some time over Christmas break – mid-school year – to plan and refresh our homeschool goals. Plan for the next semester, next unit. Now that I think about it, I will implement the same summer planning habit over Christmas break. With my morning coffee I can reassess plans and goals for each child. Fifteen minutes to half an hour each early morning for each child. The rest of the day enjoying the break with family.
Another question: When do you prepare workboxes for the little ones?
Over the summer and again over Christmas break, I update my stack of resources for workboxes. Maybe order a new something. Inspired by Kendra's How to Keep Workboxes from Running Your Life, I print a few Five in A Row lapbook materials from Homeschool Share, maybe some Pinterest finds that compliment our studies and more. Monthly/quarterly I print the ebook unit studies we enjoy as a family and place copies in individual binders. Nature study, music and art.
Our basic workboxes remain the same. We just rotate the order. The workboxes make a nice visual for each activity/subject I do with our youngest two. And, let's face it, they are great storage. All of Saxon K in one spot. All the math manipulatives in one workbox. I talk more in-depth about our preschool and workbox habits in these posts: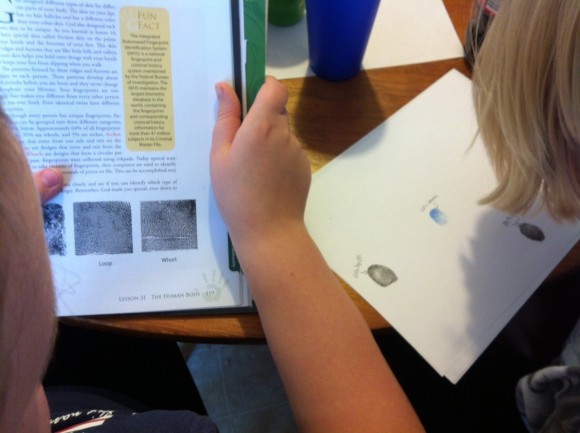 This week we finished our Answers in Genesis unit study of the Human Body! Above, we are comparing fingerprints to determine if ours are arch, loop or whorl.
In summary, I set aside twice a year for school planning. I make plans counting on God to direct me. I leave room for chasing ideas. For living math. But our helpful habits remain the same.
We should make plans – counting on God to direct us. Proverbs 16:9
Wonderful homeschool reading and encouragement in these posts from friends: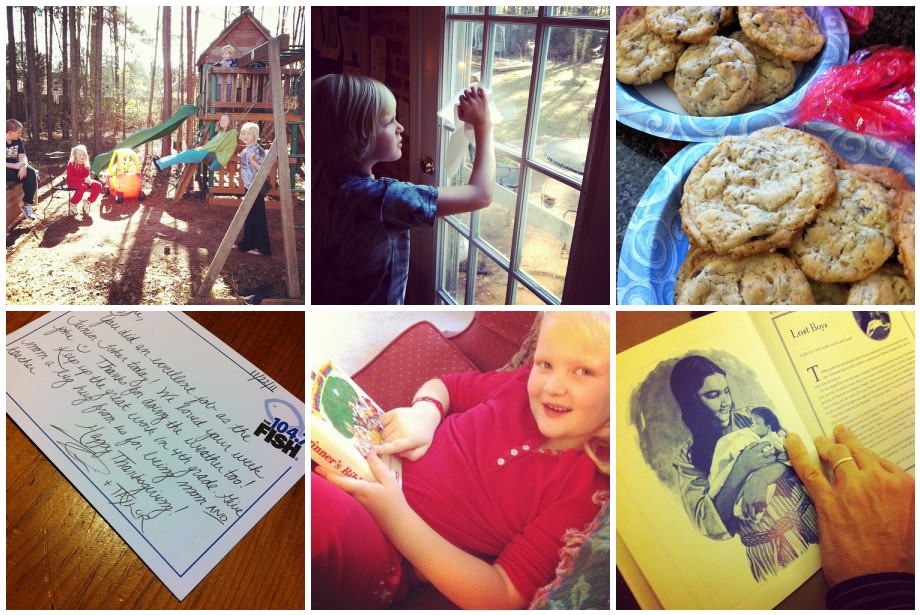 A quick Camera Phone look at our week: 1. The weather has been balmy and gorgeous. We enjoyed a nature study when a millipede interrupted math. | 2. Home Blessing time! | 3. Cookies for monthly homeschool moms meeting – this time a cookie swap | 4. Thank you note from local Christian radio station's Kevin & Taylor (addressed to Middle Girl for her Junior Joker and Weather Kid spots) says "Give mom a hug for being mom AND teacher!" | 5. Love homeschool! Reading the Beginners Bible as part of Before 8:45 checklist | 6. Time for Tabitha's Travels
Many thanks to our Friday hostesses…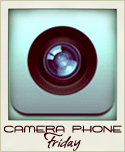 Camera Phone Friday hostess Dawn Camp @ My Home Sweet Home and…


Weekly Wrap-Up hostess Kris at Weird, Unsocialized Homeschoolers.
Now, if you have any tips for planning as we head into high school, I'd love to hear them! Or what are your school planning habits?