Naming every picture is a habit I learned from a teacher years ago who said, if you name your picture, it gives it permanence.  A named painting most likely will be kept and not thrown away!  Children are great believers in keeping their artwork…all of it! Name and sign every picture.

Name Every Piece of Artwork
A finished painting deserves a moment of thought in the naming process. Sometimes I have worked so hard and concentrated so much that I struggle to think of an appropriate name! A foggy marsh at sunrise can have a name like "Still the Marsh."  A perky chickadee sitting on a limb can be named "Saucy Fellow."And a sandy beach with brightly colored umbrellas has the name "Beach Destination."
Just take a moment and think. Give your imagination time to work a magical name that tells your painting's story!

Sign Every Picture
Like a true artist, sign at least your first name or initials on your picture. Down in a bottom corner is a good spot. Sometimes we sign our names on the back of a picture. If you share photos of your children's artwork online you may want to consider having them sign their names on the back of their pictures as well. We've also found it is best to sign names on the back because many art contests don't allow names on the front. That is the case with our state fair as well as the online Art for Homeschool show.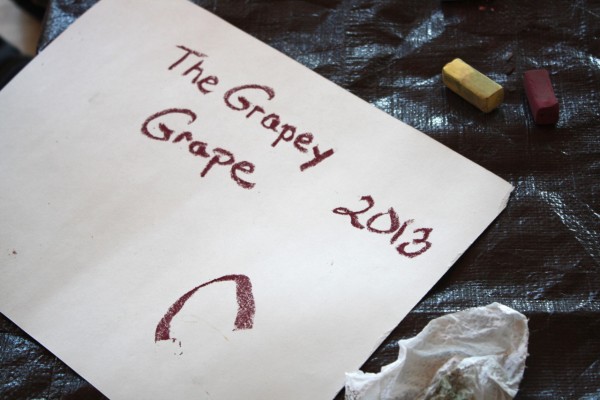 I just love the imaginative titles children come up with. The Grapey Grape is a perfect name for our recent grapes tutorial. Notice he only signed his first initial – perfect practice for a little guy.

"Whether we are poets or parents or teachers or artists or gardeners, we must start where we are and use what we have. In the process of creation and relationship, what seems mundane and trivial may show itself to be holy, precious, part of a pattern." Luci Shaw
Brought to you by these lovely ladies…
Be sure to click over to see all the wonderful series of Spring Hopscotch posts by iHomeschool Network bloggers – 280 posts in all!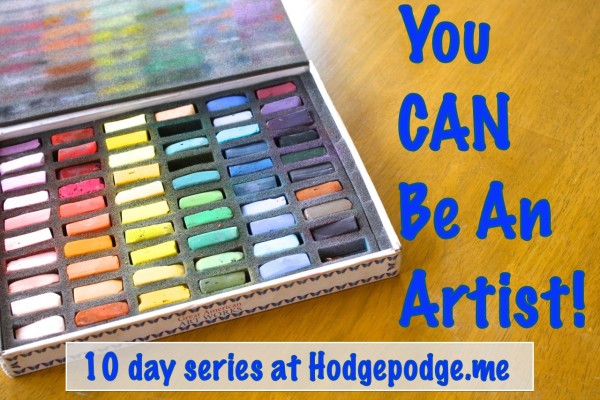 Another favorite painting title from our littlest guy is Tornado in Space. Do you and your children name your pictures?
Save
Save