A painting a day is an absolutely fun habit happening at Hodgepodge that came about quite on its own. Well, with much encouragement from Lil' Buddy. See, just about daily he asks to "paint with forever paints" (acrylics) or "do a chalk pastel." Yes, chalk pastels count as "painting" as Nana has taught us.
A Painting a Day
Yes, I admit, this Mama was reluctant at first. Paints out every day, the clean up? Yes, please. Because we have gotten it down to an easy part of our day.
"If you hear a voice within you say 'you cannot paint,' then by all means paint and that voice will be silenced." ~Vincent Van Gogh

Painting a Day Guidelines and Helps
No agenda or topic – paint for pure joy!
Wipes or wet paper towels are close by to wipe fingers and paint brushes.
Little pimento jars make wonderful water cups for brushes.
The palettes are already filled with paint – then covered with tin foil to stay fresh. New paint added when needed. (See A Simple Start in Acrylics for details on supplies).
Children help with clean up, offering daily practice in rinsing brushes, wiping down the painting area.
Consider using a child's table as a dedicated space. We have a small, very well loved table that we move (or let stay) in the kitchen. It makes an easy spot for a painting a day because then we don't have to clean up before lunch.
Make a painting a day a habit for after lunch while others are cleaning up lunch. Each child takes a turn.

Storage in a Dedicated Art Binder for Each Child
We are not fancy and our storage is very simple. Where to keep all these paintings – that's 365 for a year! Once a painting dries we three hole punch it and place it carefully in the current three ring binder. A very special one might be mailed to a grandparent or sent as a thank you note.

More Art Resources for Multiple Ages for a Painting a Day
Sketch Tuesday topics – weekly topics shared by Barb-Harmony Art Mom. Turn in your finished sketch for inclusion in the weekly slide show! All details on participation at this link.
Bonza Draw App by Unit Studies by Amanda Bennett – this app encourages a child to draw on a specific topic each day. The app prompts the child to draw on paper – not the device. And to then take a photo of the drawing to store in a gallery.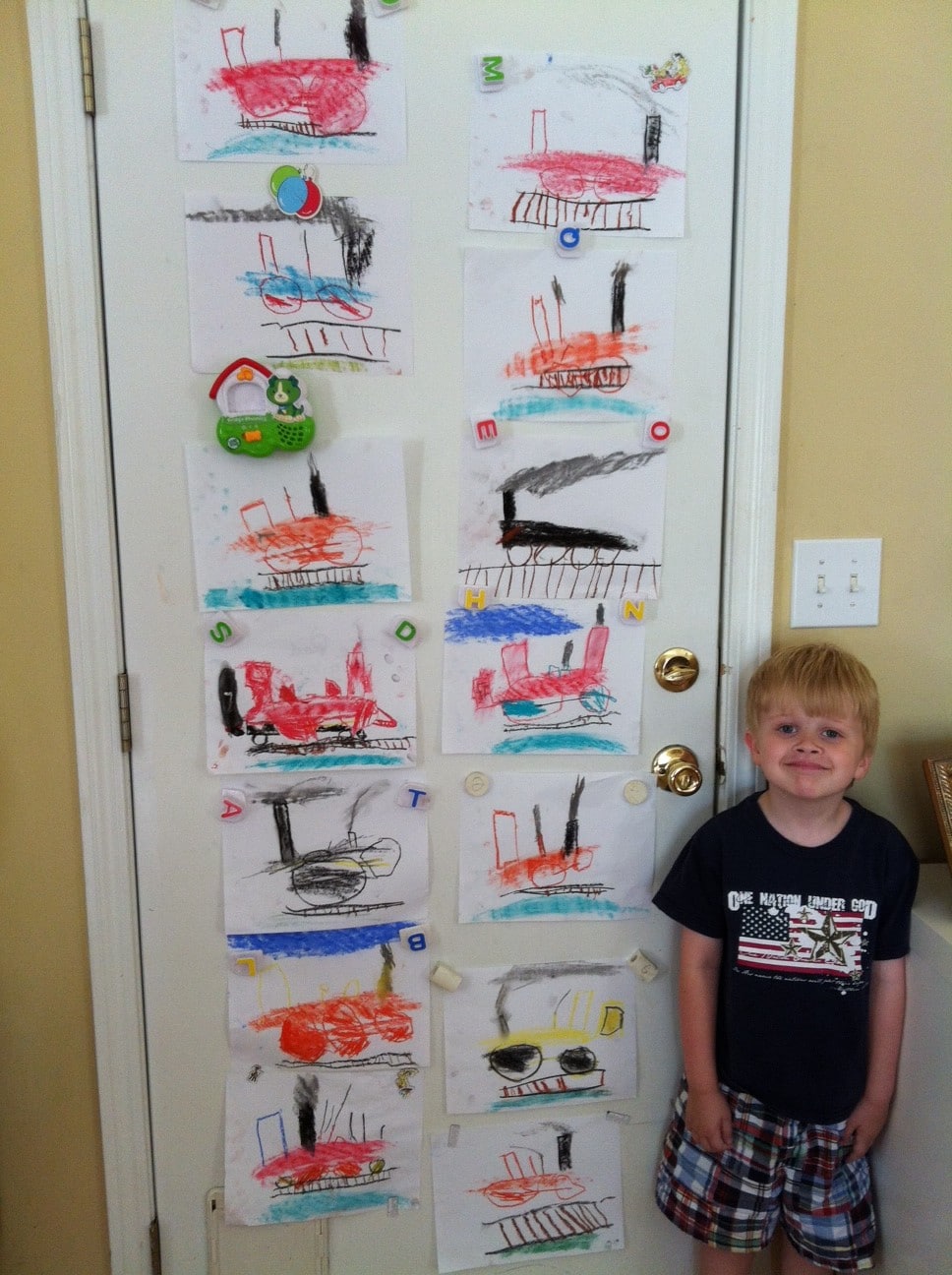 Can you tell a theme of a favorite topic? We've been reading The Little Engine That Could. And he's been doing more than one chalk pastel a day! Here's the door of trains.
And, yes, we have been going back through all of Nana's tutorials. In doing our very own tutorials again we can see how our skills have improved. It's fun to look back and to try a topic again!
Looking for a video art lesson? Nana has over 600 in the You ARE an Artist Clubhouse – including a dandelion in the Backyard Nature course!
Featuring You! You ARE an Artist!
Paint your dandelion art and be sure to share with us! Simply tag @chalkpastelart on Instagram, use the #YouAREanArtist hashtag, or upload a photo to the ChalkPastel.com Facebook page!
A note on chalk pastels: Pastels are an easy, forgiving medium. Fun for children and adults alike! Details on the pastels and paper we use, how and where to purchase, and links to all of Nana's other pastel lessons are here: Our Favorite Chalk Pastels
The practical aspects of a mess: Pastels are blessedly messy. We always have baby wipes close by to wipe hands. We wear something we don't mind getting stained or don a smock.
I give you permission to pull out the chalks, the paints, the sketch pads. How about right now? Enjoy!