The orange. It calls attention.
The bracelet. It's trendy.
The stretchy band. It's comfortable.
Lil' Buddy calls it his watch.
I think calling it a watch is appropriate since it helps us and others 'watch out' for him. I had been on the look out for an allergy alert bracelet for a while. When the link to Allergy Apparel's Trump Food Allergy Wristband was posted on the Sunbutter blog, I clicked over to check them out. I am so pleased with what I found!
While we are homeschoolers, we are socialized. (Despite the stereotype  🙂 ) The younger two are both away from me – in their own classrooms – a couple times a week during church activities. Plus we are involved in clubs and extracurricular activities as well. In fact, we've started a trend with these wristbands in our little allergy circle!
The wonderful thing about these bracelets is you can customize them. Each wristband comes with a set of picture charms representative of each of the common allergens: peanut, tree nut, shellfish, wheat, egg, dairy and soy.
One order includes a set of two wristbands – small and large. How perfect is that for us? One for youngest girl and one for youngest boy. So, since I needed two peanut allergy charms, I just ordered an extra.
Yet another benefit I've discovered? While our five-year-old can speak very well about her allergies, Lil' Buddy cannot yet convey the seriousness of his. When he wears his 'watch', he points to each charm, naming them. We talk about no eggs and no peanut.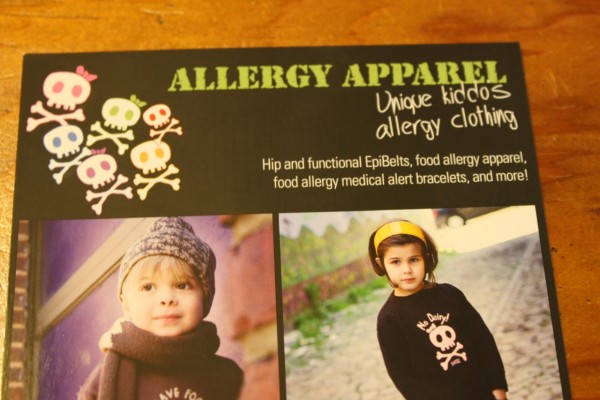 The Trump Allergy Alert Wristband is just one of the unique products offered by Allergy Apparel. Be sure to click over and check them out! Making allergy friendly living easy for us.
Allergy Friendly Living Part One